WP Media Folder documentation
Introduction
WP media Folder is a WordPress plugin that enhance the WordPress media manager by adding a folder manager inside.
Main advantages:
Multi-level folders
Move media with drag'n drop
Multiple media selection and move
Create galleries from folder
4 gallery themes
NextGEN gallery importer
Import post categories as folder
Breadcrumb and folder tree navigation
Bulk upload in a particular folder
Nothing lost on uninstall
WooCommerce support
I. WP MEDIA FOLDER INSTALL
1.1 Install
In order to install our plugin you should use standard WordPress installer or unzip and put all the folder in /wp-content/plugin.

Then click on activate plugin, to see WP Media Folder menu appear on the WordPress left menu.
1.2 Update the plugin
In order to update the WP Media Folder, you can use the WordPress default updater. You can also remove and install the new version from a .zip file downloaded on www.joomunited.com. In any case you won't lose any content because everything is database stored.

Be sure to always have the latest version to avoid security and stability problem.
To update the paid version, you need to login to your JoomUnited account from the WordPress settings: Settings > General
Then use your JoomUnited account login and password. After a successful login the button turns to blue with a text Disconnect my JoomUnited account
Then finally, you can update all the JoomUnited commercial plugins from the WordPress standard updated.
1.3 Notification after install
After install you'll get 2 notifications
Do you want to import the post categories as media folder
Do you want to import NextGEN galleries as media and folder
Hit Yes to proceed or Dismiss to ignore.
II. WP MEDIA FOLDER COMMON USE

The main idea of WP Media Folder is to classified media directly from the media manager. WP Media Folder works on the native media manager, both public and admin side. For example you can use it in posts and pages.
2.1 Manage folders from post/page

When WP Media Folder just click on the media folder.

Click on it to open the main media view with the folder management.
There's a button to create a folder and folder are listed below. When you click on Create folder you have to type a name and validate the creation.

If you want to create a subfolder you just need to enter in a folder and repeat the operation. You can then use the breadcrumb or folder tree not to lose yourself in folder levels :)
A single media can belong to several folders. When you click on a media, in the the right side column, look for the setting Media Folders selection and click on it.
You can also use the WordPress media manager to batch apply multiple folders on multiple media. First, click Bulk Select button, pick media files and then press Media folders selection button.

2.2 Manage media

In order to move one or several media in a folder, click on the media and drag it into the folder you want.
You also have the possibility to drag multiple images in folders or in left folder tree. First select media.
Then drag media into folders.
A notification will then be displayed with the possibility to UNDO the last media move you've just made.
2.3 Remove and edit folders

The folder name can be edited by clicking on the pen from a mouse hover.
In order to remove media click on the trash on the icon.
If you remove a folder with media inside, by default, all media inside will go back the root of the media manager.
2.4 Media view
The media and folder can also be managed from the WordPress media manager view.

You'll also see existing folder from the media view. Note that article category are automatically added as folder.
To upload media in particular folder, select one and click on Add media. You can control with the folder tree that you're in the right folder.

With the dropdown list you can also filter media by media type, category, dates, min and max size (in px), weight ranges.
An additionnal small icon view is also available, it could be helpful in case you want to still display thumbnail but got a massive media amount.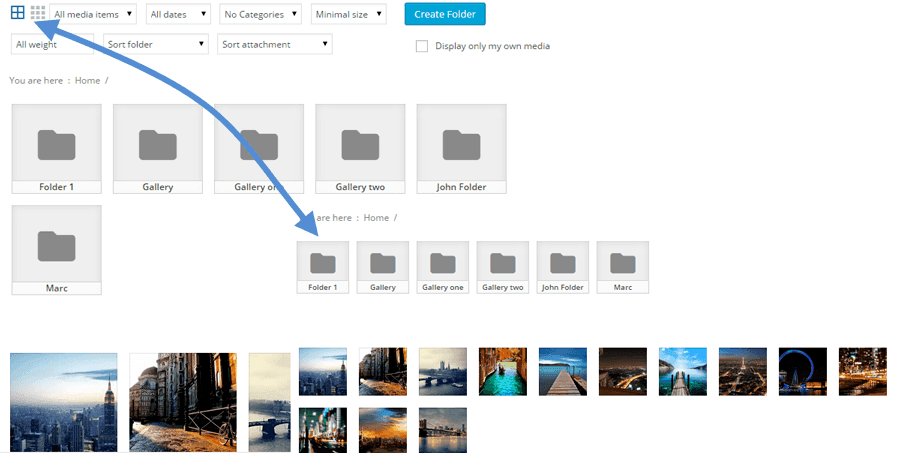 2.5 WordPress media search and filtering
WP Media Folder is adding some new features on default media. You'll find all the settings in the plugin configuration. You can default ones, remove some filters and add you own.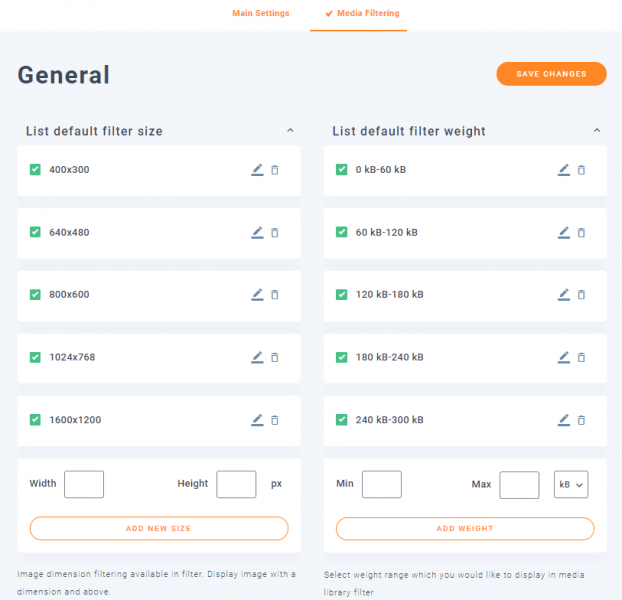 From the configuration you can setup the weight and size filters ranges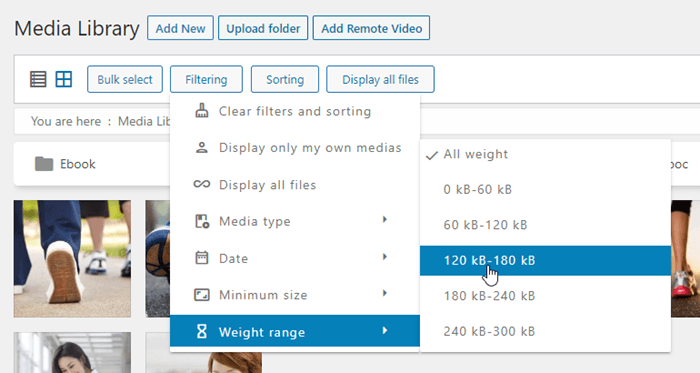 The sorting dropdown lists will sort images and folders based on:
Media upload date
Titles of the media
Size in pixels
File type (image, zip, pdf...)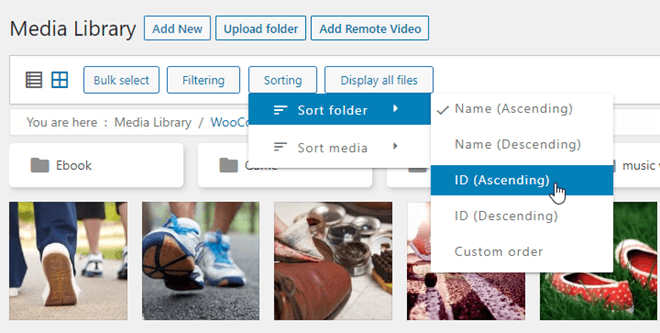 III. MANAGE GALLERIES
3.1 Create a gallery

WordPress got a native inbuilt gallery function. We've chosen to offer a enhancement of this feature based on the folders. You will be able to create galleries from folders or selection of images.

If you open a folder or make an image selection you'll will see a button called Create gallery from folder. Once your gallery is created you have several additional options to the WordPress default ones such as:
Gallery theme: layout for the gallery
Gallery image thumbnail size: a choice from WordPress default image resizing
Gallery image lightbox (large) size
The action on click on an image: open a lightbox, load a separated page or do nothing (a link can also be chosen by clicking on a single image)
Auto insert image: when you add an image in this folder the can be automatically added to the gallery
If you experience bad quality image in case of big thumbnail display for example a big width gallery on 2 columns we recommend you to load medium or large image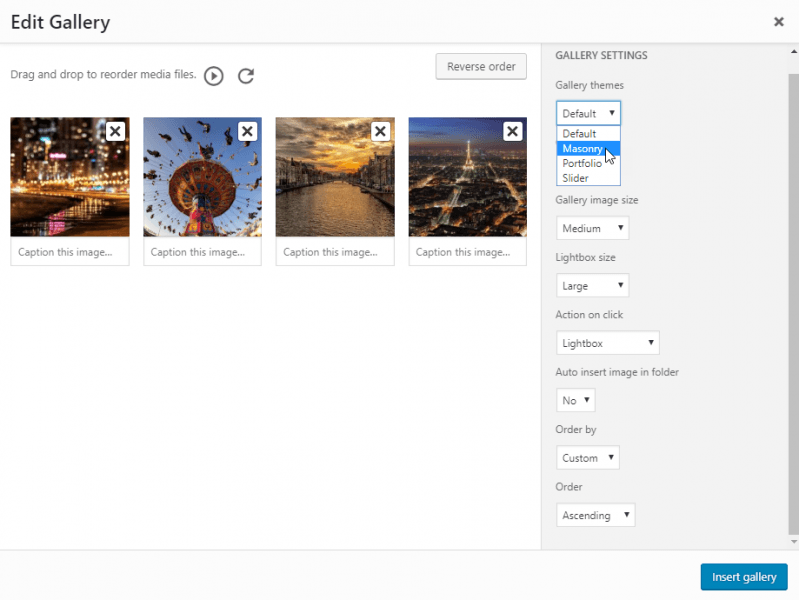 3.2 Add custom links on gallery images
You can define custom link per image in the gallery, it can be very useful if you need to create a home page layout based on a gallery that redirect to pages or post.
In the gallery edition, click on a image and look at the right column options.
You can define an internal or external link to this image using the WordPress default link manager. Plus you'll be able to define the target of the link as same or new window (new tab).
3.3 Gallery themes
The first gallery option is the theme choice. The default theme is an enhancement of the WordPress default theme, it brings you lightbox on images.
Masonry will display a wall of images with fixed width and fluid height.

Portfolio theme is a theme with hover effect, title and captions.

The slider theme, is a horizontal slider with title and captions.
3.4 Image options
Each image have some option in a gallery. Click on an image to see it.
Title and caption can be displayed on the gallery depending of the theme you've chosen
Link to allow you to add for example lightbox on images or add custom link on a single image in a gallery
The WordPress link manager will help you to do that
Link target can define if the link will be loaded in the same window or in a new one
In each gallery you can order your images order by:
Custom order
Random order
Title
Date

3.5 NextGEN gallery importer

WP Media Folder has a NextGEN gallery importer. Once the plugin is installed, WP Media Folder will detect NextGEN gallery install and you'll get a notice to import galleries.
Each gallery will be imported as a single folder with the name of the gallery as folder name.
IV. WP MEDIA FOLDER SETTINGS

Global settings are available through the menu Settings > Media Folder.
4.1 General settings
Activate WP Media Folder on frontend: If you're using a page builder available on frontend, you can activate this option to use WP Media folder. If not, keep it disabled, you'll get better performance without it.
Media number: Display the number of media available in each folder in the folder tree
Import categories: allow you to import or re-import as folder your existing post/media categories
Media search: Media serch engine (in the media manager) can search in the whole library or only on the current folder (default parameter)
Override file: allow to replace an existing file by another without generating broken links (same format allowed jpg to jpg...)
Duplicate file: Add the possibility to duplicate a media
Hover image: Display an hover effect that displays the image medium size on mouse hover in admin part
Filter and order feature: order and filter media activation
Media size filter and weigh filters: add/remove/define filtering range
4.2 Gallery settings
Gallery feature: allows you to enable/disable gallery function (gallery by folder, gallery themes...)
Gallery image size and settings: witch image size will be available to be chosen in galleries. WordPress have 3 sizes of images defined by default in the media settings. Once you install new plugins, new size can be added. For example WooCommerce is adding custom size for his products. You can choose witch size to load in the image galleries here.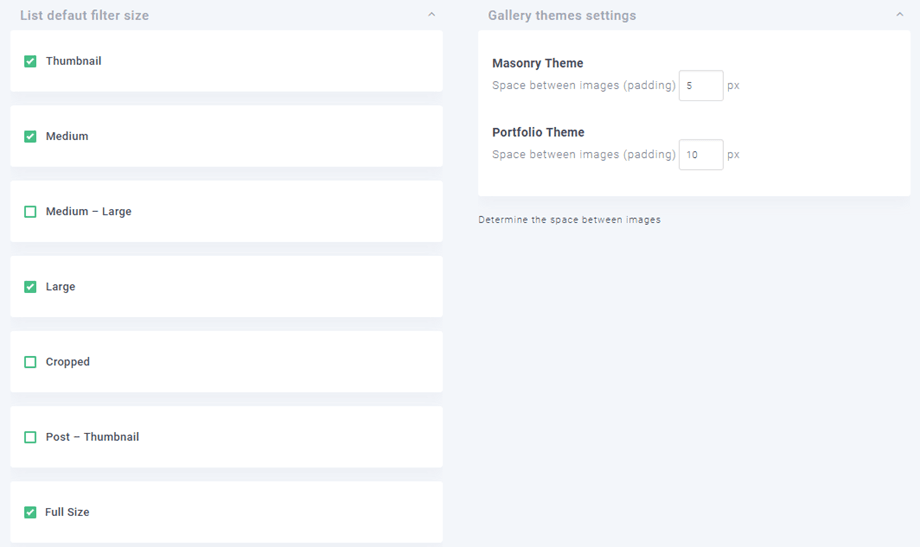 Sync/import NextGEN galleries: only displayed in the plugin is installed, import or make a new sync of the NextGEN galleries available on the website
4.3 Media access
WP Media Folder has an option to limit media display and management to own user media only. When a new user is created, a root media folder is generated for him, with his name and all his media inside. He can create subfolders inside of course. As admin you have an option to display/hide your own media right inside the media manager.
You can limit media access by:
User (a folder per user)
User role (a folder per user role)
4.4 Server file importer & sync
A tool in included to import a massive amount of media from a server folder in the native WordPress media manager, from the plugin settings.
Select a folder and/or subfolder, click on import, it's done! All the folder structure and media are now available in your native WordPress media manager.
It import the folder structure and all media inside.
A sync tool is also available from the plugin settings named "Sync external media". From there you can sync a server folder, where your WordPress website is currently installed, with a WP Media folder. 2 main settings are available:
Synchronization methods: From server to Media Folder and vice versa
The folder source and the destination: local server folder to WP Media folder folder
The sync delay: delay to run a sync between those folders
Then just click add, save changes and wait for the next sync.
4.5 Single file design
The WordPress media manager handle images but also documents and other file formats (like PDF, zip files). We've included a function to add you design on files. You can define a button and font colors and instead of a basic link to a pdf file for example you"ll get a real download button.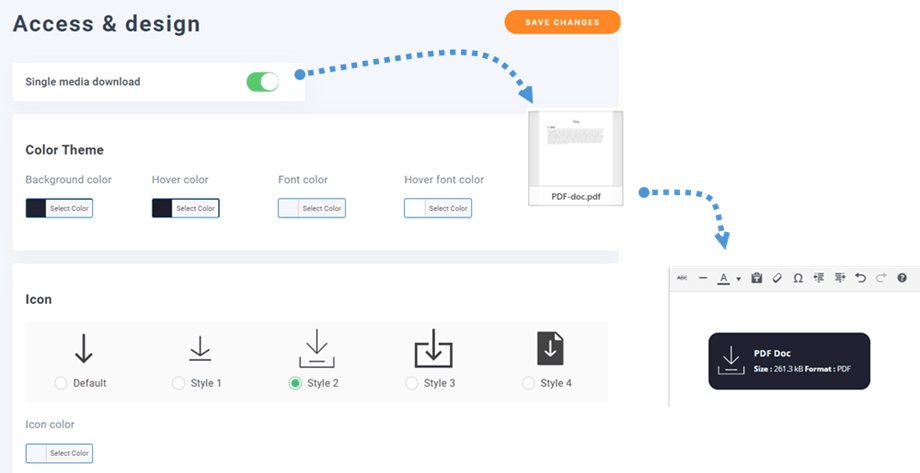 4.6 Media rename and remove
The first option is about activate by default the possibility to remove a folder even when there's media inside. If the option is not activated you'll be forced to remove all media inside a folder to have the possibility to remove it.
You have option to rename automatically your media on upload, respecting a pattern you've defined, witch is great for SEO.
Tag avaiable: {sitename} - {foldername} - {date} - {original name}
Note: # will be replaced by increasing numbers
Remove Characters:
Hyphen (-)
Underscore (_)
Period (.)
Tilde (~)
Plus (+)
Other options:
Copy title to 'Alternative Text' Field? (-)
Copy title to 'Caption' Field? (_)
Copy title to 'Description' Field? (.)
Automatic capitalization:
Capitalize All Words
Capitalize First Word Only
All Words Lower Case
All Words Upper Case
Don't Alter (title text isn't modified in any way)