Internal and External Broken Links Check & Fix
---
The internal broken link checker tool can crawl and index all the broken links you have in your content. It's indexed in AJAX with a a progress bar that help in case of a massive amount of content (10000+ posts). When you got broken links indexed, from the 404 & redirect panel you can either:
Create a custom redirect (301, 302, 307, permanent redirect)
Edit the original content to fix the broken link
Remove the broken link
Add a link to existing content using the WordPress link manager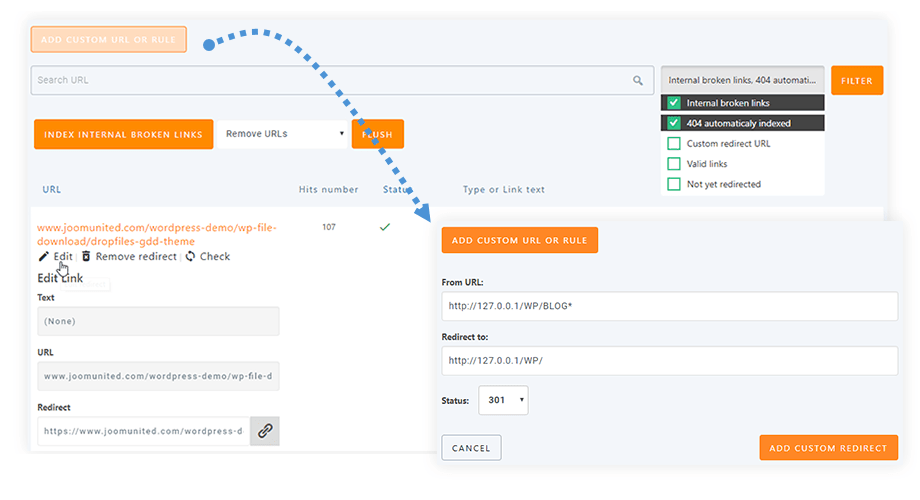 WP Meta SEO is going beyond that by indexing the external links that generate 404 errors on your website. For example a referral website have an old URL that doesn't exist anymore on your website and bring a lot of broken traffic? No problem the traffic source is indexed with the amount of 404 clicks and you can easily redirect it.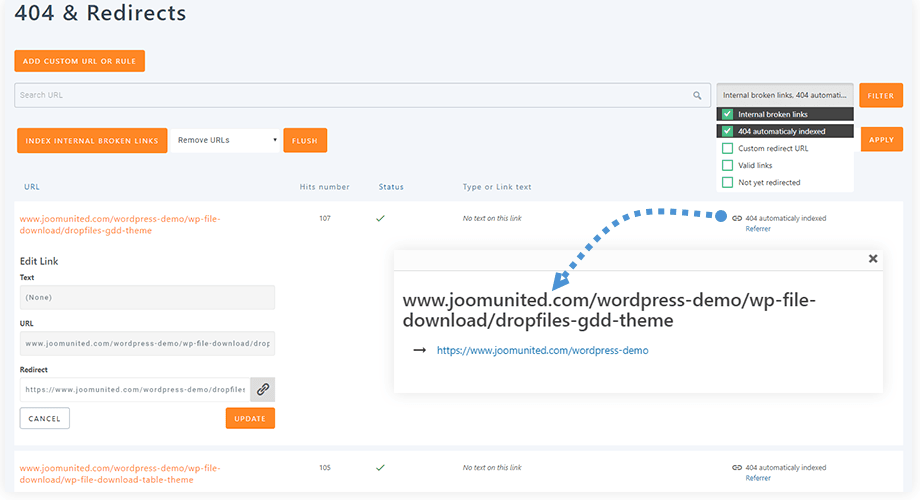 The Easiest WordPress Redirect Manager
---
The redirect manager will index all the 404 errors generated on your website with the number of hits, source, text… Then you'll be able to redirect to any URL in one click.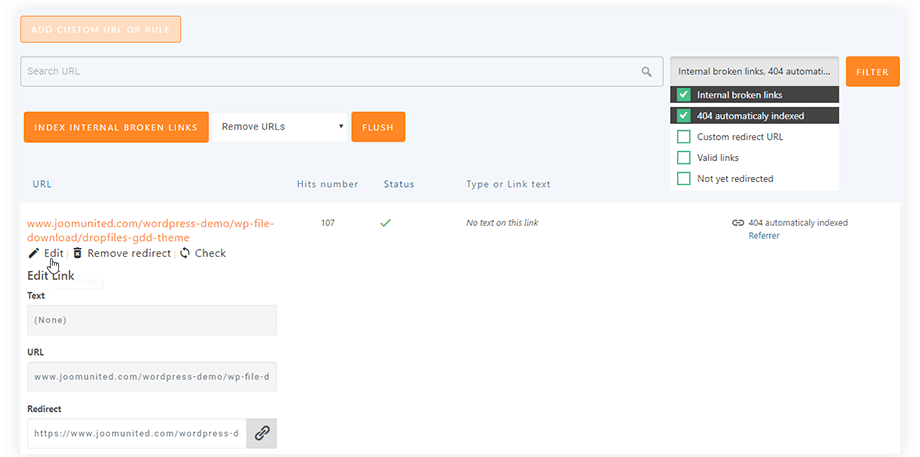 Automatic Error Index and Redirect Rules

---
The WP Meta SEO Addon also includes an automatic 404 errors index with a scheduler, which can be launched, for example, before sending an Email report. Furthermore, you can use the regular expressions to redirect several URL with one rule.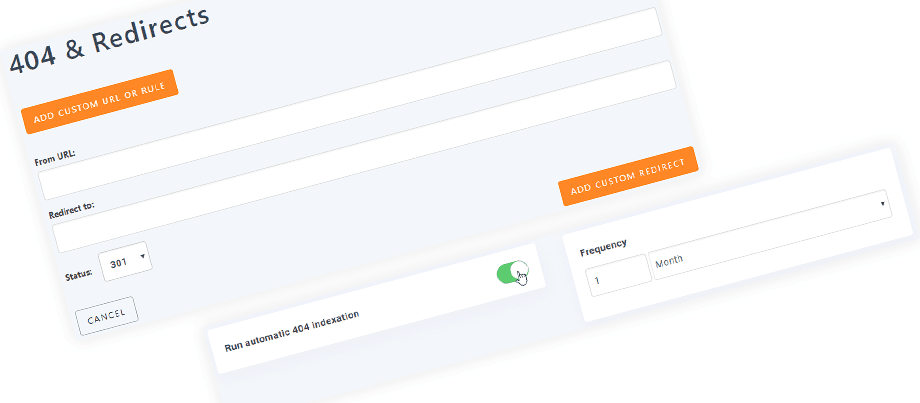 Redirect Google Search Console Broken Links
---
Google, through the Search Console, is also indexing its own 404 that occurs on your domain when he crawls it. There's a part of those 404 URLs that are relevant and needs to be fixed. WP Meta SEO addon includes a quick connector to the Google Search Console, then you'll be able import the 404 URLs and do a redirect. Your redirect send instantly a request to Google telling him that it's fixed.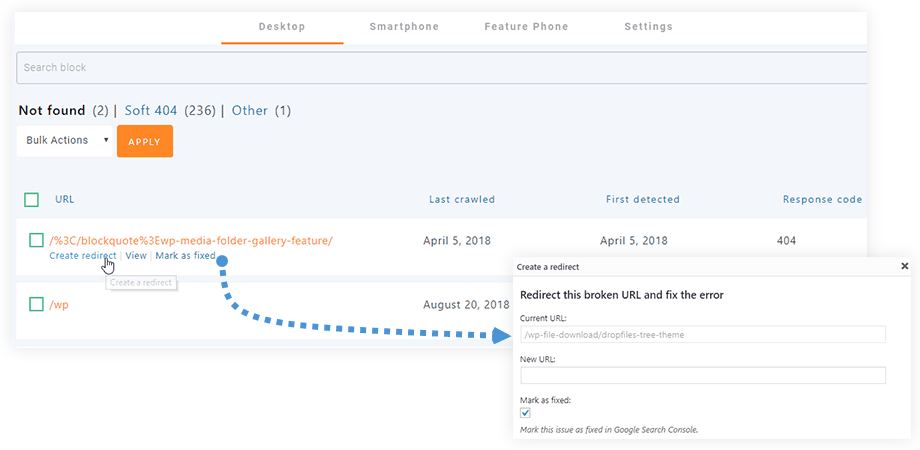 Run Automatic Error Check and Get Email report
---
WP Meta SEO is constantly checking your website for any SEO improvement though various criteria, and report all that on the plugin dashboard. How about getting all this formation by Email when you want, including your 404 errors report mentioned above?
Meta titles completion
Meta description completion
Permalink structure change
Image HTML resized in content
Image title and alt completion in content
Link titles completion
404 error detected and not redirected yet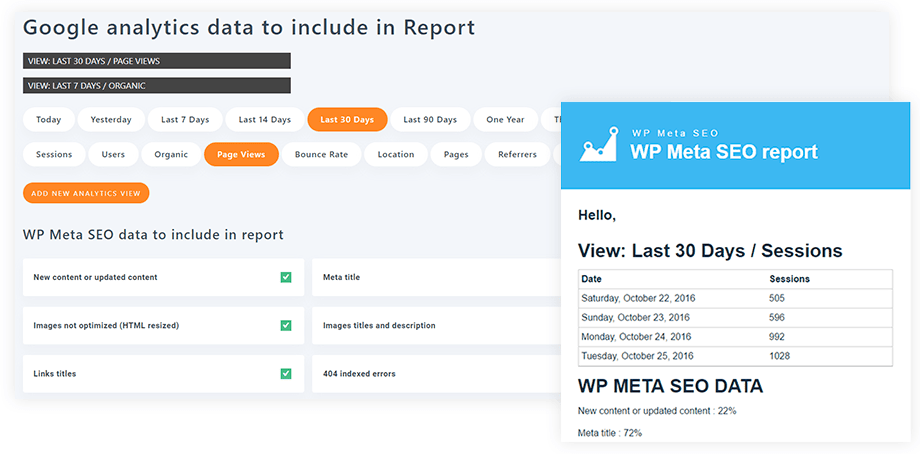 404 Error Page and Global Redirect
---
For a quick fix your can redirect all 404 pages to home page or you got options for your 404 pages. You can use the default 404 page design provided or even custom your own! It's a fast as changing a setting in the plugin configuration.