WP Speed of Light - Speed Up WordPress
By default, WordPress does not have a system for speed optimization. That's why a powerful plugin that speeds up WordPress with technical and advanced features, yet accessible to everyone is a necessity. WP Speed of Light comes with a cache and Gzip compression system, and includes, a resource minification tool, a database cleanup system, a htaccess optimization tool and an automatic cache cleaner.
When it comes to measuring performance loading time, it requires some test to identify which plugin, theme or page may require more attention. WP Speed of Light includes a speed loading test and comparison tool, alongside a database query speed test. Give a comfortable navigation experience to your users and get a better search engine rank!
WordPress speed analysis, page speed testing, and optimization criteria
Measure the database plugin and theme impact on your WordPress pages
Optimize your WordPress speed in no time with complete yet accessible settings
The WordPress Speed Optimization, Live
Powerful WordPress and Browser Caching
---
WP Speed of light for WordPress comes with a lot of optimization systems such as cache system: it generates more static content (HTML) therefore reducing the number of database queries required to load the page. Plus, you have the possibility of storing the major part of the heavy page resources (like images) in the browser cache. And you can clean it when you want! Full optimization list:
Static file cache system
Gzip data compression
Browser caching
Files group
Resources minification
Specific mobile cache per device
Remove query string
Check WordPress Speed and Compare
---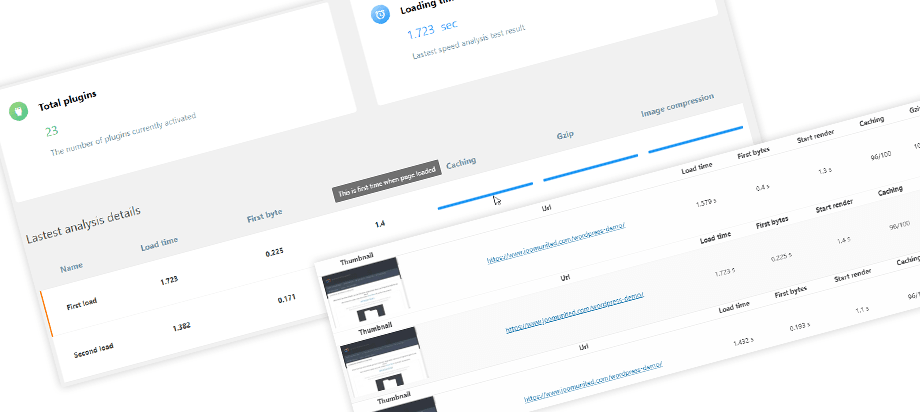 The optimization of a website is also about testing the performance to determine what elements can be optimized to yield performance. With WP Speed of Light you can run several tests on the same page and open a comparison table. We've made an integration with WebPageTest API (free) to run detailed speed tests on various elements like:
First loading time
Second loading time
First byte time
Time to start rendering
Element served from cache in %
Elements compressed with Gzip in %
Percent on compressed images
Database Speed Test
---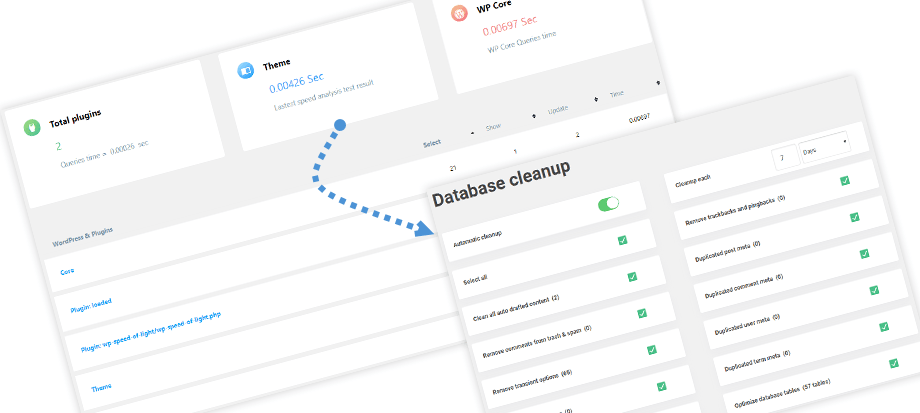 The database queries can represent something important about WordPress' speed. The database speed test may help you to determine problems with a theme or a plugin and fix some major performance issues.
Automatic WordPress Cache Cleaner
---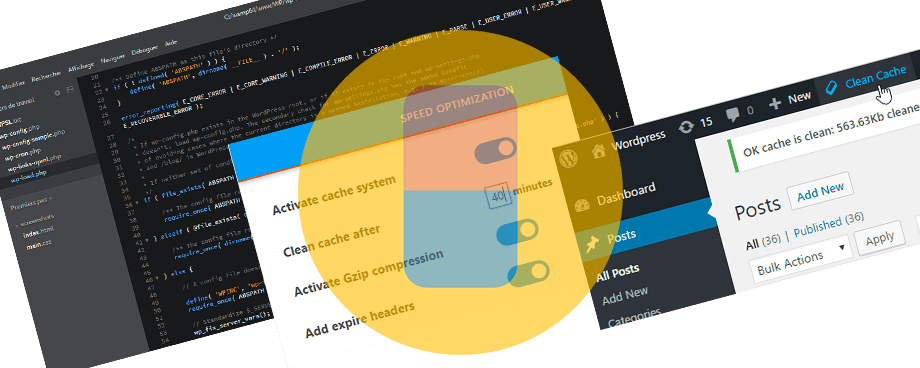 A cache cleaning system is available to clean it automatically at regular intervals. If you prefer not to wait, a button to run a custom clean from everywhere (every admin and public pages) is also available! Plus, you have setting to exclude admin user from cache and to exclude specific pages from being cached.
A Dashboard to Rule All the Performance
---
A dashboard is available to check all major performance issues you have and fix them in one click, pretty handy to optimize performance in no time.
Check for WordPress cache activation and duration
Check for WordPress Gzip activation
Check for resources group and minification
Expire Headers presence and duration
Check website loading time (latest test)
Auto Clear cache activation
Check the number of plugins in use
Check for PHP version
Selective Cache for Mobile Devices
---
WP Speed of Light can handle the cache for mobile automatically, and you can generate a dedicated cache version per device or even disable it. The plugin also works automatically with mobile plugins like WPtouch. Mobile cache features:
Automatically serve cache for all devices
Dedicated cache for tablet
Dedicated cache for tablet
Option to disable cache for a specified device
WooCommerce Speedup
---

WP Speed of Light is, by default, fully compatible with WooCommerce. Don't worry about cart refresh, payment problems... All your shop pages will be displayed fast and properly, with no advanced configuration needed.
PLUGIN FEATURE LIST
All additional features included

Setup cache time
Setup WP Speed of Light with time static cache duration

Browser cache option
Activate or disable the browser caching and htaccess patch as an option

URL exclusion
Decide which page to exclude from cache in the configuration to avoid any plugin compatibility issues

Accessible to everyone
Install and activate cache, Gzip and browser cache in one single click

Run performance Web Page Tests
Our tests are based on the WebPageTests API, allowing 200 URL tests per day for free
Clean cache easily
Clean cache from the plugin settings, automatically or using a button

Exclude admin
You can exclude admin from all the cache system to always check real time content changes

Minify resources
Minify the main WordPress resources: HTML, CSS, JS

Help and recommendations
You get help on every configuration element and custom recommendations

SEO friendly
Performance is very important for SEO. Google measure the user page loading time, so it really helps!

Database cleanup
A lot of unused elements can slow down WordPress (admin and public), clean all that in one click

WordPress Expire Headers
Fix the WordPress Expire Headers by patching your htaccess in one click

WordPress framework
WP Speed of light is fully based on the WordPress framework. It has the double advantage of being light and 3rd party compatible

Extension update
Maintaining websites with plugins can be very painful because of license limitations. WP Speed of Light uses WordPress updater

User friendly
The dashboard configuration help, automatic performance issues detection make the plugin user friendly
WORDPRESS PLUGIN INTEGRATION
Compatibility and 3rd party integration's with the plugin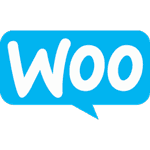 WooCommerce
WooCommerce fully compatible. Sell your products faster, get a better SEO rank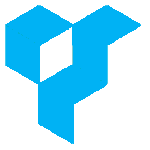 Visual composer
WP Speed of Light is fully compatible for admin and frontend content edition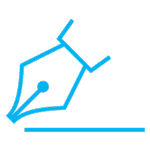 For every theme
7000+ users can't be wrong. The plugin has been tested on tons of themes and providers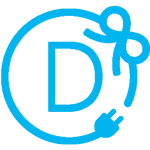 DIVI Builder
DIVI builder from Elegant themes fully compatible. WP Speed of Light is fully compatible for admin and frontend content edition
Beaver Builder
Beaver Builder fully compatible. WP Speed of Light is fully compatible for admin and frontend content edition
Others Page Builders
WP Speed of Light works with all other major content builders: ACF, Site Origine, Themify builder, Elementor and Live Composer page builders...
Plugin Translations
Community translations included, create your own in few clicks! More information >>
Get the plugin now, it's totally free!
DOWNLOAD WP Speed of Light for free
OR get support and our

WordPress bundle - All WordPress commercial plugins for 1 year
$149
Review and ratings
---
WP Speed of Light - Speed up WordPress
84
out of
100
based on
17
user ratings
Rating source: 17 user-submitted reviews at: WordPress.org