OneDrive Media Integration In WordPress Content
---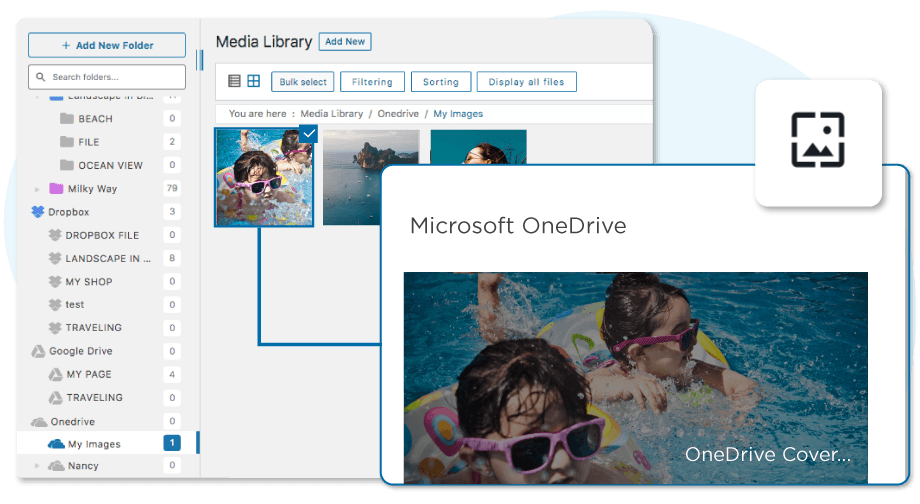 Once you've connected WP Media Folder with OneDrive you'll be able to manage OneDrive files among WordPress media, from the WordPress media library itself. The OneDrive integration allows you to embed (load from OneDrive servers) one or several OneDrive media in WordPress. The media will be added in the content like any WordPress media without any difference with the usual media library.
Use OneDrive Image to Create Galleries Including in Gutenberg
---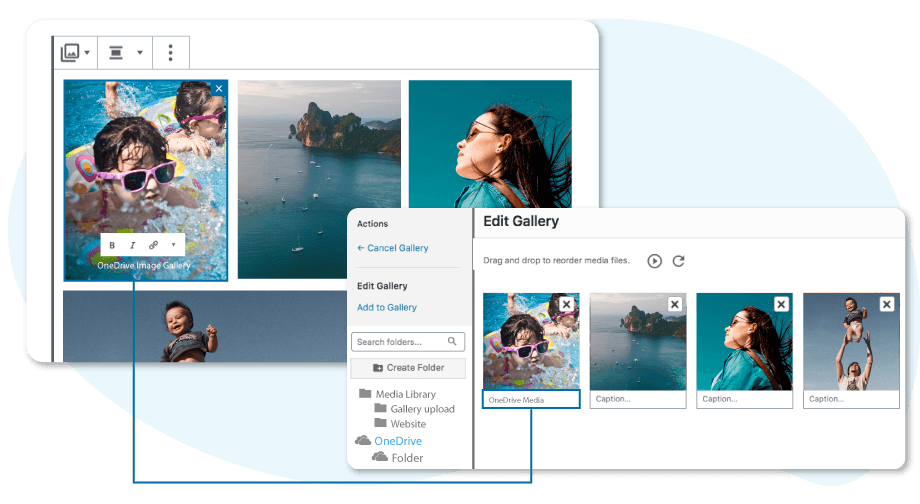 The OneDrive WordPress plugin is fully integrated with Gutenberg editor, including with all 3rd party image and media blocks plugins. In a word, you can use OneDrive media as your default media manager.
Import OneDrive Personal Media in WordPress
---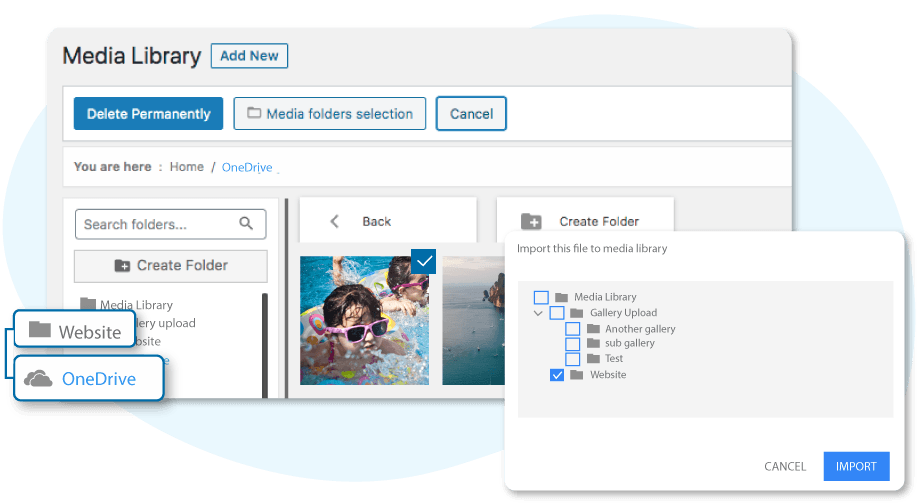 You can import OneDrive media in the WordPress Media Manager and use them among any others. The OneDrive media import can be done in a specific Media Folder, so everything stays organized in your media library.
Manage OneDrive Personal Drive Files and Folders
---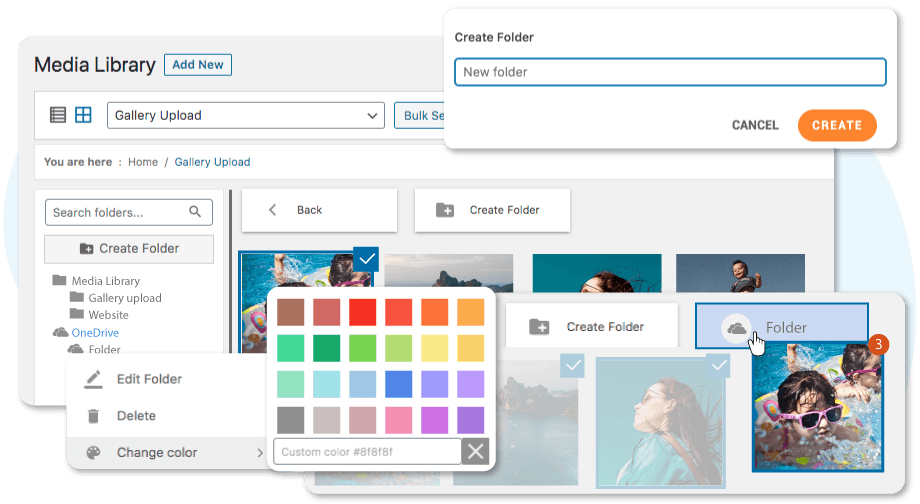 The OneDrive WordPress plugin integration can perform all the major media library actions you can expect, like:
Create, delete, rename move media from OneDrive then use them in WordPress
Create, delete, rename, download, move OneDrive files from WordPress
Order OneDrive media in the WordPress media manager
Make a multi selection of OneDrive media to perform bulk actions 
Search through OneDrive media in the WordPress media manager
OneDrive to WordPress and WordPress to OneDrive Synchronization
---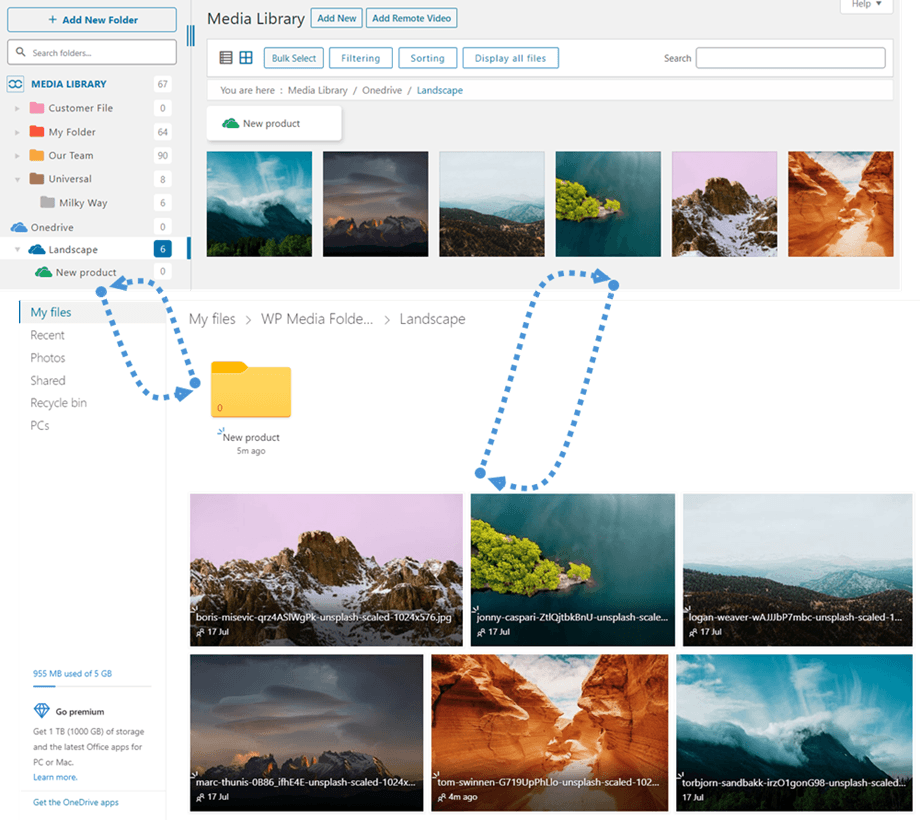 The OneDrive WordPress plugin includes advanced options for the media synchronization with WordPress. You can perform:
Automatic and global synchronization
Force a global and instant synchronization from WordPress
Force a single media folder synchronization from WordPress
Determine if your media links are public (accessible through a link) or remain private
Embed PDF from OneDrive Personal Drive In WordPress Content
---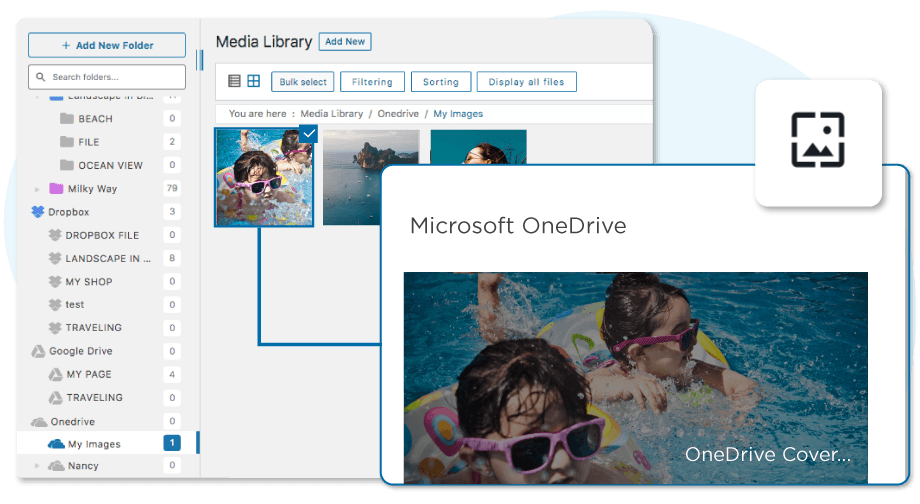 WP Media Folder got an inbuilt PDF embeder feature. The OneDrive Personal integration allows you to embed (integrate in WordPress content) your PDF stored on OneDrive Personal drive. All the PDF embeder are supported like pagination, zoom, rotation....
How To Easily Connect The OneDrive Personal To Media Library?
---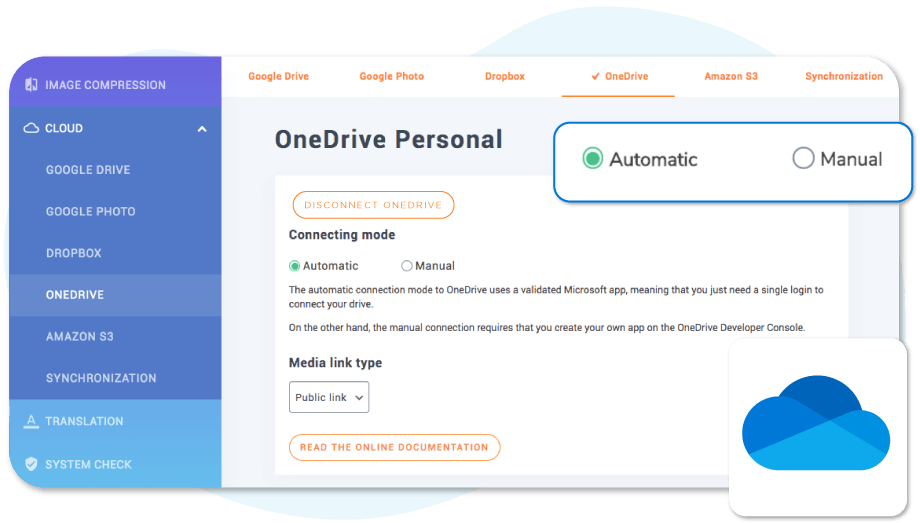 Don't worry, you don't have to be a developer to ensure the connection works :) There's 2 connection methods, the first one is click and connect using your OneDrive username and password. The second method is to create your own Microsoft Azure App to get your credentials. There are several synchronization methods that fit different server requirements, such as AJAX sync, Curl, or custom Cron tasks. You can also setup a synchronization delay or force the synchronization manually. Finally there's also the online documentation and our support team is available to help you with all your needs.
OneDrive WordPress Integration in Video
---