Embed Google Drive Media In WordPress Content
---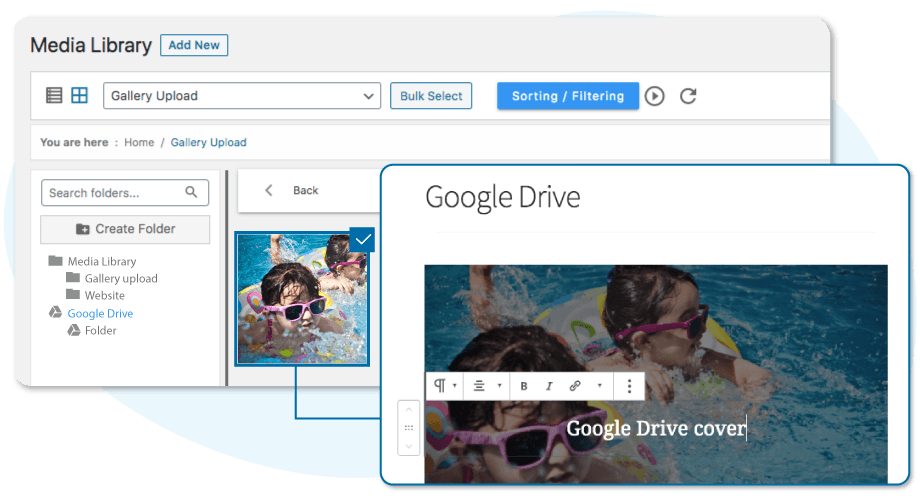 Once you've connected WP Media Folder with Google Drive you'll be able to manage Google Drive files among WordPress media, in the very same media library. The Google Drive integration allows you to embed (integrate in WordPress content) one or several Google Drive media. The media will be loaded in your WordPress content using the Google servers.
Use Google Drive Image to Create Galleries Including in Gutenberg
---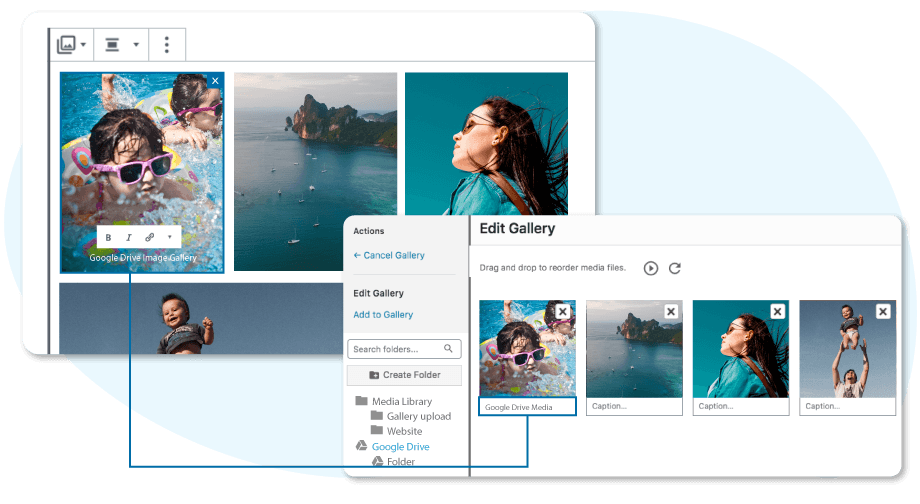 The Google Drive WordPress plugin is fully integrated with Gutenberg editor, including with all 3rd party image and media blocks plugins. In a word, you can use Google Drive media as your default media manager.
Import Google Drive Media to Your WordPress Media Library
---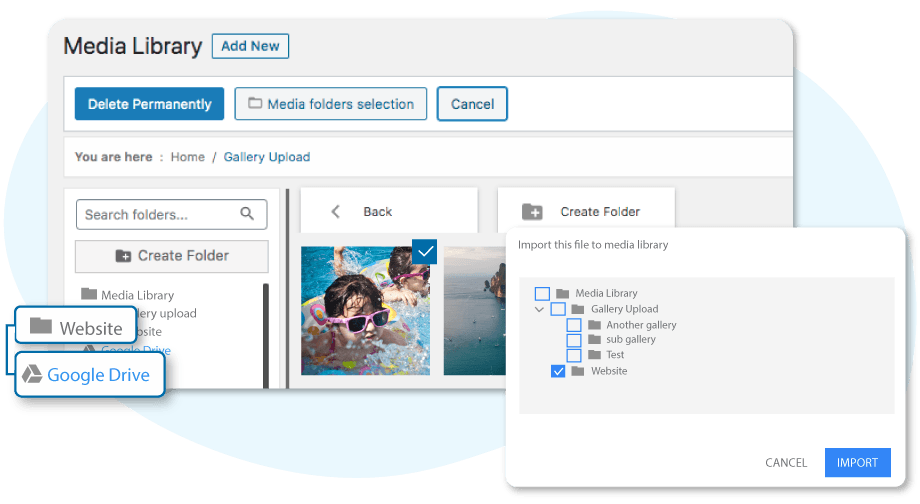 You can import Google Drive media in the WordPress Media Manager and use them among any others. The Google Drive media import can be done in a specific Media Folder, so everything stays organized in your media library.
Manage Google Drive Files and Folders from WordPress
---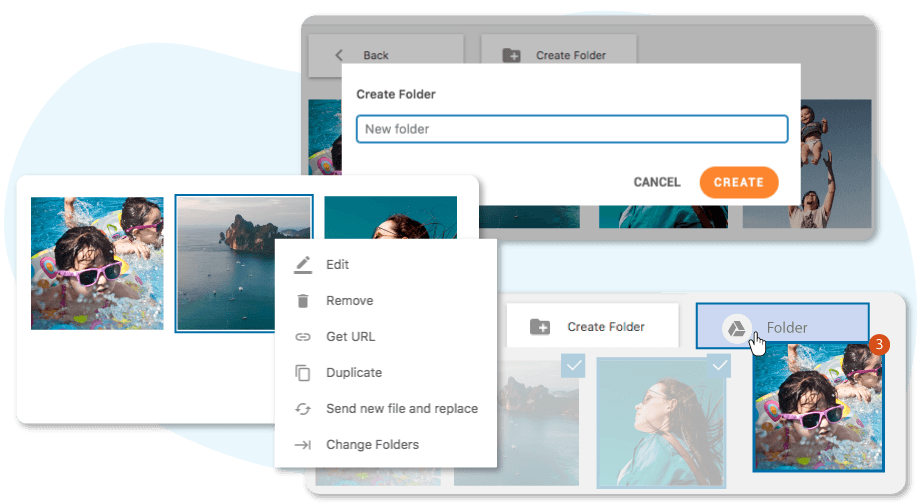 The Google Drive WordPress plugin integration can perform all the major media library actions you can expect, like:
Create, delete, rename & move media from Google Drive then use them in WordPress
Create, delete, rename, download & move Google Drive files from the WordPress media library
Order Google Drive media in the WordPress media manager
Make a multi selection of Google Drive media to perform bulk actions
Search through Google Drive media in the WordPress media manager
Google Drive to WordPress and WordPress to Google Drive Synchronization
---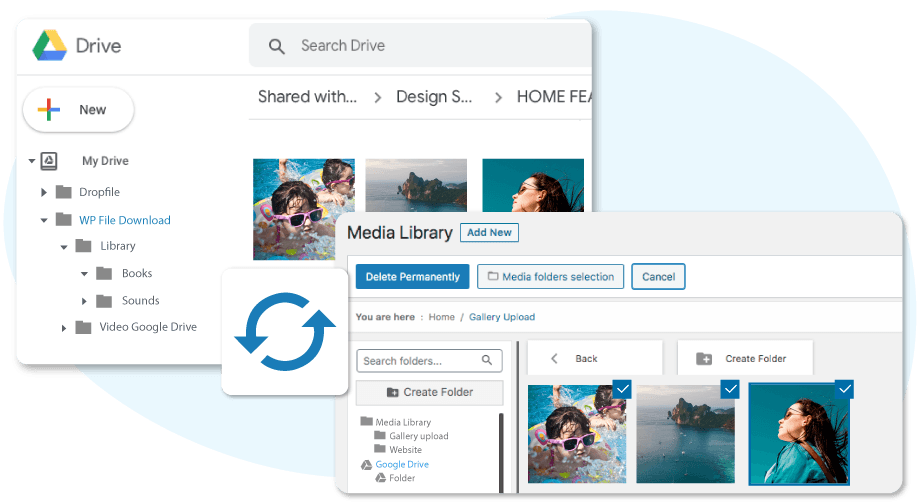 The Google Drive WordPress plugin includes advanced options for the media synchronization with WordPress. You can perform:
Automatic and global synchronization
Force a global and instant synchronization
Force a single media folder synchronization
Determine if your media links are public (accessible through a link) or remain private
Google Drive for Work - G Suite Version
---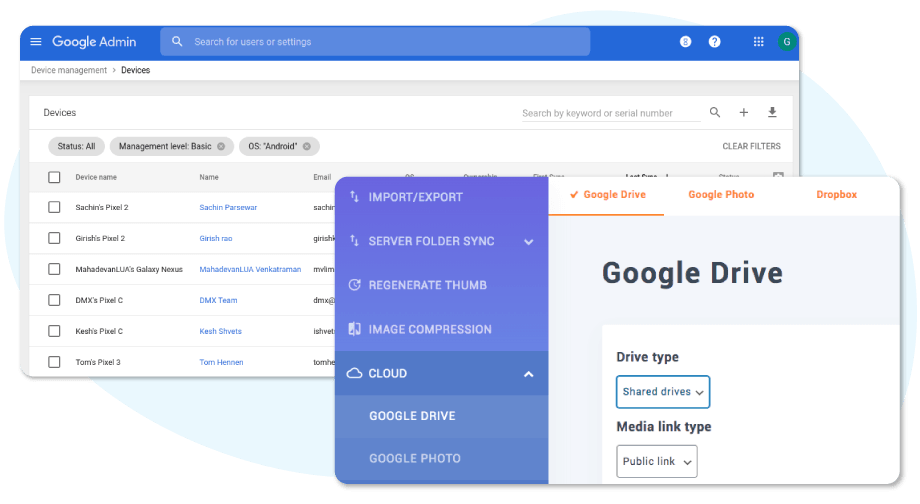 The Google Drive G Suite commercial version is also supported. You can load G Suite shared drives in your WordPress media manager and synchronize media like in Google Drive personal version.
How Does The Google Drive <> Media Library Connection Works?
---
Don't worry, you don't have to be a developer to ensure the Google Drive connection works :) All you have to do is create a Google Drive App (free of charge) to get an ID and password then login to your Google Drive account from the plugin. Google Drive media will be instant synchronized and accessible from the usual WordPress media manager (lightbox & media menu views). Finally there's also the online documentation and our support team is available to help you with any configuration.
Google Drive WordPress Integration in Video
---