My Maps location


Let your users search the locations you've recorded or display the locations you want.
Get the most advanced location locator's for Joomla with unique features. With My Maps location you can point a location directly on a Map or use the predictive search, save it, categorize it and display one or all locations on a global Map or as a listing. You've got many display option and the extension comes with a responsive design and a custom background.
With the editor button embed a location selection of your choice anywhere with automatic zoom level. The extension comes also with 3 modules, a search module, a map module and a K2 module.
My maps location is simply the most advanced Google Maps integration for Joomla. Integration are also included with K2, Community Builder and Jomsocial, click here for a K2 video.
Requirements: Joomla 3.x, SSL certificate for chrome 50+ geolocation
Main advantages:
Search and filter by names or locations
Auto geolocation (automatic search)
3 modules: search, display, K2
Content plugin to add locations in articles
3 search layouts themes
Responsive design with custom background
Categories and filters for locations
Radius distance search
Tag filtering
HTML5 Microdata integration
Google Maps and Bing Maps
My Maps location screenshots
Main component search view with auto geolocation and predictive search​
Setup one of the 3 search layout in each menu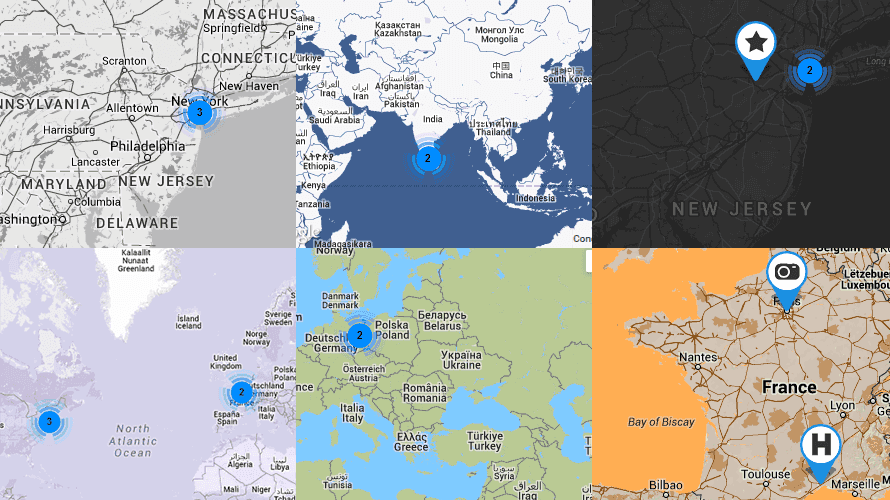 Each map can be designed separately, up to 10 themes available + satellite and bird eye views
Category, sub-category and radius search filters
Route calculation and self position auto definition
Tooltip details with several content fields available
Detailled location view with location switcher
Global map view inserted in articles with editor button
Contact form with custom URL, lightbox. It can be set for each location
Single location selection and insertion in articles
Video
Google Maps configuration and search demo
Features & integration
Main features and 3rd party integration
Mobile
Let your users be comfortable during location search on desktop and on mobile devices. My maps location include a responsive design in all screen size, plus you have the control over elements size: result panel and map.
Designed
My Maps location offers 3 search layouts (a layout can be defined per menu) + up to 10 map design. Each design can be applied on each page, on each mode, in a separated way. Let My Maps location fit your website design!
Flexible
My Maps location is the most flexible Google Maps integration in Joomla. The extension can be used as a search engine with powerful filters but also as map & search module or right inside your editor for a simple contact map for example.
Reliable
My Maps location has an inbuilt import/export tool. It's compatible with .csv files and .kml files from Google Earth. Got thousands of locations? you'll never lose them!
| | | | |
| --- | --- | --- | --- |
| K2 dedicated plugin | Language available | Editor plugin | Third party plugin |
| Google Maps | Bing Maps | CB dedicated plugin | Jomsocial plugin |
Hikashop / Hikamarket edition

My Maps location is now fully integrated with Hikashop and Hikamarket multivendor solution. Read more...
The fastest extension to add locations
Search engine in a module
Set of designed icons for your locations
WYSIWYG and lot of information for locations
Google Maps suggest in backend and frontend
Categorize and Joomla tags for locations
joomla native Multilingual
Radial distance search
Unlimited locations
Add location in one click in your articles
A module to load your maps
A module to display location search field
Module to display locations on a single map
Editor button to display locations on a single map
Jomsocial member search on Google Maps
Jomsocial dating search module integration
Community Builder member search
Ohanah event search integration