Fix the Image HTML resizing
---
The HTML resizing is usually done in WordPress using handles on an image in the editor. It means that the original image size will be loaded even if the display size is different. This is a big problem because loading a 3000px image displayed @ 300px can be really bad regarding performance and display quality. You can now fix that automatically and dynamically replace images in your WordPress content, even if the image is used in several content (page, post…). You don't need to open the content where the image is placed!
The plugin will detect all the HTML resized images and resize it for you

Mass Edit of Your Image SEO Information
---
Images meta and information, is not something you usually care about when you optimize a website for SEO. But it's important! it add content to your page and help you to get present in image search. The main problem is that there's a lot of images to edit and each image can be used in several posts, pages… that's why we've included the image meta and info optimization check in a bulk edition interface. You'll be able to edit:
Your image in context, information related to the content where the image is currently placed
Image file name, replaced in the content without broken links
Image titles
Image alternate tags
The interface includes an AJAX instant save feature and a bulk copy tool for:
Image file name to alternate text
Image file name as image title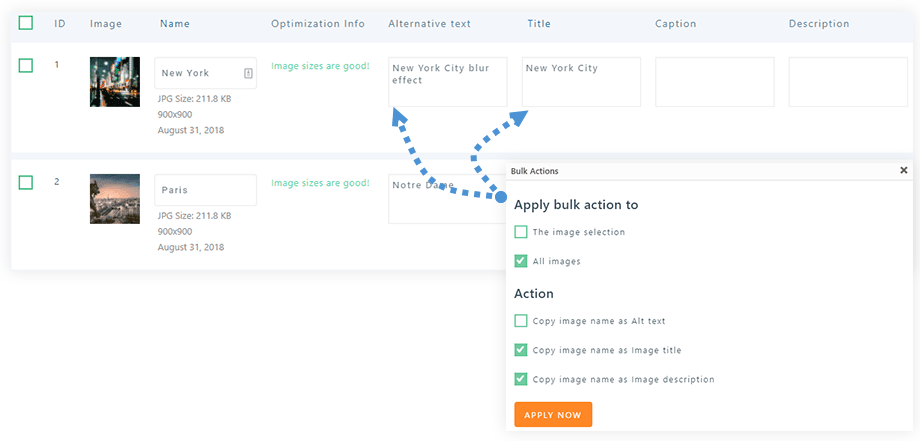 Image Resizing in the OnPage Content Checker
---
This image resizing and information is important, so it's also included in our OnPage content checker. It will be detected once you edit a page, post... and you'll get information how to fix it right away.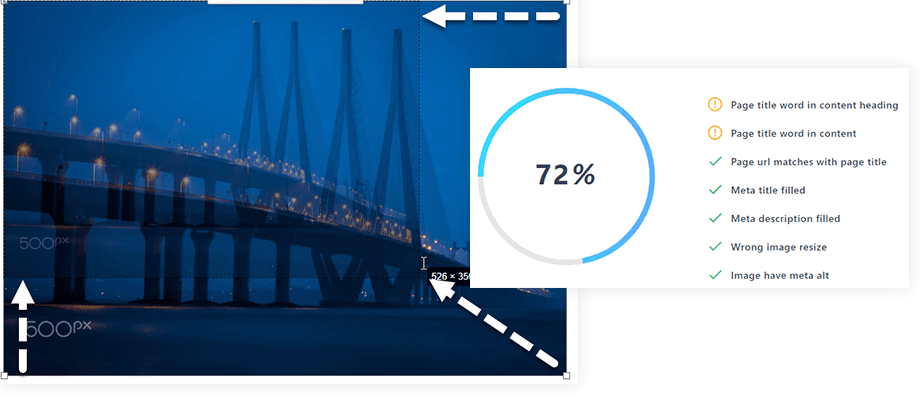 Image Optimization Information in Email report
---
WP Meta SEO is constantly checking your website for any SEO improvement though various criteria, and report all that on the plugin dashboard. How about getting all this formation by Email when you want, including image information mentioned above?
Meta titles completion
Meta description completion
Permalink structure change
Image HTML resized in content
Image title and alt completion in content
Link titles completion
404 error detected and not redirected yet