SEO friendly internal links with definitions
SEO Glossary overview


Get the most advanced glossary for joomla. With SEO Glossary it's easy to define one or billions of terms in your joomla content. The integration is very simple, install and enjoy. Creates one or more categories (the glossaries) and feed them with all the terms that you need to define then tooltips and links to defition will appear automatically. No more. All the joomla content can be browsed and searched. The color of the tooltip can be customize easily to fit as much as possible to your website. With SEO glossary you can create multilingual dictionary, glossary, a glossary of abbreviations, and much more!
Get a better content for your reader and use it to generate internal links with your definitions.
New! 2 responsive themes are now included in the best Joomla Glossary.
Main advantages:
Each definition becomes a single page
A definition can be linked with others
Tooltip adds content on each page
Entry alias is displayed in the URL
Compatible Joomla 2.5 & 3.x
2 nice responsive themes available
The tootip fit to your design
Custom alphabets for special caracters
Display synonyms in tooltips
Dedicated search plugin
Always working!
Joomla glossary screenshots
Main component view with glossaries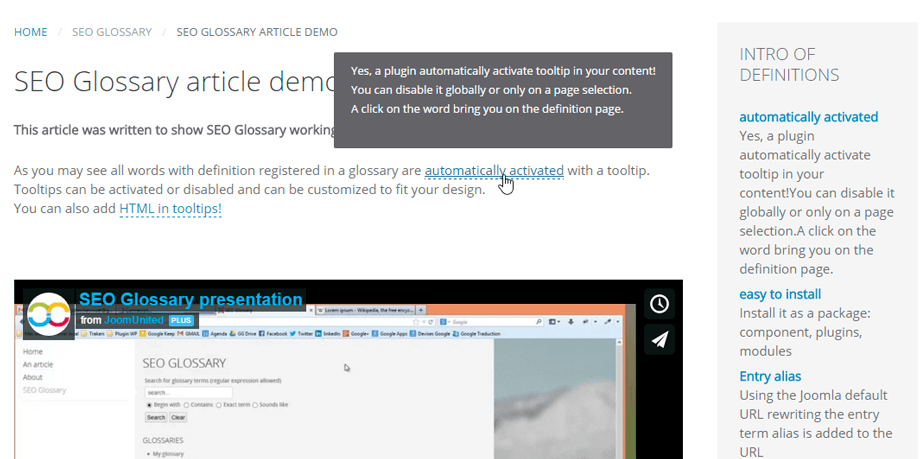 Tooltips with effects, visual styling, position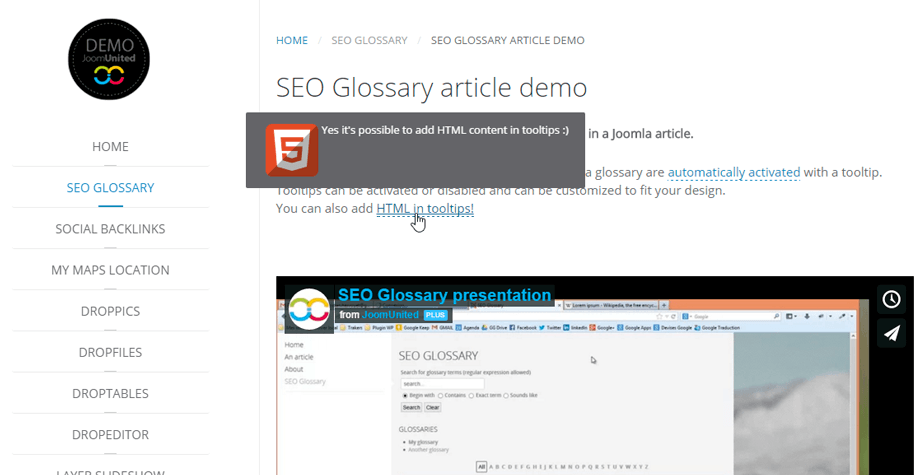 Defition is typed in an editor so you can add HTML inside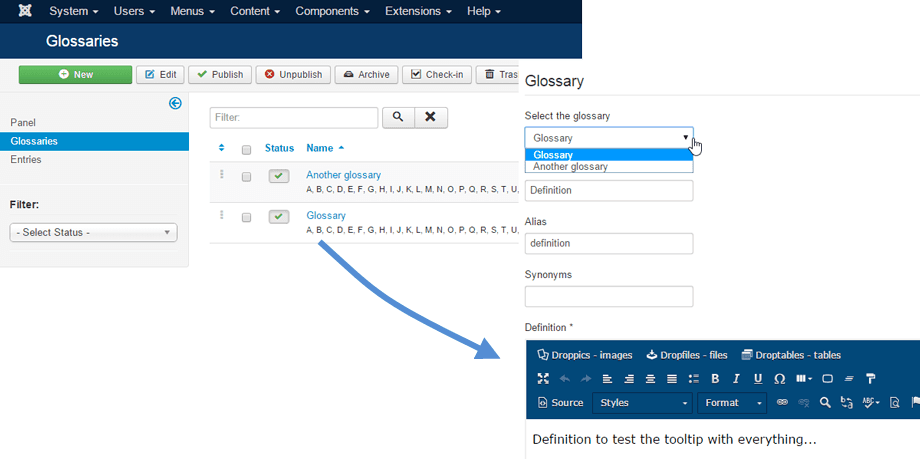 Create one or several glossaries then add definitions like you do for Joomla articles
Definition listing in joomla backend
Responsive additional theme for glossaries
Additional flat design and reponsive theme
Main Joomla backend component view
Advanced and regular tooltip part of the configuration, do what you want with a full visual config
Component parameters includes: all component element display, tooltips, social, Email, frontend submission, content restriction, search
SEO Glossay video demo
Demo and Tutorial
Features & integration
Main features and 3rd party integration
| | | | |
| --- | --- | --- | --- |
| Works with K2 | Language available | Inbuilt themes | Third party plugin |
3 display screen to control the component
Advanced search engine and Joomla search plugin
Tooltips can be designed with visual selectors
Frontend definition submission
Add HTML in definition
2 modules to display latest and custom entries
Multi-lingual glossary (joomla native)
Alphabetical and pagination filters
Unlimited glossaries and definitions
Submit entries from frontend with ACL control
1 glossary specific responsive theme
1 flat design responsive theme
Add synonyms in tooltips
Limit / Disable the term detection