In today's age, protecting creative property is no mean task. If you are a photographer or an artist, sharing your creations always involves relinquishing some control over them, but not sharing them is not the solution. WordPress' WP Media Folder's solution applies one of the most common protection mechanisms to your art - watermarks.
WP Media Folder's watermarks ensure that even if your pictures are re-used elsewhere, your mark is ever-present. What's more, if you already have a wealth of media files uploaded to WordPress, you will be relieved to learn that WP Media Folder can also apply watermarks retrospectively on existing images.
Activating Watermarks on WordPress Media
There are two components in WP Media Folder's watermarks: the watermark image and the actual media files that the former will overlay. Before any of that works, though, you will need to activate watermarks for your content.
To activate watermarks, head to WP Media Folder's settings in your WordPress dashboard. Under the rename & watermark menu, you will find a watermark tab, under which all watermark-related settings are contained. To allow watermarking on your WordPress media files, toggle the images watermark switch at the top of the page and save changes.

Once you activate watermarks, you will need to set up the first component described above - the watermark image, or the artifact that will be printed on every image. You can pick any image from the file picker below the switch.
The rest of the options let you specify how and where the watermark should display. The options include the watermark's position and margins on media files and its size - important considerations depending on what kind of images you upload to ensure that you do not end up obstructing their subject.
Most importantly, you can decide when the watermark should be applied to your WordPress images. You may find that the watermark appears too large in thumbnail or medium-sized images. Therefore WP Media Folder allows you to apply watermarks only on certain WordPress images.
It may not even be desirable to apply a watermark on every image. If you are using freely-available images that are not yours, then you probably should not be applying watermarks on them. On the other hand, you might want to protect pictures that yourself snapped and uploaded to WordPress. The last section of the settings allow you to specify WordPress folders whose images should not get the watermark treatment.
Applying Watermarks on Existing WordPress Images
If you save and head to your WordPress media library, you will be in for somewhat of a shock. True, your pictures are all there, but the watermarks are not. If you upload a new picture to a watermark-enabled folder, a watermark will be applied on it, but odds are that you also want to apply it on existing images, which may be aplenty.
Adding - or updating, for that matter - watermarks to existing WordPress images does not necessitate re-uploading all of them one-by-one. Instead, all you need to do is head back to the watermark settings tab. If you scroll to the bottom, you will find a thumbnail regeneration button. Click on it and wait for the process to finish. Alternatively, you can perform the same exercise from the regenerate thumb menu in WP Media Folder's settings.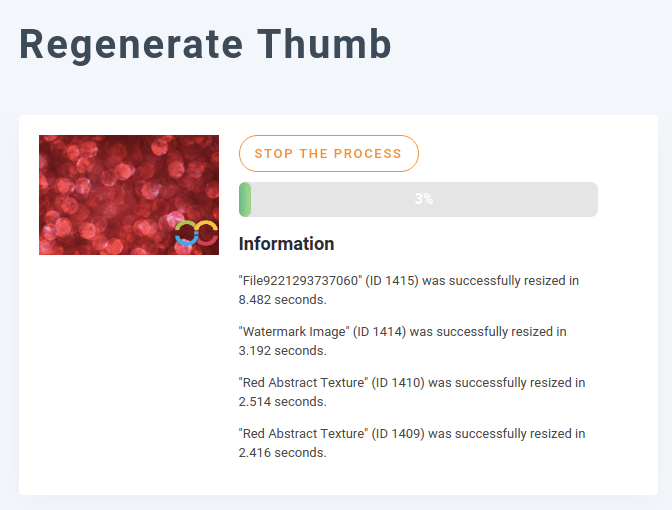 The thumbnail regeneration process reapplies watermarks on all existing WordPress images that match the criteria above there and then, on the fly. That means that even if an image already has a watermark, it will be reapplied with the current positioning, margins and size settings.
Protecting your creations should never be a daunting task. WP Media Folder lets you leave your mark on your creative creations. Whether you are now joining WordPress to share your photography, or a digital artist with years of experience, WP Media Folder makes it easy to share your content, and easy to protect it.
Get WP Media Folder Here: https://www.joomunited.com/wordpress-products/wp-media-folder