4 minutes reading time
(820 words)
WordPress file previews with WP File Download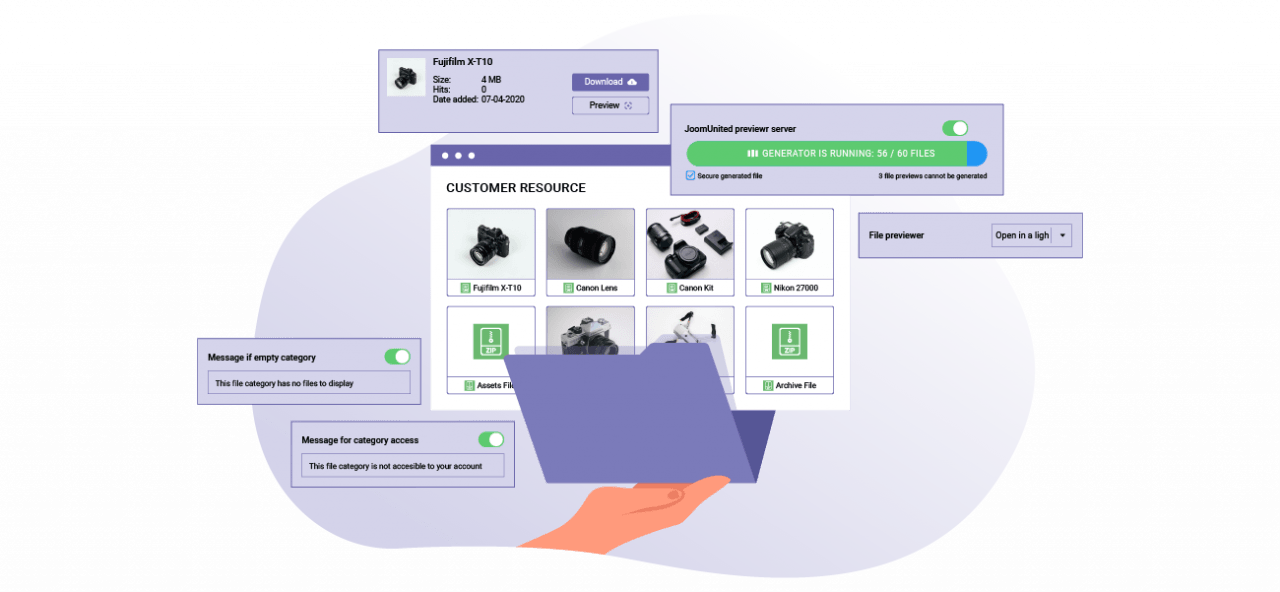 Every WordPress website has files. Whether images, videos or other types of media, or the programming files that underpin any blog, your WordPress site cannot survive without files. In the past, we likened WP File Download, WordPress' ultimate file manager, to a desktop file manager. With the latest update, the WordPress plugin's likeness to a desktop file manager has only grown more profound.
WP File Download 5.4 has just arrived with a new theme to make your WordPress files even more expressive. The new look, the Preview theme, allows your users to preview files, as the name implies. The new theme, however, is accompanied by other changes to your favorite WordPress file manager, so let's dive in.
Looking for a powerful file management solution for client websites?
WP File Download is the answer. With advanced features like file categories, access restrictions, and intuitive UI.
Impress your clients with top-notch file organization!
WordPress file previews with themes
The biggest change in WP File Download 5.4 is, without any doubt, the introduction of a new theme: the Preview theme. If the name has not given the novelty away yet, the Preview theme gives more space to files with the new preview functionality, creating a file browser as expressive as the one on your desktop. The Preview theme shows previews in two ways.
First, and most evidently, the Preview theme shows file previews while browsing files in the file manager. Instead of icons, the Preview theme shows previews of the actual files, allowing easy, intuitive and quick browsing. Second, the Preview theme optionally shows file previews before downloading files. If you click on a file, you can either download the file or view a preview.
WP File Download supports previews for several types of files, including most types of images, PDFs, spreadsheets and other documents. Every preview is generated in the background. WP File Download sends files to Joom United's secure server to generate preview thumbnails for files.
Generating previews in this way brings one important benefit. Because WP File Download only generates previews once, and not on every user's visit to your WordPress blog, your website suffers no hit in performance. And if the server does not support a particular file, it reverts to a Google Drive. WP File Download always has you covered.
The thumbnails integrate perfectly with WP File Download, which includes security. While regenerating preview thumbnails from the WP File Download backend, you can tick a box to secure the generated file. Essentially, a secure preview inherits the access limitation of the file it previews: a public user may only preview files accessible to them.
In the same page, in the frontend tab of your WP File Download, you can also tweak preview behavior. You can change the file previewer to three values: preview files in a lightbox, preview files in a new tab, or disallow any previewing. Note that this option only takes effect when a user clicks on a file; if you disable previewing, users have no option of viewing a file before downloading it.
Expressive display messages in file categories
In addition to the new Preview theme, your WordPress file manager has received another subtler feature to improve expressiveness. From the frontend tab of the WP File Download configuration, you can enable and customize two types of messages.
First, you can show a message to users when a WP File Download category contains no files. This message plays an important role in demystifying the file browsing experience. Second, you can show a message to users if they do not have the necessary permissions to view a category. This message communicates to users why they may not have access to the files in a WordPress directory.

If you enable either of the two messages, you can customize the text. Customizing the text allows you to follow your WordPress blog's brand or writing style, or even language, even in the messages. Simply type your messages and save changes.
Calling all webmasters!
Enhance your client websites with WP File Download. Create secure and customizable file repositories, allowing clients to easily access and manage their files.
Upgrade your web design services today!
And so, WP File Download resumes its journey. Slowly but surely, the WordPress plugin continues to transform into a fully-fledged file manager. The latest update, in particular the Preview theme, brings the plugin ever closer, ever more faithful to your desktop manager. Now you no longer have to download a file and wonder about its contents, simply preview it.
You can also check the other available themes that will fit any site type perfectly!
Do you want to start the transformation of your WordPress file manager? Learn more about WP File Download here.
Stay Informed
When you subscribe to the blog, we will send you an e-mail when there are new updates on the site so you wouldn't miss them.
Comments
No comments made yet. Be the first to submit a comment