Integrations with Dropbox, Google Drive and Microsoft OneDrive, and a social locker are just the main features in WP File Download Addon. Is there anything that the WordPress plugin cannot do? If you can come up with a list, strike one item off it: now the plugin also allows you to sell digital files straight from your WordPress blog thanks to its new integration with WooCommerce.
Combining WooCommerce and WP File Download Addon
The new e-commerce side of WP File Download is based on WooCommerce. In turn, this means two things. Firstly, all of WP File Download Addon's features remain available: you can still synchronize files with Dropbox, Google Drive and OneDrive, and later possibly put them up for sale. Secondly, the WordPress plugin also inherits all of the features from one of the most popular storefronts in existence: WooCommerce!
In other words, with WP File Download Addon, you can sell digital—and physical—goods, manage their permissions and view download statistics… all from WordPress. To start selling your WP File Download files with WooCommerce, you need only download and activate the two plugins.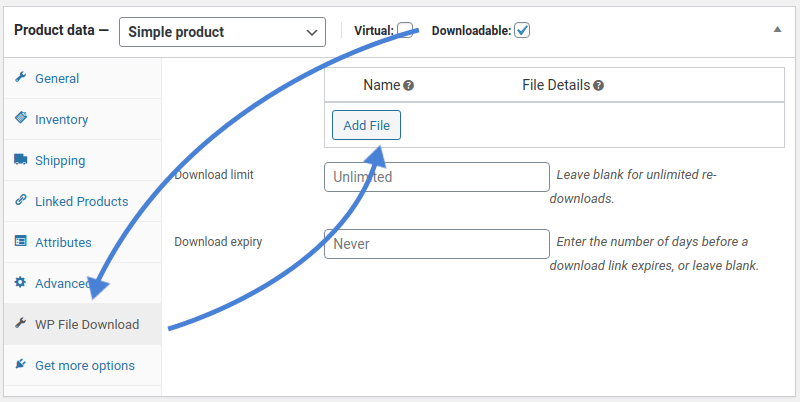 If you are already acquainted with WooCommerce, very little changes. If you are not, then you can create products from the Products menu. WP File Download's products are obviously downloadable, so check that box. The one, significant change from the usual WooCommerce process is the way you choose your file.
Whereas normally you would pick a file from the General tab, this time there is one new tab: WP File Download. The process is very similar: pick a file, set the maximum number of times that the file can be downloaded, and specify the number of days before the product expires and cannot be downloaded again.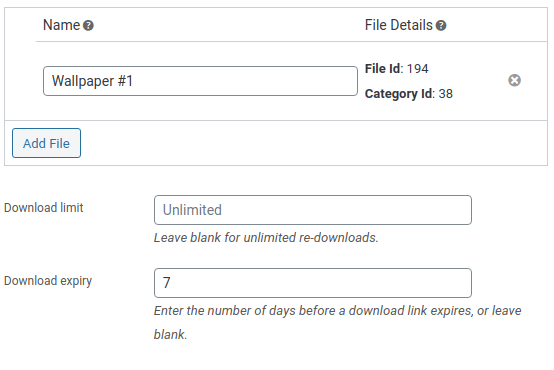 Click on Add File to specify what you want to sell. The file browser is WP File Download's built-in browser, and you can use it as if you are inserting a file into a WordPress post or page. Choose a file and click on the insert this file button to transform the file into a product. Set the download limit and expiry, and publish the product when you have filled in the rest of the WooCommerce fields.
You are not just limited to local files either. WP File Download Addon is capable of synchronizing external files from Dropbox, Google Drive and OneDrive. You can use the addon to sell remote files through WooCommerce.
File Product Management on WordPress
If you head momentarily to WP File Download, you will notice that WooCommerce product files are slightly different from the rest of the files. Files that are on sale have a Woo badge next to them. The change is small, but important. When you click on these files, you can choose whether access to these files should be governed only by WooCommerce, or by both WooCommerce and WP File Download Addon's access rules.
Although WooCommerce gives you a storefront, WP File Download Addon gives you more control over product placement. For example, if you want to highlight a file, perhaps because it is on sale, you might want to place it in the side menu. To do that, click on the WooCommerce product in WP File Download, scroll down and copy the shortcode. Place that shortcode anywhere on your WordPress blog and the product will appear instead of the code.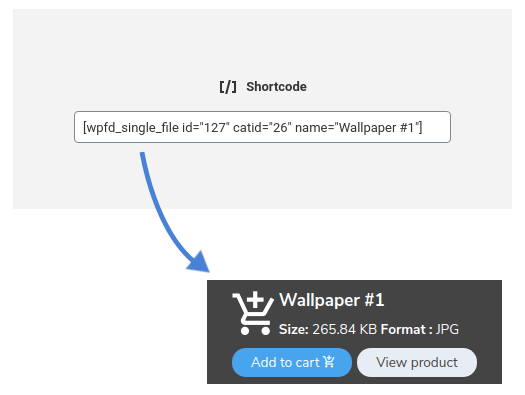 Finally, with the combination between WooCommerce and WP File Download Addon, you can track your files in two ways. You can use WooCommerce's analytics for the commercial statistics, such as revenue, and WP File Download's Statistics page for a more general analysis.
With WP File Download Addon, WordPress files can mean many things, so why not products? Whether you want to profit off your creative pursuits or reward subscribers with special access to your content, with WP File Download, you can turn your work into profit from the comfort of your WordPress blog