3 minutes reading time
(668 words)
OneDrive Business: Introducing Full Integration with WP File Download on WordPress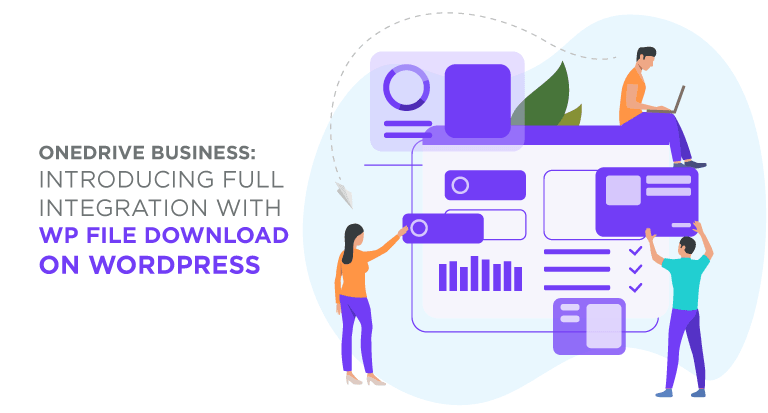 Are you a OneDrive power user? Perhaps you use OneDrive for your business? If you answered yes to either of these questions, odds are that you have heard of OneDrive Business: OneDrive's bigger brother. Maybe you already use OneDrive Business to manage your business' files!
OneDrive Business, or OneDrive for Business, is an upgrade over the simpler OneDrive, allowing businesses to choose where and how to store data. Moreover, with OneDrive Business, you get more administrative options to control who has access to which files. If you use OneDrive Business and have a WordPress blog, you'll be pleased to learn that WP File Download now supports OneDrive Business, allowing you to bring your files to your WordPress website with unprecedented ease.
Setting up OneDrive Business' Integration with WP File Download
Integrating OneDrive Business with WP File Download is a simple task, but it does require a short set-up procedure. If you head to the WP File Download configuration, and then into the OneDrive Business page under the Cloud Connection tab, you will see that you need a client ID and a client secret.
To get the client ID and secret, you will first need to register an application from the Microsoft Azure portal. Choose a descriptive name for your application and copy the Redirect URIs Server from WP File Download to Azure's Redirect URI. The redirect URI normally looks similar to https://www.yourblog.com/wordpress/wp-admin/admin.php. Click Register to finalize the application.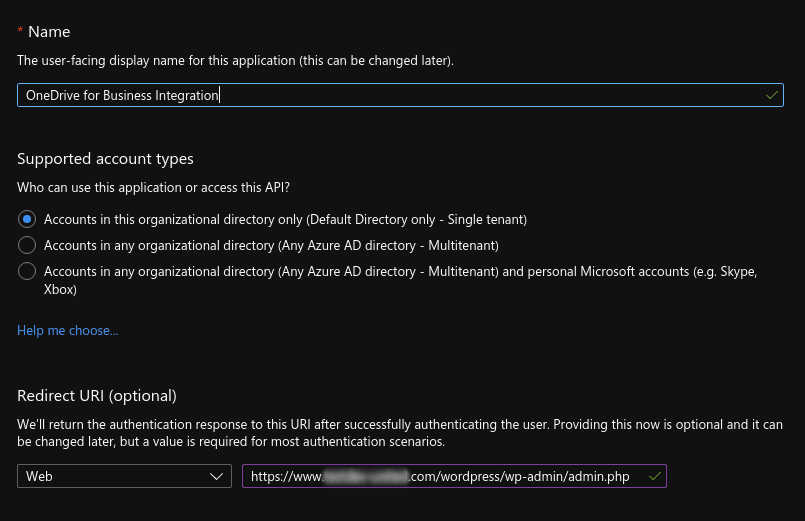 Once you have created your application, you still need the client ID and secret to connect OneDrive Business with WordPress. In the Overview page, you should find the client ID, which you can copy into your WP File Download configuration.
To generate the secret, click on certificates & secret from the sidebar on the Microsoft Azure portal, and then click on new client secret. This procedure is straightforward and gives you a client secret. Copy the new client secret to your WP File Download configuration.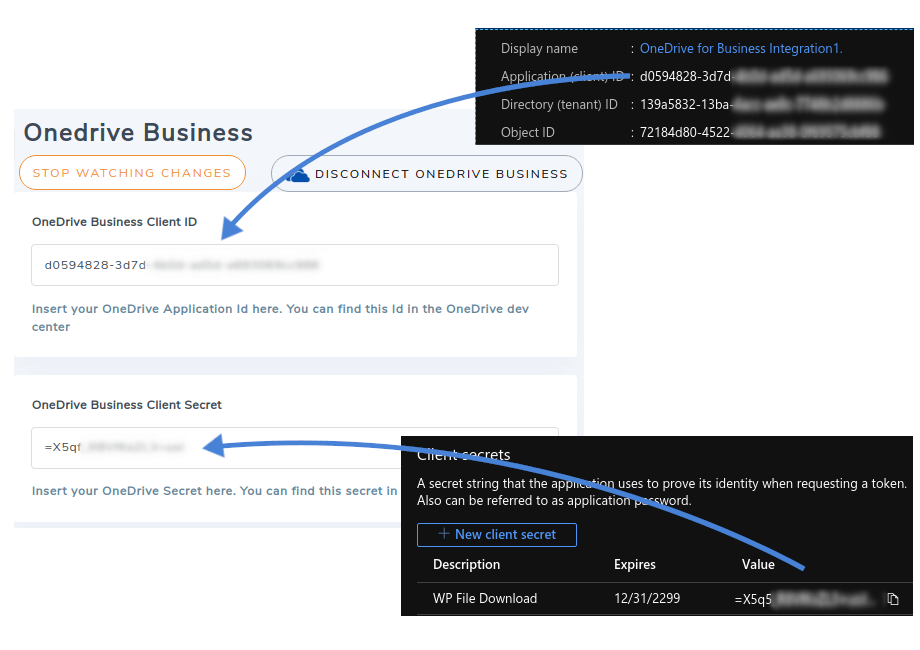 To finalize the registration in WP File Download, click on Connect OneDrive Business and give all the necessary permissions. Just like that, you have successfully integrated OneDrive Business with WP File Download, and therefore with your WordPress blog. Keep reading to learn how to use OneDrive Business with the WP File Download file manager.
Got stuck anywhere? You can follow a more detailed tutorial here.
Using OneDrive Business on WordPress with WP File Download
If this is your first time using WP File Download, you can keep using the plugin just like before. This time, however, your OneDrive Business files will appear in the WP File Download file manager. If you have never used WP File Download before, then there is little you need to know.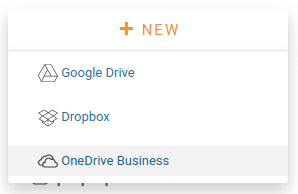 WP File Download is essentially a file manager for WordPress. All files can be accessed from WP File Download, including your OneDrive Business ones. OneDrive Business files are distinguished from files hosted on your WordPress website with a cloud icon next to them. Similarly, you can create new OneDrive Business folders using the new button.
Any changes that you make on your WordPress website through WP File Download are automatically synchronized with OneDrive Business, and vice-versa. The files are stored in your OneDrive Business root in a folder with the same name as your WordPress website.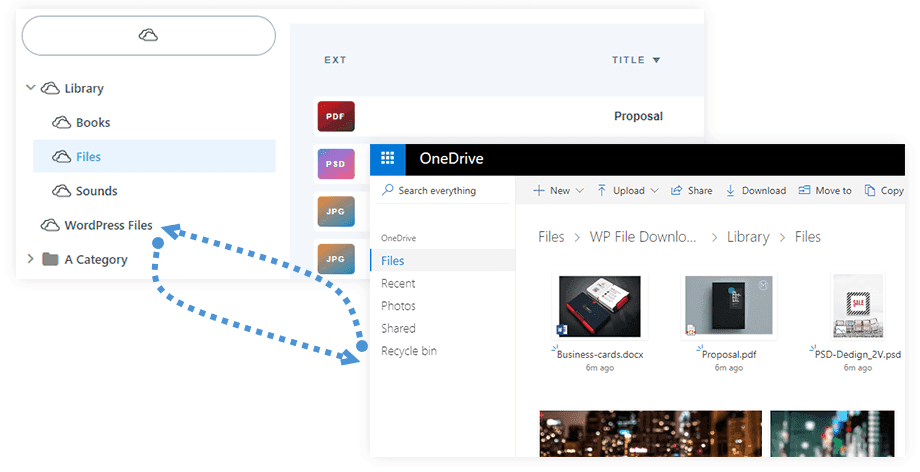 The two are always kept in sync, so you can edit files on WordPress and OneDrive Business without having to manually make changes on both websites. Use any means you have—the web, your desktop application or your smartphone—to manage files on OneDrive Business, and they will automatically appear on WordPress.
What you do with those files is entirely up to you. You can share them with your readers, embed images in posts or simply have them easily-accessible from your WordPress blog. All of this comes at no extra storage space costs because all files are stored remotely on OneDrive Business. Now, you can get the best of WordPress file management and OneDrive Business with one tool
Stay Informed
When you subscribe to the blog, we will send you an e-mail when there are new updates on the site so you wouldn't miss them.
Comments
No comments made yet. Be the first to submit a comment