When we think of WordPress blog posts, our minds go immediately to text—walls and walls of text with interspersed images. That may well have been the traditional way of blogging, but WordPress' Gutenberg is slowly changing that, while Advanced Gutenberg is revolutionizing it.
Advanced Gutenberg makes it far easier to create WordPress varied content. The latest version keeps building on previous efforts, contributing two new blocks—an interactive icon block and an info box block—and updating the video player with more behavioral settings.
WordPress Advanced Icons and Info Box
A picture tells a thousand words. An icon may be smaller, but it still packs a lot of meaning. The first new WordPress block in Advanced Gutenberg is the Advanced Icon block. The simple block contains only a row of icons next to each other. You can have as few as one icon, or as many as ten in the same block, each customizable.
The icon configuration is contained entirely in the block menu. Choose the number of icons first, and configure them below. You can change the icon using the icon selection button, picking from one of five styles: filled, outlined, rounded, two-tone or sharp icons.

Once you pick an icon, you can style it further by changing its background, color and margins. Since icons on themselves are just eye-candy, you can add functionality to them by transforming them into links. While we are talking about icons, there is another block that uses them: the info box.
An info box is another simple block that draws attention to a message. In Advanced Gutenberg, that message is presented as an icon, a heading and the message. Together with the block's styling options, these three components can help you deliver a message with a punch.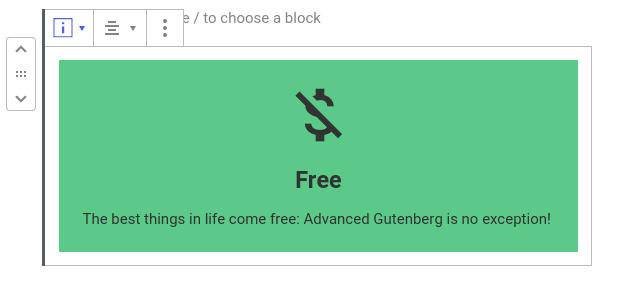 Start off by creating a block and applying basic styling to the container's background, borders and sizing. Then, proceed down the block menu to choose and style the icon, and to style the title and text. Click on the block itself to edit the title and main text.
Better Video Control
The other block that has been retouched in Advanced Gutenberg's latest version is the video block. You may think of the video block simply as a component that you embed media among the content, but what if you want to do more with videos, like making them act like a hero banner? The updated video block allows you to radically alter the behaviour of WordPress videos.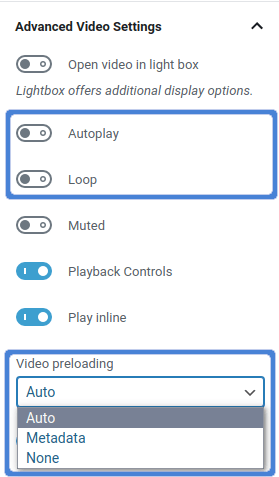 The behaviour changes come in three forms: autoplay, looping and preloading. You can use the block menu to configure these options. Combine all three together to immediately draw attention to the video, which comes in useful if you want a video to act as a hero banner, such as when showcasing a product.
Text is just one small part of the blogging experience. With Advanced Gutenberg, the possibilities are ever more plentiful to create more expressive WordPress posts and pages. Blog your way with advanced icons, info boxes and more flexible videos.