There are two sides to every blog. There's the side that your readers see, and then there's the side that only you see. As a WordPress blogger you spend most of your time in the dashboard optimizing what your readers see. Nevertheless, JoomUnited's new redesign of WP File Download gives you the attention that you deserve.
After many of our other WordPress plugins, it is WP File Download's turn to get a new outfit. WP File Download has abandoned the default, grim style of WordPress for a cleaner and decidedly more organized layout without touching any of the underlying features.
Refreshing the File Manager
The two pages that have been least affected by the redesign are the download statistics and tags sub-menus. The former displays a simple chart of downloads that can be filtered to consider different days or types of downloads. The latter is largely unchanged and allows you to manage file tags. The starkest change that has come to WP File Download is undoubtedly the file manager.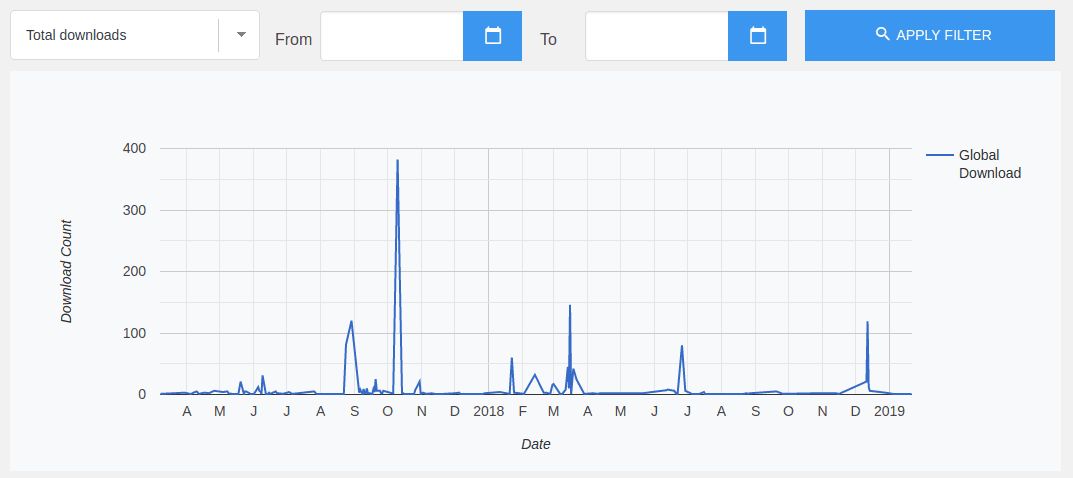 The file manager is the hub of most of your work - it organizes your uploaded content and in turn permits you to manage how they appear to your WordPress users. The main WP File Download settings page in the backend has been split into three areas.
The left sidebar houses a tree-like view of all your files, allowing easy navigation. On the far right is a collapsible sidebar with a slew of category features, from themes to permissions, and even file importing. Most of WP File Download's action happens in the middle.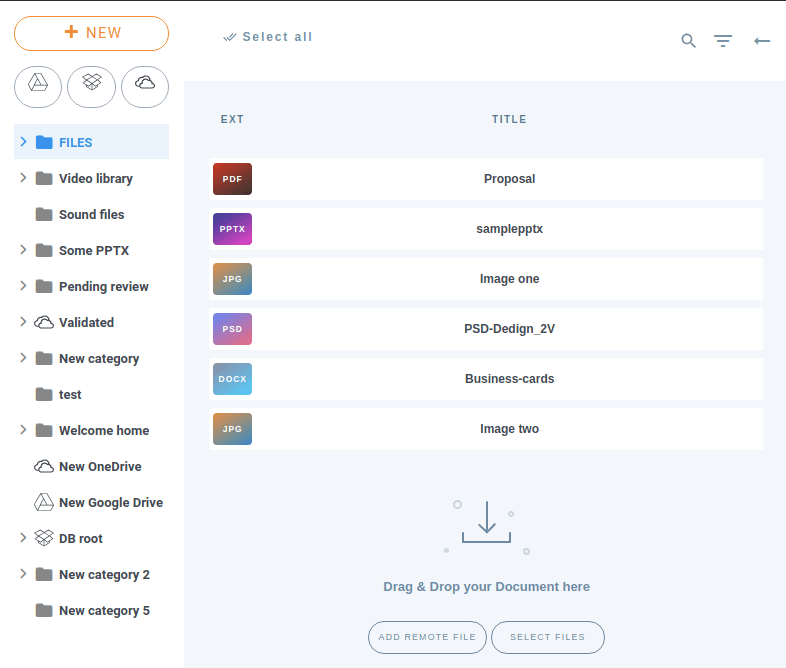 The file manager now organizes your uploaded files in rows, dynamically adapting to your resolution to gradually show you more information. You can add more files by drag-and-dropping on this page, or by using the add remote file or select files buttons. Up top, you can select all files for batch operations, search among your files or filter the type of information that you want to see.
Search and Configure
Another area that has been revamped completely is WP File Download's configuration page. If you're familiar with JoomUnited's other plugin redesigns, then you likely won't be surprised by the new layout. The left-hand side is the home of all navigation in the new Ajax-powered settings page.
Owing to the complexity of WP File Download, the settings have now been separated into 10 logical sub-menus. The main settings contain the most wide-reaching configuration options for WP File Download.

The rest of the sub-menus go into the nitty-gritty details of WP File Download. For example, the search & upload sub-menu lets you choose a page to host searching, or to create a search engine shortcode.
The next two sub-menus revolve around themes. The actual themes sub-menu lets you customize existing themes. If you've found a theme that stuck, but still want to experiment, you can use the clone theme menu to create a copy without affecting the existing one.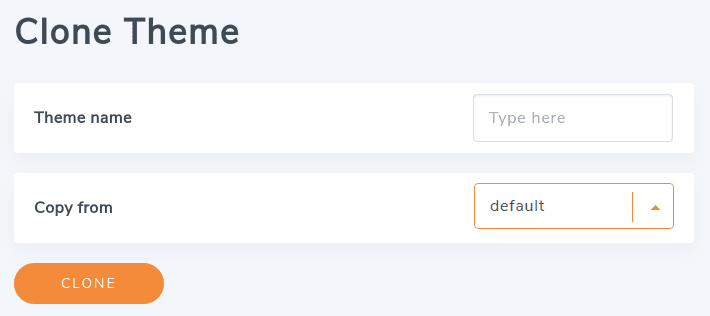 The single file sub-menu allows more fine-grained customization, but files may come from various sources. These sources can be defined in the cloud connection sub-menu, including by setting up Google Drive and Dropbox connections, among others. Along a similar vein, you can set up file locking using either Facebook or Twitter from the social locker sub-menu. The plugin's translation is available next.
Sometimes, you will want your readers or contributors to manage own files, rather than just download. You can be notified when they contribute, edit or delete files by performing the setup from the email notification sub-menu. If you want to enforce more stringent or permissive access rights, you can customize them according to user roles from the last sub-menu.
Nonetheless, the one thing that sets the redesign apart from the old-fashioned way is the search field up top. When you're faced with a comprehensive WordPress plugin like WP File Download, you also want settings to be readily-available rather than trawl through all sections to find that one option.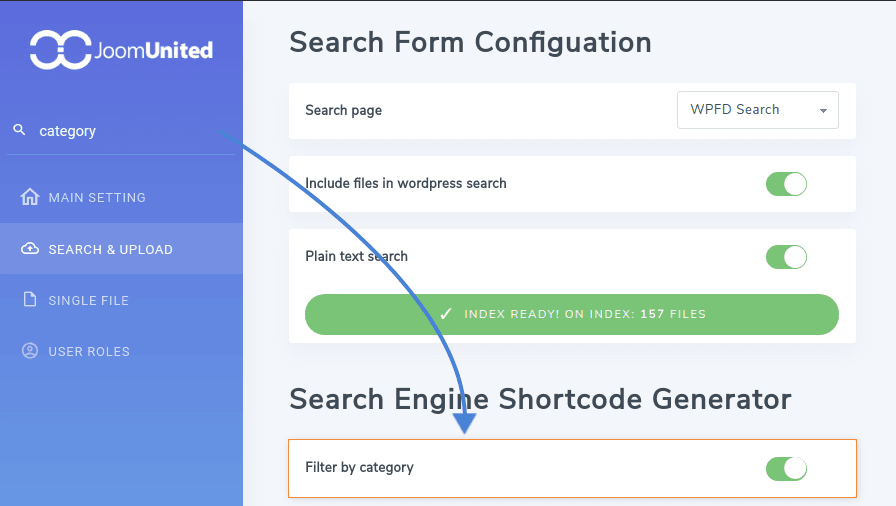 Say, for example, that you are looking for category-related options. Once you start typing, the Ajax-powered search engine automatically filters out sub-menus that contain related options. That's not all - when you navigate to any sub-menu, you will find that the options which mention your query are highlighted automatically!
We spend so much time thinking how to create great content for our readers, but rarely do we stop to think where we spend that time - WordPress' administration dashboard. JoomUnited's latest update to WP File Download shifts the focus to make your content creation process more efficient and comfortable so that you can keep on creating!