With changing times and new WordPress offerings, WP Meta SEO is also adapting to ever-higher standards. In fact, your SEO companion on WordPress has been updated with a slew of new features, including a slick, material design look and more SEO possibilities. That is not all, however, so let's dive right in!
New Look and Feel
The first thing you'll likely notice is that your WP Meta SEO home has changed. In fact, WP Meta SEO's dashboard has been updated to conform with the other WordPress plugins developed by JoomUnited.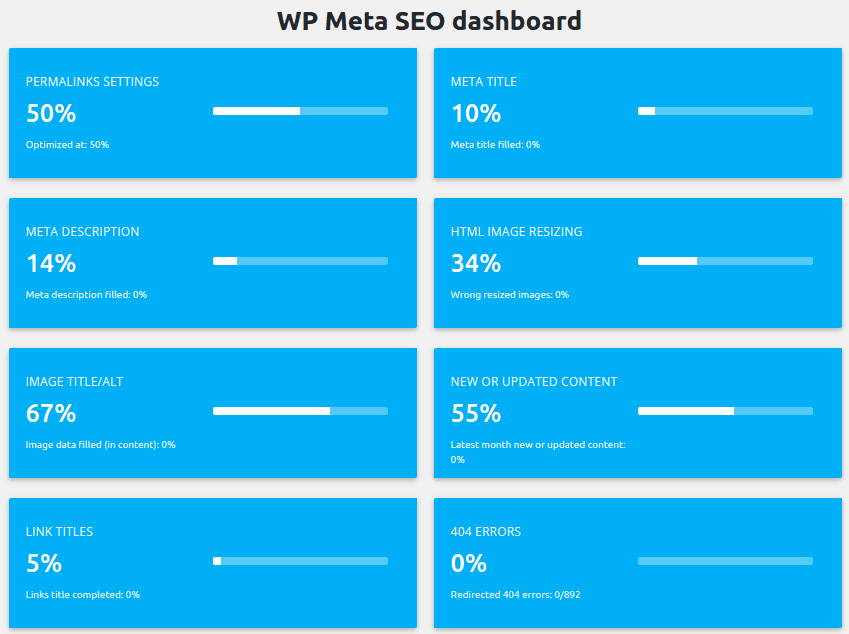 WP Meta SEO's material design look is aimed at facilitating your interactions with the plugin. To this end, all the important metrics and statistics are organized in one place, allowing you to quickly locate and fix shortcomings in your WordPress website.
Improved Filtering
Identifying problematic content is one of the most common uses of WP Meta SEO. That is why from the latest update we've made it much easier for you to find images that are missing important meta information. This additional help comes in the form of new filtering options.
To identify faulty images, it is first necessary to head to the image information page under the WP Meta SEO menu. From here, you can filter images that fall under one of two categories.

Firstly, you can choose to list images that are missing information in posts or pages, such as alternative text or titles. Secondly, you can also isolate images that are resized using HTML, rather than having different resolutions. To fix these issues, click on the fix info in content or resize image buttons.
Finally, the index images button in this page allows you to re-organize images, improving retrieval and update operations.
WooCommerce Meta Information
Meta information does not simply help you gain more visibility for your WordPress content. In the same way that it gives your posts more prominence, you can also use it to increase traffic to other pages and drive up sales. To this end, WP Meta SEO has added the provision to edit meta information for WooCommerce, allowing you to optimize product categories by giving them search engine titles and descriptions.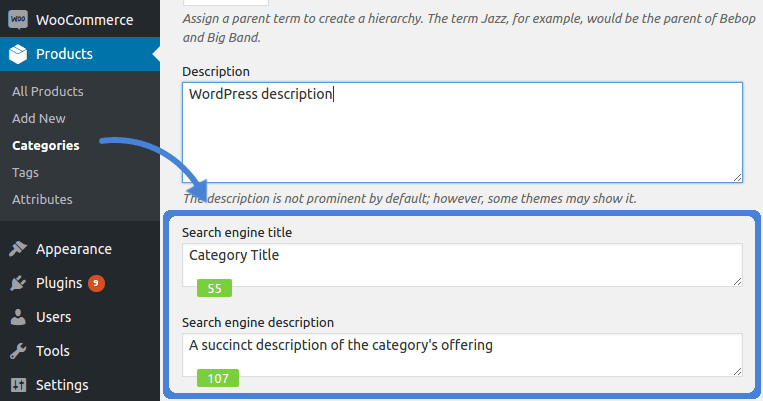 The meta information is native to product categories only, and therefore it can be accessed from the categories page under the products menu. From here, you can either edit an existing category to edit its meta information, or create a new category and add the meta information right away.
Google Analytics Tracking
Finally, WP Meta SEO now allows you to enable Google Analytics tracking right from the settings page. Indeed, if you do not already have Google Analytics integrated with your WP Meta SEO account, you'll notice that the settings page allows you to either connect your account, or to provide the UA tracking code.
The difference between the two boils down to the features provided by WP Meta SEO's backend. If you connect Google Analytics with WP Meta SEO, you will be able to see statistics right from the WP Meta SEO dashboard in WordPress's administration panel. Conversely, if you provide a tracking code, the statistics will only be available from Google Analytics.
SEO's arms are far-reaching. WP Meta SEO's latest update gives you additional tools to cover as much ground as possible, in as little time as possible. From integration with WooCommerce to easier management of missing data, WP Meta SEO will ensure that you miss out on nothing!