4 minutes reading time
(744 words)
Keep the File Download Statistics on WordPress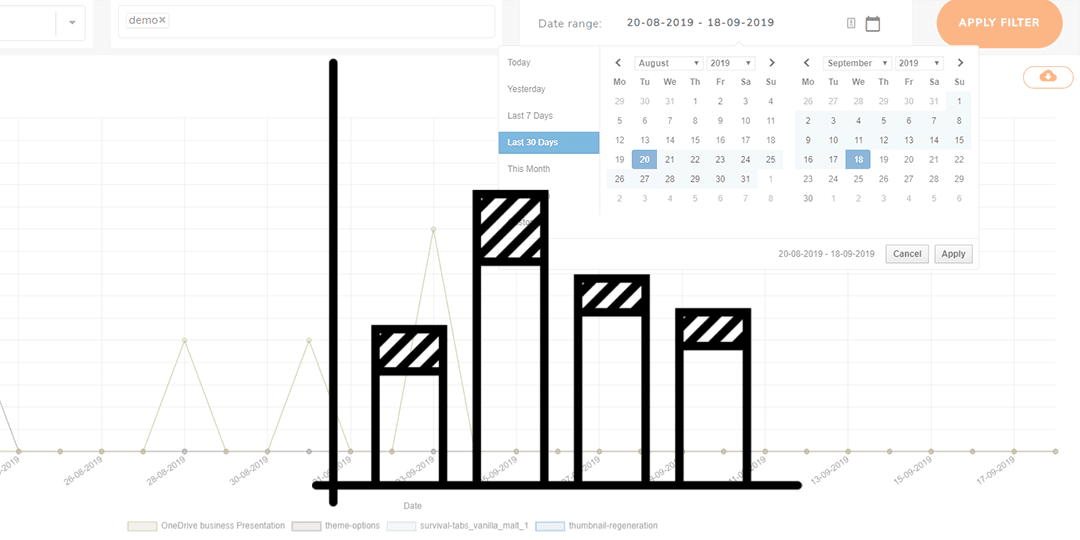 With the rise of websites like Patreon, content creation has moved away from text and accompanying media, and expanded into more creative material, such as images, comics, animations and videos. Just like you track your WordPress blog's posts to see how different content resonates with your audience, so does it make sense to track your downloadable files.
WordPress is primarily a blogging website, but plugins like WP File Download extend its capabilities, allowing you to embed downloadable content and do more with your WordPress blog. In version 4.6, WP File Download gives you a dashboard to track your downloadable content right from WordPress.
Looking for a powerful file management solution for client websites?
WP File Download is the answer. With advanced features like file categories, access restrictions, and intuitive UI.
Impress your clients with top-notch file organization!
Exploring WP File Download's Statistics Dashboard
WP File Download's file statistics dashboard is a one-pager that can be accessed from WordPress' own administration dashboard. The Statistics page under the WP File Download menu takes you to the dashboard that hosts the file download activity. On the same page, you can filter and group the data that you want to examine.
There are three main areas in the statistics dashboard. The first, topmost area allows you to filter results. The middle part is the actual result - a visualization that shows download statistics over time. The third and last area allows you to examine the data more minutely in a table or filter results to show only a few files.

When you first navigate to the dashboard, you will be met with the total downloads over a one-month period. However, in the first section you can refine the granularity of results to narrow them down to file categories and even to individual files. Alternatively, you can look for the most active individuals by filtering results based on users. Depending on your choice, you can select which items or users you want to include in the visualization in the second field, which will appear as you change the filter.
Next to this filter, you can control the date range for the below visualization. You can choose a predefined period, ranging from a single day to a month, or specify your own custom range by clicking on the calendar. When you're ready, press on apply filter to visualize the results with the new filter.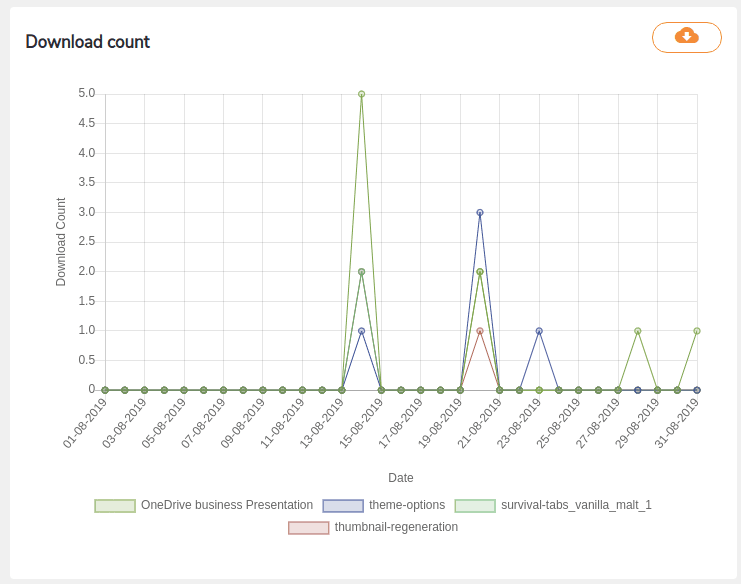 File Download Statistics per WordPress User and Category
When the page reloads, you should see a graph with the download counts of files, based on the filter you specified before. Different files will be color-coded, with the legend just below the visualization to help you follow along. If you want to do more with your data, you can export it as a CSV file from the top-right of the visualization.
The third and final area shows the details of each file in the visualization, as well as a breakdown of results. These include the file name, category and the download count. This area helps you see the raw numbers for all files across time, rather than split the download statistics for every day. If you previously chose to filter files and not just show the total downloads, then this area also gets one additional capability - searching.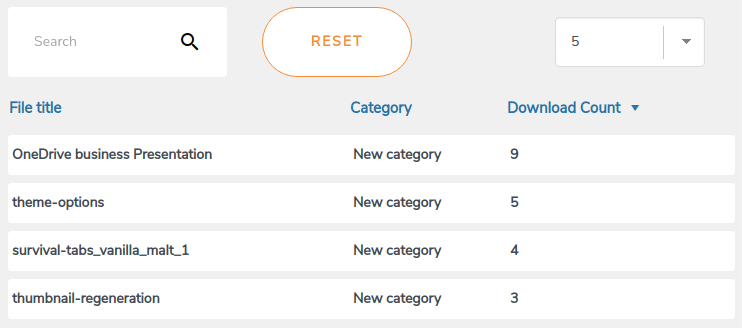 Whether you choose to filter statistics for categories, files or users, the final area lets you to hone in on specific files with the search functionality; type in the file name and press the search icon to focus on a subset of files. You can go back to showing all results by pressing the reset button. Finally, you can increase or decrease the number of files to view from the right-hand dropdown menu.
Calling all webmasters!
Enhance your client websites with WP File Download. Create secure and customizable file repositories, allowing clients to easily access and manage their files.
Upgrade your web design services today!
When your WordPress blog's offering revolves around files, you will want to keep tabs on how your audience reacts to your content as this could be helpful when you have an e-commerce with digital products. With WP File Download's latest file statistics dashboard, you do not have to create a complex Google Analytics set-up to analyze your files' performance - you can do it directly from your WordPress dashboard!
Get WP File Download: https://www.joomunited.com/wordpress-products/wp-file-download
Stay Informed
When you subscribe to the blog, we will send you an e-mail when there are new updates on the site so you wouldn't miss them.
Comments
No comments made yet. Be the first to submit a comment