If you manage file-heavy Joomla! blogs, you might spend a lot of time in Dropfiles. Even if you do not spend a lot of time there, having everything at your fingertips at all times can only improve your workflow. Dropfiles has recently received a new update that sees to that.
Dropfiles 5.3 has introduced a brand new design for your Joomla! blog's Dropfiles extension. The update touches upon your user experience while managing files, configuring Dropfiles and viewing download statistics. In the rest of this post, we take a look at what's new and what has changed.
Browsing and Using the New Dropfiles File Manager
As soon as you visit Dropfiles, one thing will jump out at you: its simplicity. The new version has focused extensively on user experience and the result is evident. The new file manager is minimalistic and, most importantly, easy to use. This is especially important if you make the file manager available to users who are not intimately-familiar with Dropfiles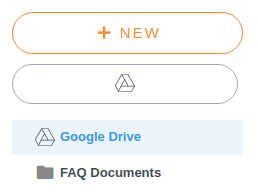 Apart from the new look, not much has changed from the way you used to navigate Dropfiles in Joomla! There are three main areas in the file manager: a left sidebar with all the files and folders, a central area showing the files in the current directory, and a right sidebar with the configuration for themes and files.
On the left, you can navigate through your directories and look for particular files. You can also use the buttons at the top of the sidebar to create new directories, including cloud-based folders. Once you click on a folder, you can view its files in the central area, which hosts the main file manager.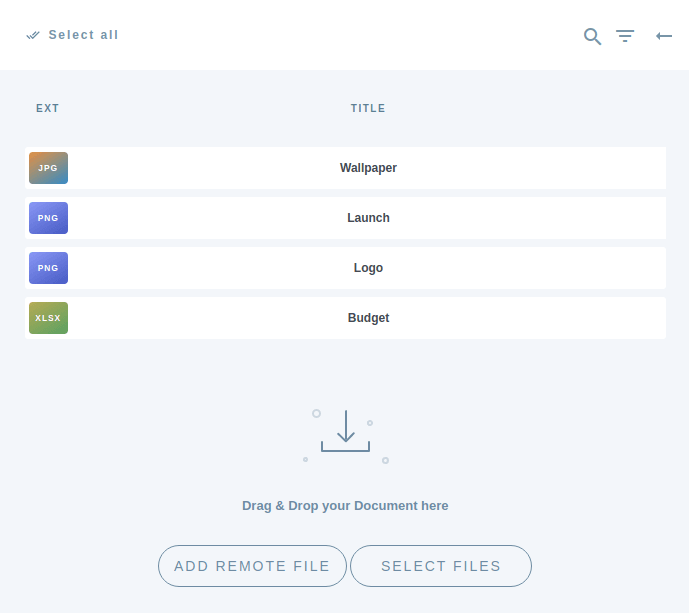 In the center area, you can view and manage your files. The options include the standard file operations, like copying and pasting, as well as downloading files. You can drag-and-drop files to add documents to your Joomla! blog's repository. If you click on a file, you can edit it directly from the right sidebar, rather than uploading new versions.
In fact, the right sidebar is where you can configure themes and files. Use the file manager to click on folders to change their theme, or on files to update their name, description and other metadata, as well as to publish or hide them. Remember to click on save settings to update your preferences.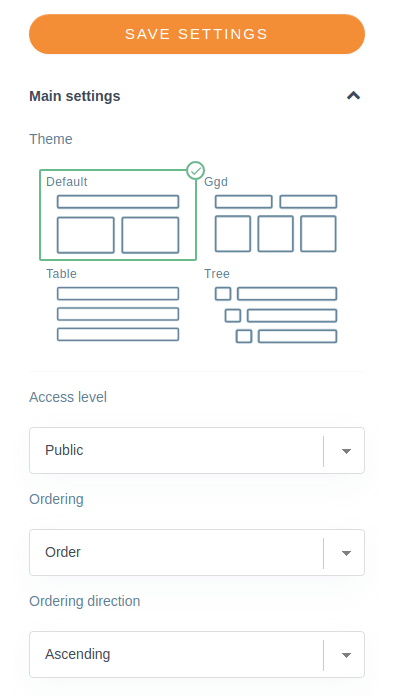 There's more updates to your Dropfiles than that, however. If you head to the download statistics, you can experience a brand new design. The download statistics hub inherits the same minimalistic look as the file manager, with a simplified workflow.
Up top, you can choose what statistics you want to display: either the total downloads, downloads per category, or downloads by file. If you select the latter two, you can choose the category or file for which to display statistics. Choose a range and click on apply filter to perform a search.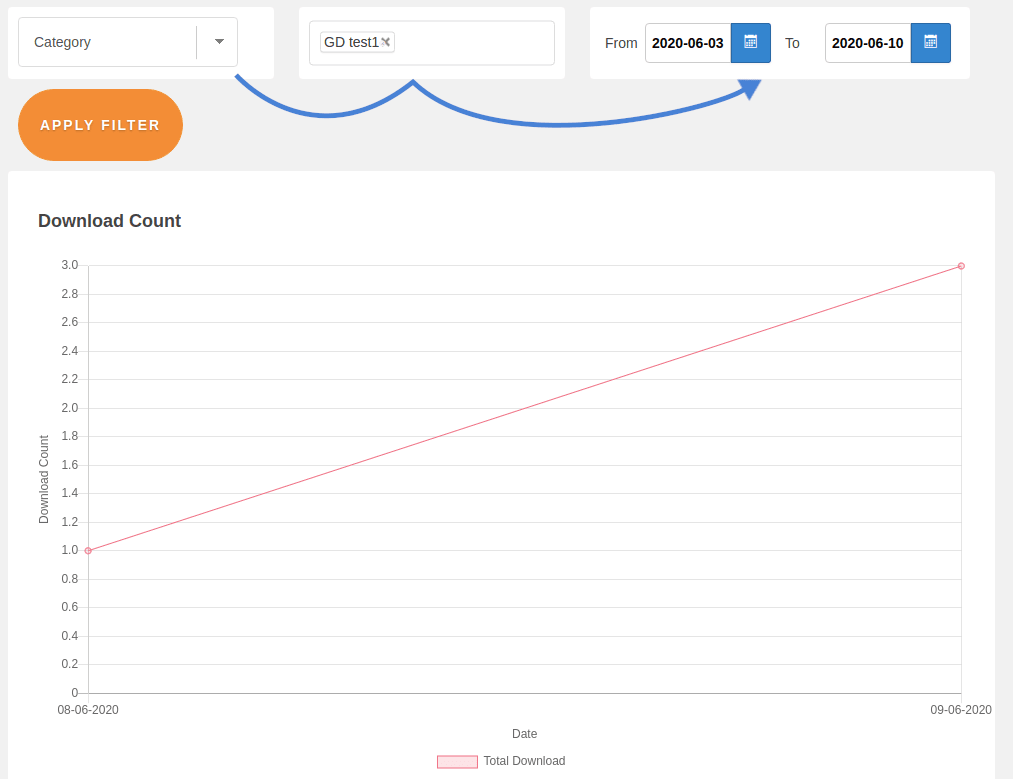 After you apply the filter, the download counts appear just below as a graph and, further down, as a table. You can customize the table report by searching or limiting the number of items to display. What is important is that you can use visualizations or the tabulated data to identify the most appealing files on your Joomla! blog.
Personalizing and Configuring Dropfiles for Joomla!
Arguably, the most changed page is the extension's configuration, but it is also the most significant improvement. Dropfiles' configuration adopts the same design and user experience as the rest of our plugins. The screen is split into two sections: on the left, you can navigate to different pages and options, and on the right, you can update your preferences.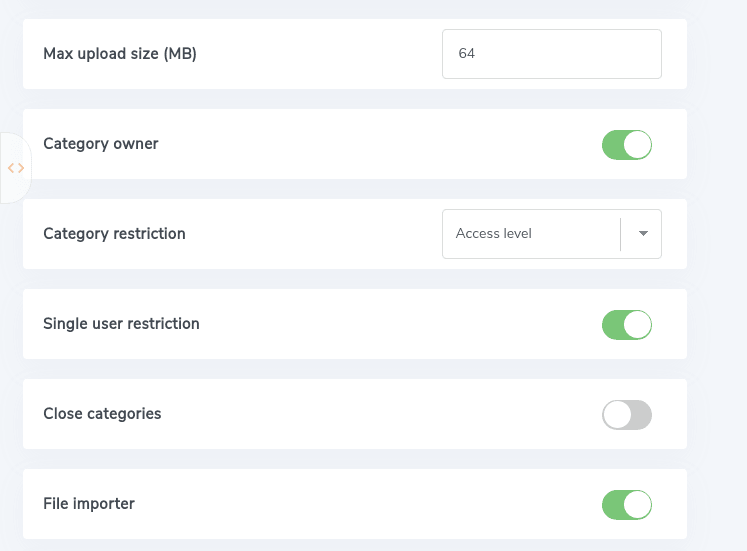 Dropfiles' configuration is split into pages, and those pages are split into tabs. You can navigate through them using the left sidebar. All navigation uses AJAX, which means that the page does not refresh to load new options, resulting in a faster transition. Most importantly, the new design comes with a new feature that is sure to improve your user experience: the search function.
If you are a new user, the configuration might look intimidating. Even if you are not new, the search function can help you find what you are looking for and bring them to you. You can search for options from the left sidebar. Results load as you type—again, AJAX!—and Dropfiles even highlights the relevant options.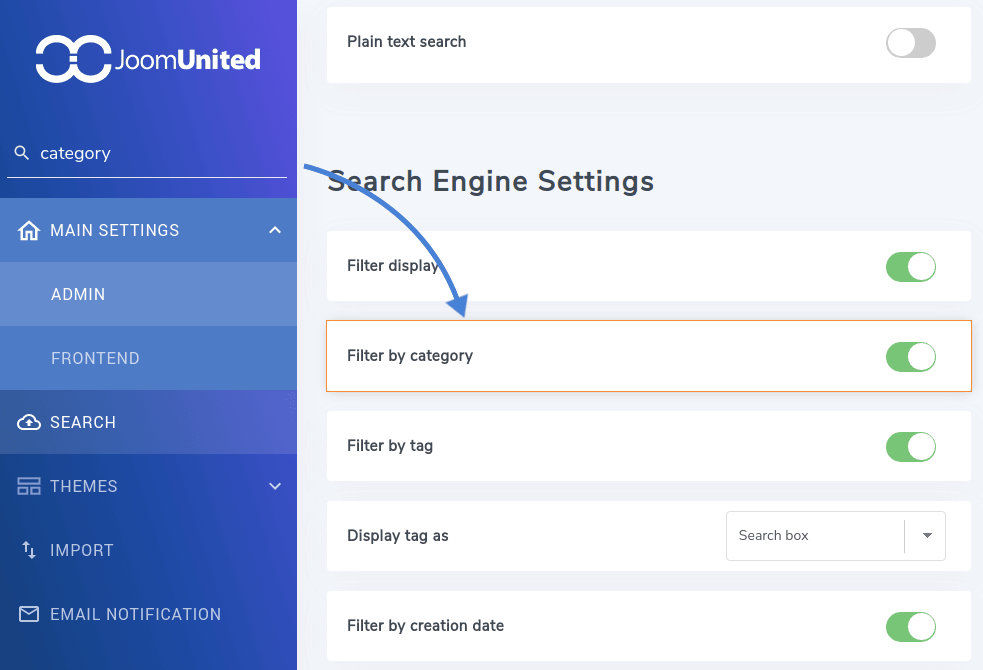 Managing files on Joomla! might sound like a chore, but sometimes it is a necessity. When one of those cases presents itself, Dropfiles has got you covered. With the new design and user experience, you can breeze through your workflow and rely on the extension to bring you what you need when you need it.