Blink it and you'll miss it. Last month, Advanced Gutenberg received a minor update. That update was only minor in name, because the quality-of-life improvements, new features and other bug fixes could well have a major impact on the way you use WordPress' Gutenberg editor. In this post, we'll take a quick tour of the improvements in various blocks, including the tabs, testimonial and many others.
Gutenberg Tab and Testimonial Styling
Advanced Gutenberg 2.2 has continued providing new ways of fine-tuning block behaviour and styling. First up: the tabs block has been reworked to be more flexible. With the tabs block, you can pack a lot of information in a very tight space, allowing your WordPress users to go over the content one tab at a time. The improved tabs block permits block embedding, which means that you can embed any type of content in the block, from simple text to images and entire galleries.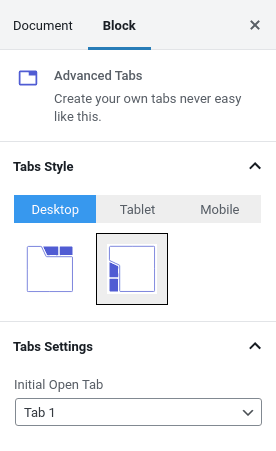 If the standard tabs are not to your liking, you can also choose whether tabs are placed on top or at the side. You can personalize the tabs for desktop, tablet and mobile displays to ensure that your content always looks at its best.
Another block with a revamped look-and-feel is the testimonial block. If you have many acknowledgements, one testimonial area will not be enough. Advanced Gutenberg has now introduced a slider option so you can fit more in the same space. Enabling the slider is as simple as flicking a switch, but you can configure how many testimonials to display in each page, as well as scrolling behaviour.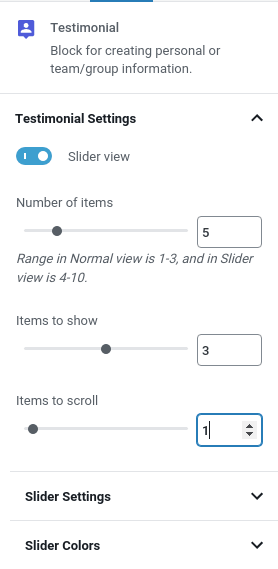 Further down in the block settings, you will also find more settings for the slider: behaviour to alter transitions, navigation, and styling options. If you look even further down, you will find more new customization options—this time giving you complete control over how avatars look.
Content That Matters with Advanced Image Block
As of this update, Advanced Gutenberg helps you draw attention to the content that really matters. For some time, the map block has allowed you to place a marker to pinpoint locations. The block has received a new setting—open marker tooltip—to show the marker description by default.
Images too have received an update with a similar goal. When you add banner images to your content, you might find yourself needing to limit the height to draw attention to a part of it or simply to save space. Doing so invariably crops the image, but which part of the image should be shown?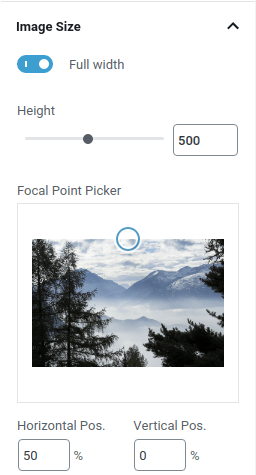 The image block settings has a focal point area. You can drag-and-drop the focal point around to show different parts of the image to ensure that the desired detail is always on show, regardless of the image height that you choose. Other new image block styling possibilities you can toy with include block alignment and the image's overlay opacity.
Other blocks have also benefited in the latest Advanced Gutenberg update, albeit to a lower extent. For example, you can now specify the maximum height for the columns manager block so that you can control how much space it takes. Moreover, Advanced Gutenberg's buttons have received the gift of margin customization to maximize whitespace around them.
The devil is in the details, and Advanced Gutenberg 2.2 is all about the details. Gutenberg's blocks give you more control over your blog and Advanced Gutenberg keeps giving you more ways to customize your content. Experiment away and find the best way to tell your story!