Advanced Gutenberg: Configuration
1. Configuration
To use the lightbox and caption feature for images you need to enable the Open galleries in lightbox and Image caption options respectively in Advanced Gutenberg's Configuration tab in the settings.
Open galleries in lightbox: Open gallery images as a lightbox style popup

Image caption: Load images (alt) attribute as caption for lightbox images

Remove Autop: Remove the WordPress function autop, used to prevent unwanted paragraph to be added in some blocks

Google API Key: this API key is required to use the Map Block
Blocks Settings
Enable blocks spacing: Apply minimal vertical block spacing automatically - the default is none, and the values should be given in pixels

Blocks icon color: Set color for blocks icons on admin, only apply to Advanced Gutenberg blocks

Editor width: Define the admin Gutenberg editor width size

Default thumbnail: Set the default post thumbnail to use in Recent Posts blocks

Enable columns visual guide: Enable border to materialize Adv. Gutenberg Column block
You can also find Adv. Gutenberg Settings at the top right corner of your Editor, next to the Settings icon.
2. Default Blocks Config
In order to adjust the blocks in Advanced Gutenberg, you can go to the menu Advanced Gutenberg > Configuration > Default Blocks Config tab.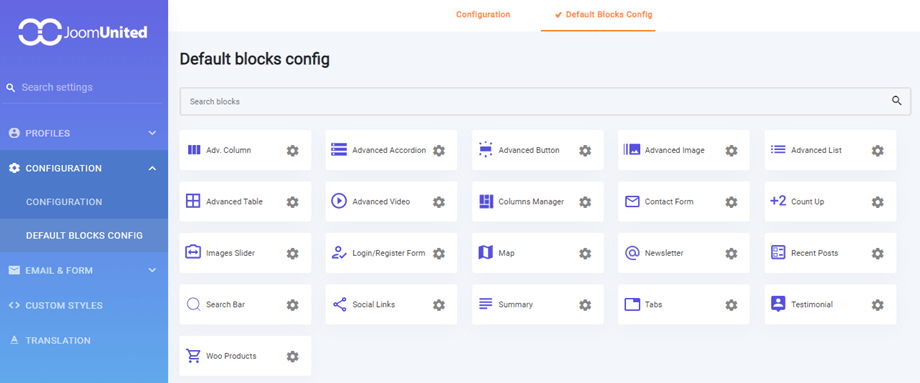 For each block, you can edit its default settings by clicking the adjacent Settings icon.