WP Table Manager: Parameters
To access the WP Table Manager, go in WP Table Manager > Configuration
As option you can define at Main Settings tab:
Enable Import/Export Excel button
Export file format: Select the Excel format when running an export of the table
Synchronization delay: Define the delay for the automatic sheet synchronization between WP Table Manager and Excel or Google Sheets
Table auto save: Enable the auto save or activate a manual saving button
Sync method: use AJAX or Crontab url
Edit table in a new tab: Open the table in a new tab if it is enabled
Load the plugin on frontend: Load WP Table Manager required files to edit tables on frontend (from a text editor for example). If this feature is not required, keep it disabled to save server resources
Alternate color sets: available to style your data
Cell highlighting: Activate a color on cell mouse over to see on a first sight a cell content

Highlight background color
Highlight font color
Highlighting opacity

Delete all files on uninstall: Caution! If set to Yes, on plugin uninstall all the data will be removed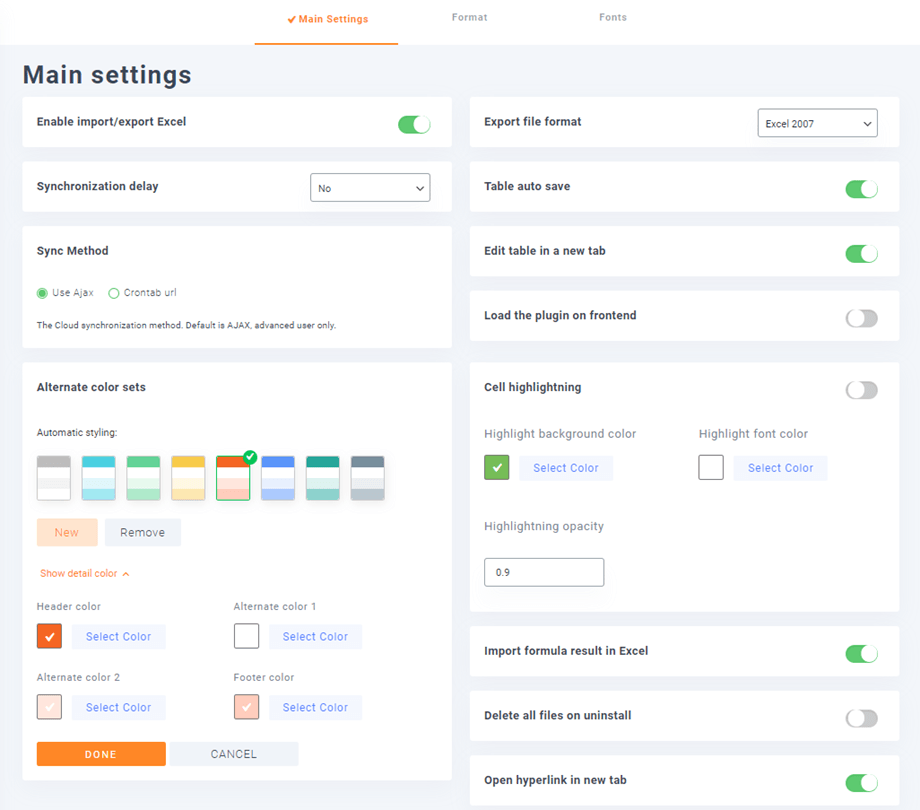 And some other options at Format tab.
Currency symbol(s)
Symbol position
Decimal symbol
Decimal count
Thousand symbol
Date formats