Social Backlinks: Joomla Content Selection
1. Choose your Joomla content
Social Backlinks interface is built to be simple and fast; simple because everything is built around a single view, fast because the major part of the configuration is built with JavaScript.
On the left part of your screen you can choose content you want to synchronize and the way to synchronize it. On the center part of your screen you can see a button to force the content to be synchronized and the latest results bellow.
In order to choose the content you need to click on the Select button in the Joomla accordion.
Then you'll be invited to select Joomla content using 2 main options: Select all contents or particular items.
All content will synchronize all new articles published on your website. Using select items you can choose particular categories or Joomla articles. Don't forget to click Save to validate your choice.
When you've selected your content you can choose to synchronize your content when new article is published (recommended) or when article is updated.
2. Sync an article or a category?
This is a big question! To reply shortly if you have a blog and you're adding frequently some new articles, it's better to select your category blog. Then Social Backlinks will send all your new blog articles on social networks.
If you select an existing article, you'll need to set social backlinks to send content when article is updated. Why? Because Social backlinks is built to sync your new content with social network, if you save an old article, social backlinks will take the "latest update" date. It can be useful for example if you update a shop product and changing the price, your customers will be informed by Email.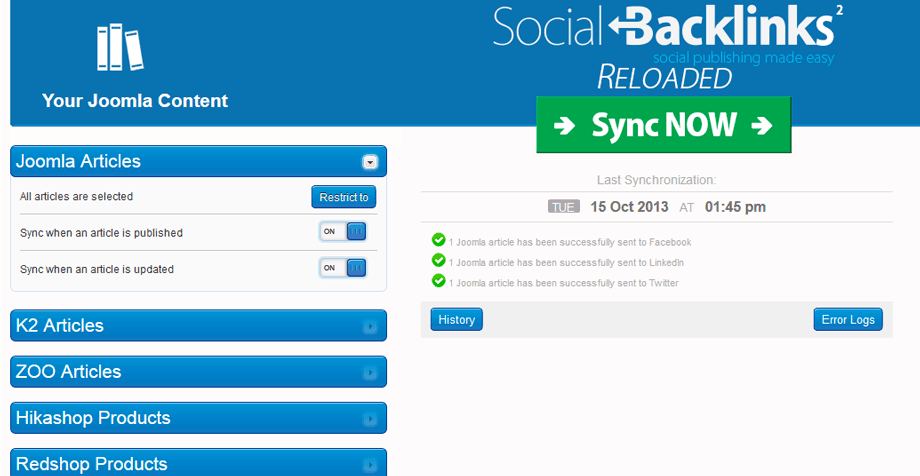 3. Synchronization of 3rd party extensions
Social Backlinks is now integrated with other Joomla component:
K2
Yootheme Zoo
Hikashop
Virtuemart
Redshop
Eshop
The content selection process is the same, select your category or your product/content and then Social Backlinks is doing the job for you.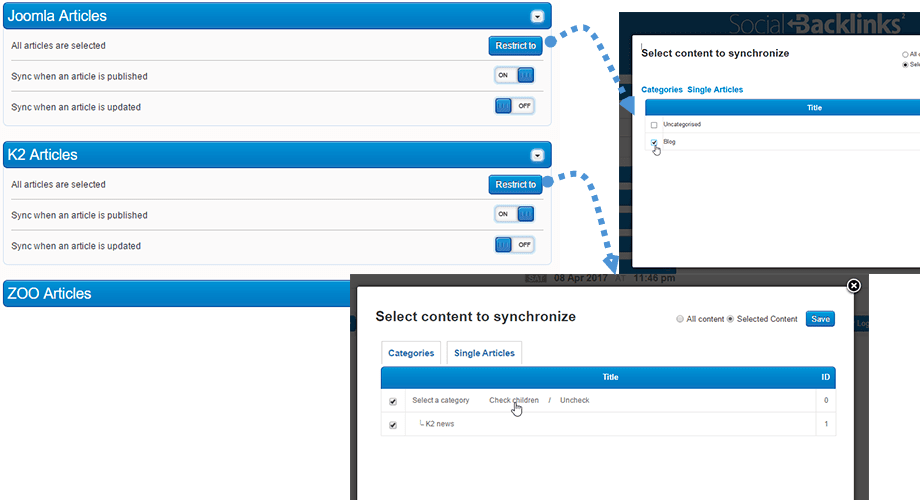 4. Synchronization settings
Some additional parameters are available in the last left accordion:
The synchronization periodicity
The notifications in case of sync errors
The history cleaning interval
Name
Description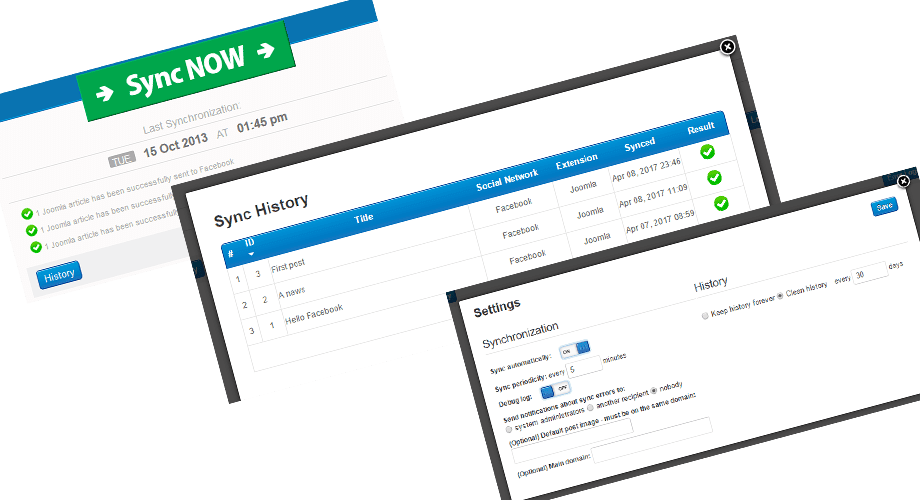 5. Synchronization results
There is some tools included in Social backlinks to follow the content sent on social networks: An history & Error log