Layer Slideshow: Slide Edition
1. Slide Background
Each slide has a background, you can load your own from your image library.
The Select button will open a lightbox with a media manager, this is an enhanced version of the Joomla media manager.

It offers you options to drag'n drop new images, select, remove, fit or apply effects on images.

The most important is the crop function. The crop function will load a window with your image and a frame that takes the size of the slideshow defined in the layout.

Click on the Crop image button to insert the image cropped as a background.
2. Button layer editor
You can create a new button layer by clicking + Layer button on the right panel.

After filling the form, click Create layer button. A new button appears on your slide.
The button manager will allow you to create your own button style, store it and reuse it later. Usually, buttons are defined for all slides and should be reused.

You'll be able to create a style using the left side window tool then Insert/Save/Edit it. You have options to define background, border styles and mouse hover effect.
To insert a button into content, you have option to click on Insert button or + symbol of a saved button.
You can also edit and save an existing style, just click on the pen and change parameters.
Finally, you can define a custom link for the button.
3. Image layer editor
You can create a new image layer by clicking + Layer button on the right panel.

You can insert your own icon or picture in Image layer by clicking on Edit button to change them.
Then you'll be able to choose your own image or use an image from our JU Library or an icon from Icon Finder.
You can of course define position of each element from the preview using drag'n drop.
4. Video layer editor
You can add a new video layer by clicking + Layer button on the right panel.

By clicking on Edit icon of the video layer, you can change video URL to the layer. It supports video URL from Youtube, Vimeo, Dailymotion.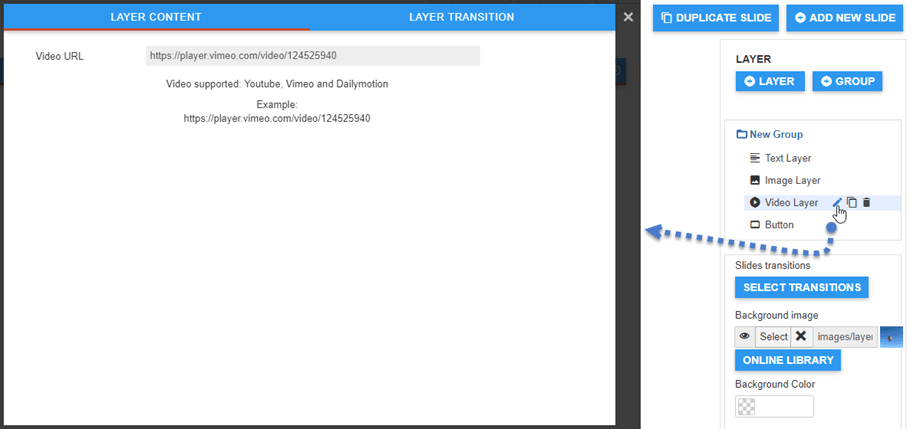 5. Transitions
You can set the transitions for a slide or all slides in your slideshow. There are 2 types of transitions: 2D and 3D.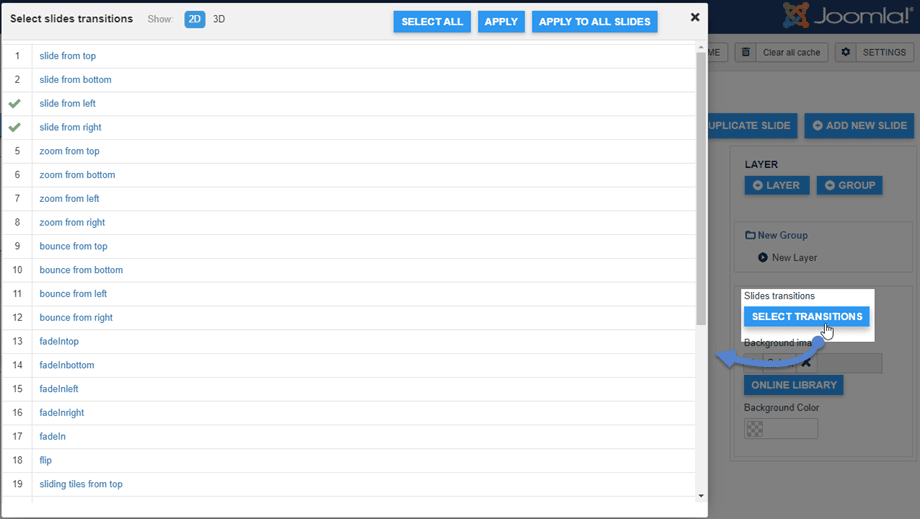 Each layer has Layer Transitions tab so you can choose a style for them.