WP Team Display : editie
1. Voeg een persoon toe
Om de eerste persoon toe te voegen moet je eerst een afbeelding selecteren, gebruik de knop Upload of kies een foto
Afbeeldingen kunnen afkomstig zijn uit de mediabibliotheek of u kunt een nieuwe uploaden. Selecteer vervolgens een afbeelding en klik op Voeg afbeelding in knop om deze foto toe te voegen zoals elke andere WordPress-afbeelding.
U hebt de mogelijkheid om uw afbeelding bij te snijden met een specifieke tool, bijvoorbeeld als u de afbeelding op het gezicht van de persoon wilt centreren. Klik daarvoor op de groene pijl.
Vervolgens kunt u de afbeelding bijsnijden en opslaan.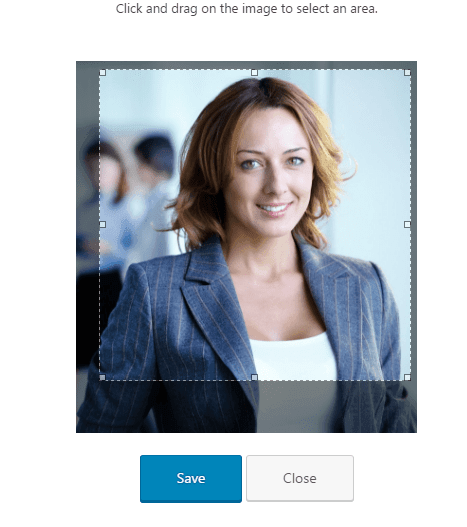 2 . Informatie toevoegen
Op het publieke deel staat wat informatie zoals de naam, de functie in het bedrijf en een beschrijving. Naam en positie worden weergegeven in globale weergave, beschrijving in gedetailleerde lightbox-weergave.

Voeg op het admin-gedeelte een deel van die informatie toe, de naam is verplicht en klik op "voeg een persoon toe" om deze op te slaan.
3. Organiseer het stroomschema
Zodra u een persoon heeft toegevoegd, verschijnt deze in het midden van uw stroomschema en begint u met het organiseren van de hiërarchie. Je moet drag'n drop gebruiken om de mensen te organiseren.
Wanneer u een persoon begint te slepen, verschijnt er een pijl om die persoon te verplaatsen. Zet de foto op een nieuwe zone om ze verticaal of horizontaal te verplaatsen.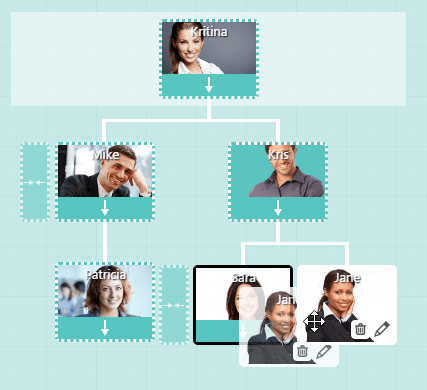 4 . Bewerk een bestaande persoon
Wanneer u een persoon heeft toegevoegd, wordt deze in uw database geregistreerd om opnieuw te worden gebruikt. In de rechterbenedenhoek zie je die persoon verschijnen met een knop Toevoegen. Selecteer een ander stroomschema, klik erop om deze persoon opnieuw toe te voegen.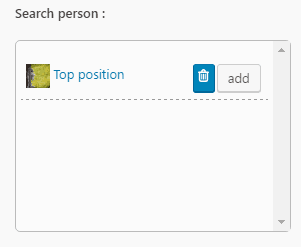 Persoon is "overdraagbaar" via stroomschema's !. Om informatie van een bestaande persoon te bewerken of te verwijderen, klikt u op de potlood- / prullenbakpictogrammen boven de foto.