WP Speed of Light : CDN-integratie
Eerst ga je naar WP Speed of Light > Snelheidsoptimalisatie> CDN-integratie in het linkermenu.

Vervolgens activeert u CDN en vult u hier uw CDN-informatie in.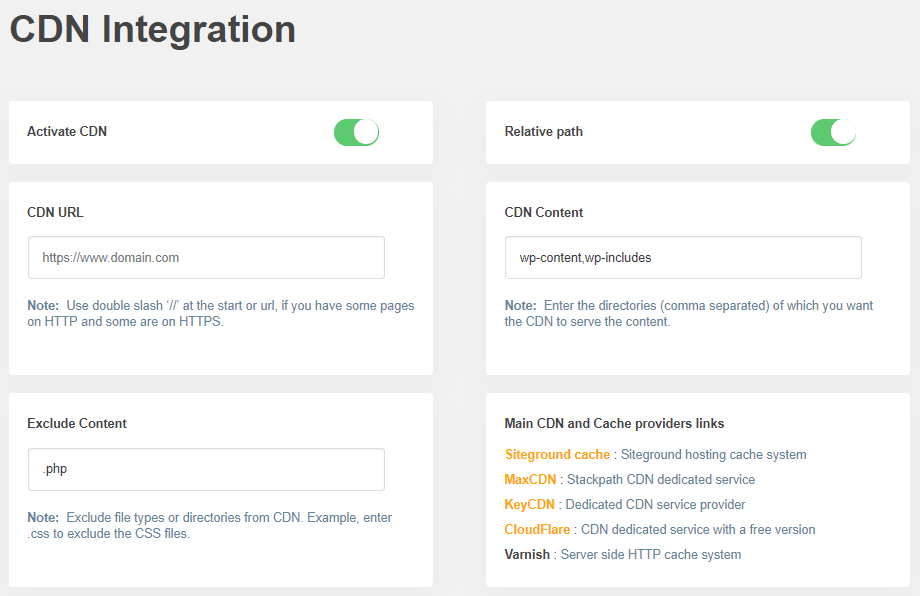 CDN-URL: Voeg uw CDN-URL toe, zonder de slash (aan het einde).

CDN-inhoud: Uw WordPress-inhoud wordt weergegeven via CDN-bronnen, gescheiden door een komma. Standaard is wp-content, inclusief wp.

Inhoud uitsluiten: Sluit bestandstype of mappen uit van het CDN-netwerk.

Relatief pad: Standaard ingeschakeld, schakel de CDN in / uit voor bronnen voor relatieve paden. Gebruikt voor sommige compatibiliteit met specifieke Wordpress-plug-ins.
ALLEEN PRO ADDON - bevat specifieke automatische cache-opschoning voor:
Siteground-cache: de Siteground-cache opschonen wanneer een cache-opschoning wordt uitgevoerd

MaxCDN-cache: ruim de MaxCDN-cache op wanneer een cache-opschoning wordt uitgevoerd

KeyCDN-cache: ruim de KeyCDN-cache op wanneer een cache-opschoning wordt uitgevoerd

CloudFlare-cache: de CloudFlare-cache opschonen wanneer een cache-opschoning wordt uitgevoerd

Vernis cache: ruim de Varnish-cache op wanneer een cache-opschoning wordt uitgevoerd