WP Meta SEO : e-mailrapport
WP Meta SEO ADDON wordt geleverd met een e-mailrapportfunctie waarmee u SEO-e-mailrapporten naar uzelf, uw klant, een marketingteam of wie dan ook kunt sturen! De rapporten bevatten: website SEO-gegevens, Google Analytics-gegevens en aangepaste inhoud.
Gebruik het linkermenu voor toegang tot het beheer van e-mailrapporten: WP Meta SEO > E-mailrapport.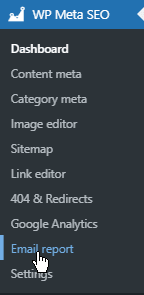 Bovenaan het beheer van e-mailrapporten hebt u de volgende opties:
E-mail afzender: Voeg het e-mailadres toe dat wordt geïdentificeerd als de afzender
E-mail onderwerp: Voeg een onderwerp toe aan uw e-mailrapport (standaard is " WP Meta SEO rapport")
E-mailfrequentie: Wijzig de frequentie van het e-mailrapport of gebruik het Single Email Report om alleen handmatige rapporten te verzenden
Stuur rapport naar: De e-mail van de ontvanger, dit kunnen meerdere e-mails zijn, gescheiden door komma's
Vóór sms: Vóór de Google Analytics-gegevens kunt u aangepaste inhoud toevoegen aan uw e-mail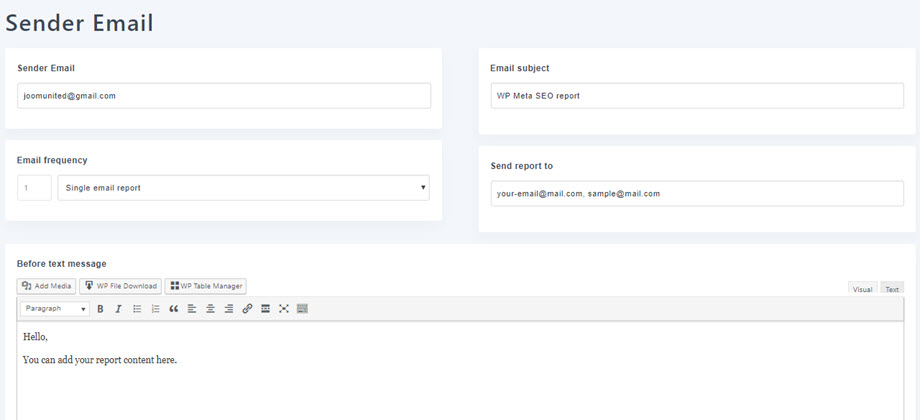 De volgende instellingen gaan over de inhoud die u aan uw rapport wilt toevoegen, voornamelijk Google Analytics-weergaven of WP Meta SEO gegevens.
U kunt Google Analytics-gegevens toevoegen door paginaweergaven, verkeer, gebruikers enzovoort in perioden van 7 dagen, 30 dagen, een jaar en andere.
De Meta SEO-gegevens die in het rapport kunnen worden opgenomen, zijn als volgt:
Nieuwe inhoud of bijgewerkte inhoud als percentage
Opgevulde metatitel als percentage
Gevulde metabeschrijving als percentage
Afbeeldingen niet geoptimaliseerd (HTML-formaat gewijzigd)
Gevulde afbeelding titels en beschrijvingen als een percentage
Permalink instellingen
Koppelt titels als een percentage
404 geïndexeerde fouten (vanuit de instelling kunt u een automatische foutcrawl uitvoeren)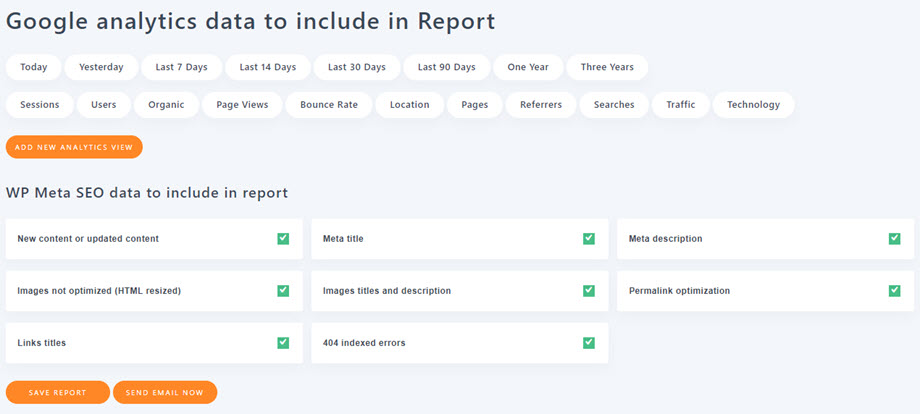 U kunt verschillende Google Analytics-weergaven toevoegen aan of verwijderen uit uw rapport. Zodra je hit  Rapport opslaan, wordt uw configuratie opgeslagen en kunt u vervolgens een enkele of automatisch geplande rapporten verzenden.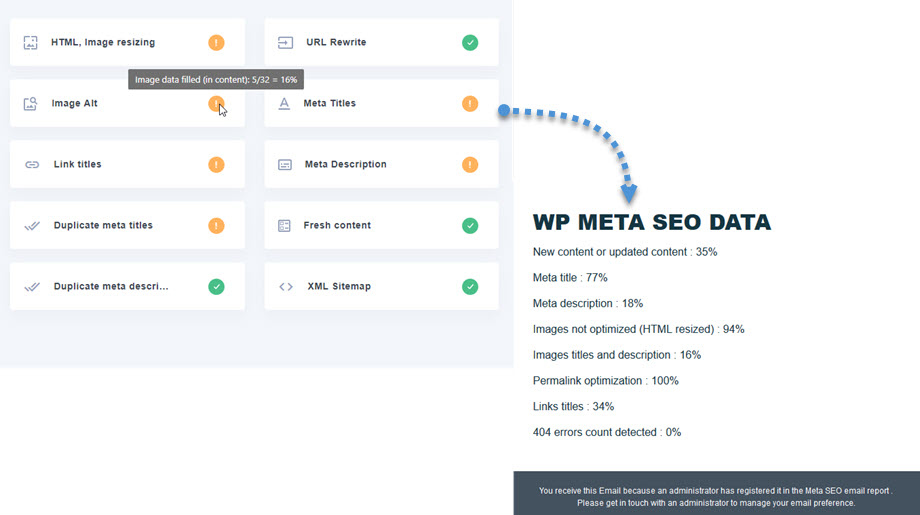 U heeft ook de mogelijkheid om het rapport als pdf als bijlage bij de e-mail te voegen.