Add-on voor WP File Download : Social Locker
1. Configuratie van Social locker
WP File Download Social Locker vergrendelt de download van uw bestanden achter een reeks sociale knoppen, tenzij de bezoeker het leuk vindt, de inhoud deelt op Facebook of uw pagina tweets. Het helpt de sociale prestaties van uw website te verbeteren, meer likes / shares te krijgen, kwaliteitsvolgers op te bouwen en meer verkeer van sociale netwerken aan te trekken. De add-on bevat ook de functies: Google Drive, Dropbox en OneDrive bestands- en mapsynchronisatie.
Vanuit de plugin configuratie kun je de social locker activeren: WP File Download > Configuratie> tabblad Social Locker .
Facebook Locker
Facebook locker: bestand vergrendelen downloaden met een Facebook-share of leuk.
FB locker-optie: deel een pagina-URL of vind je Facebook-pagina leuk om te ontgrendelen.
De Facebook-achtige locker kan meteen worden geactiveerd, er is geen app voor nodig.
Om de social locker te schakelen, moet u een Facebook-app maken. Om een Facebook-app-ID te maken, kunt u hier terecht: https://developers.facebook.com
Eerst moet u zich registreren.
Vervolgens kunt u uw nieuwe app-ID maken.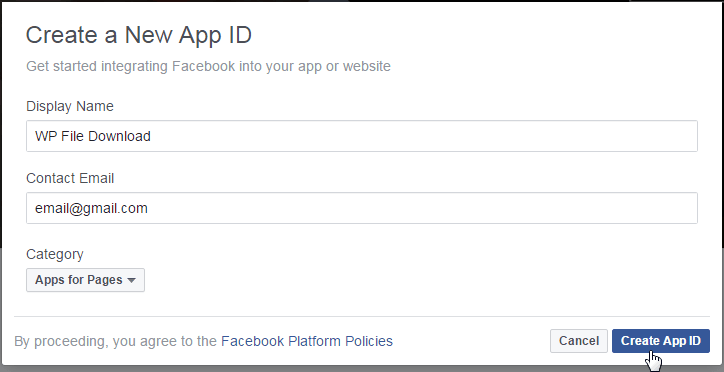 Kopieer en plak tenslotte de code naar Facebook App ID.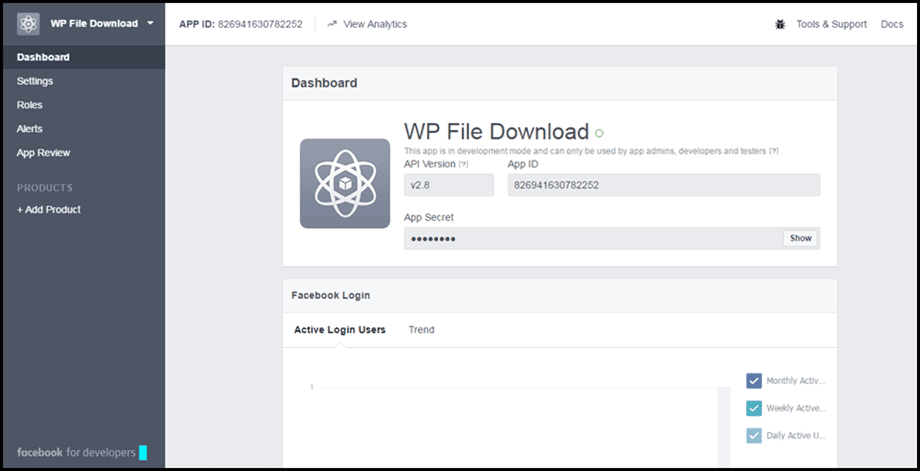 De andere opties zijn:
URL voor gedwongen delen: forceer een URL voor al het delen van Facebook in plaats van de huidige pagina-URL
Facebook-taal: frontend-taal voor sociale knoppen
Twitter Locker
De soorten kluisjes zijn:
Twitter locker: vergrendel bestand downloaden met een Twitter-tweet of volg
Twitter locker-optie: tweet of volg je twitter om te ontgrendelen
De andere locker-opties zijn:
Te volgen gebruiker: stel een URL in van uw Twitter-profiel (bijvoorbeeld https://twitter.com/JoomUnited)
Forceer URL om te tweeten: forceer een URL voor al het delen van Twitter in plaats van de huidige
Tweet: standaard tweet-inhoud, standaard inhoud, kan worden bewerkt door de gebruiker
Via: voeg de schermnaam van de gebruiker toe om de Tweet toe te schrijven
Sessieduur (sec): wanneer een bestand is ontgrendeld, bepaalt u hoelang de gebruiker het bestand kan downloaden zonder het opnieuw te delen
2 . Gebruik de Social locker
Om vervolgens een enkel bestand of categorie te vergrendelen, moet u de inhoud van het slot door sociaal naar JA in de rechterkolom schakelen wanneer u uw bestandsbeheerder hebt geopend.