My Maps Location: Joomla Location Search
My maps location is simply the most advanced Google Maps integration for Joomla. Search, display, classify locations. Come with tons of features and unique 3rd party extension integrations.
My Maps Location is a component for location searching how far a location is from you, automatically or by typing and address. Locations can be anything, a shop, a client or any place that you have located.
Save time when adding a location
First of of all, you need to register and save your locations in the component to return appropriate search results to your customers. It can be quite long, that's why we've made the thing as fast as possible for you to save time. You got 3 ways to type and address of a location:
Click and point on a map
Use Google Maps suggest
Type a full address
Save time with automatic geolocation
The frontend search has 2 main options, the first is the geolocation. It will determine your position and return the places near from you. This is the faster option ideal for a mobile user.
Advanced search and filters tools
The second search option is to type an address to find the places nearby. You have also advanced search and filtering tools.
Distance radius: display only the locations inside a radius distance from your address. The radius distance select list is fully configurable (set your own distances), in Miles or Km.
Categories: locations can be added in categories like in Joomla articles and you can use it to filter search results
Filter by tag: some tag can be added on locations. It's Joomla native tag system. So one location can have an unlimited number of tags
Filter by countries states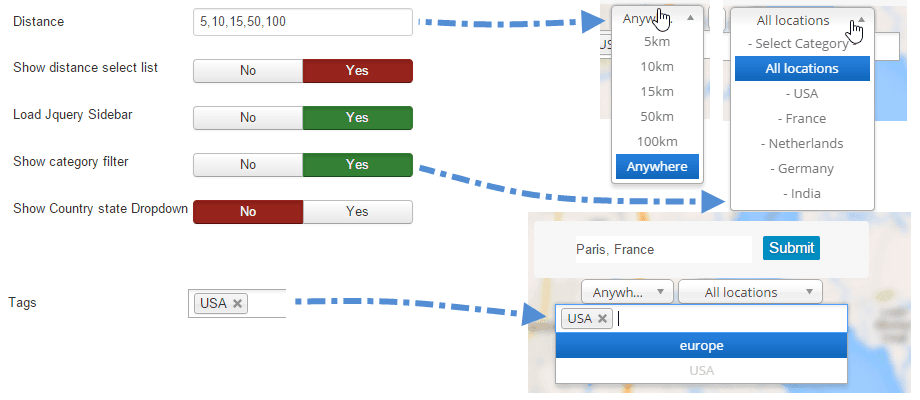 3 search layouts
3 search layouts are available: a default one, one with with full width controls, one with sidebar. Each search layout can be defined per menu, so you can load different layouts on the same website.
DEFAULT THEME DEMO FULL WIDTH THEME DEMO SIDEBAR THEME DEMO
Make your design without code
My maps location have introduce a lot of design parameters to make the component perfectly fit your template.
Map design colors
Color picker for frontend search form and results elements
Choose to Hide/display most the frontend elements
Menu override configuration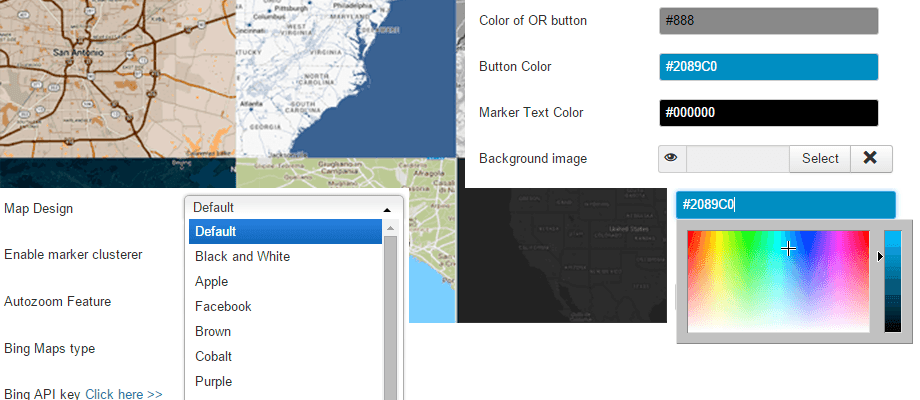 Flexible
My Maps location is the most flexible Google Maps integration for Joomla. The extension can be used as a search engine with powerful filters from a menu, as map module with it's own configuration, as a search module or from your editor for a simple map or contact map for example.

Your data are safe with import/export
An Import/export tool of your locations is available. So you can save time by making a csv or kml bulk import or export your locations to another website for example. In case of database massive import, a sync option is here to make sure everything is properly indexed in the database.
3rd party integration
My Maps location comes a lot of 3rd party integrations to help you design the location search you want in any Joomla websites.
CCK integrations, locate your items: K2, Yootheme Zoo
Locate your community members with integrations of Jomsocial, Community builder
Add comments to your locations with Komento and Jcomments integrations
Hikashop and hikamarket integrations: locate the closest product or vendor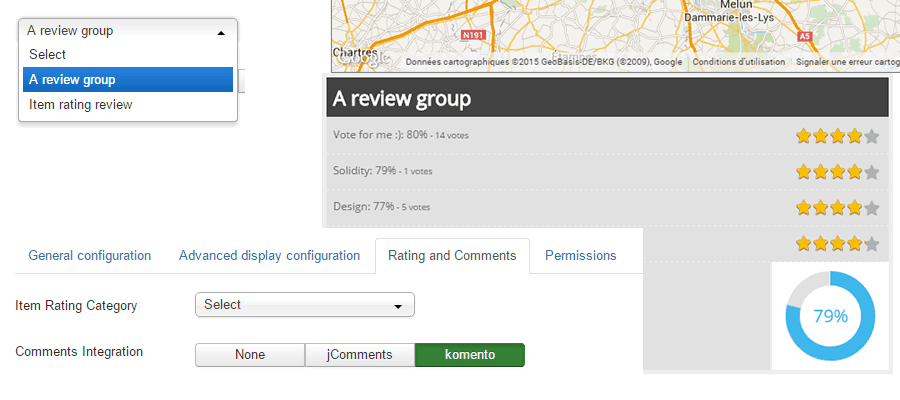 Virtuemart integration with the possibility to locate product and for your customers to search for the closest product.
Add location to Joomla articles
My Maps Location allows you to activate location on Joomla articles, based on a selection of categories. Open a Joomla article, add a location and information then use the location search engine.
Search default view
My Maps location allows you to define a default search view in each menu item with custom search settings and many more settings overrides:
Load an address by default
Limit search to a country
load a specific category
Limit the number of results
Load a map design...
Get Contact
Each location can have a contact form or any other custom page loaded. You have a specific field to load an URL in each location with option to open it as: link, new window or HTML popup/lightbox.
Custom Fields for Locations
Joomla have introduced the possibility to add custom fields and group of fields. My Maps Location offers the possibility to use them in your locations to display additional informations.
Location Search Request Statistics
My Maps Location stores anonymous statistics of the search requests, so you can get top locations search and detail of the top nearest locations returned to user.
My Maps location video demo
My Maps location screenshots
Each map can be designed separately, up to 10 themes available + satellite and bird eye views​