Dropfiles, Joomla file manager demo
Dropfiles is simply the best tool to have when you're talking about file management for Joomla: it's powerful yet easy to use.
The AJAX interface save you a lot of time and allows you to manage a massive amount of files.
Now it comes with a Google Drive, Dropbox & OneDrive integration.
Dropfiles Got Themes
With Dropfiles you can apply themes on categories in one click. Each theme got it's own configuration, you can setup theme design in global option and override it in each file category.
Default theme demoPreview theme demoTree theme demoTable theme demoGDD theme demo
Create Your Own Themes & Design
From Dropfiles configuration you can apply your colors using a color picker and display or hide the file info that you want. Furthermore, the extension comes with the possibility to create an override theme in one click.
Manage Files from Editor
No more need to go in a component and go back in a menu or in an article to manage files. You just need to create a category of file, drag and drop files, then insert your file or category right in your editor with a simple button.
Insert a Category of Files in Your Content
Create a category of file, then insert your file or category right in your editor with a simple button. So you can insert file category and sub categories. it works in every editor and in HTML modules too.
Manage Single Files Among Others
Avoid duplicate files and insert single file in your content in one click. Open Dropfiles, select a file and add it in your editor.
Check bellow a file added from a category in the editor.
Files and Categories Ordering with Drag'n Drop
Dropfiles is the only tool on the market that offers a full drag'n drop interface to order files and categories. You can set categories order and level and file order in one click.
File Copy - Cut - Paste - Move
Want to have a file into multiple categories or simply move it? it's as easy as making a drag'n drop to copy or move your files in any category.
A Lot of Files? Use the Mass Ordering System
If you want to setup the file ordering of a category in one click you can simply click on a column title, the ordering setting (right column) will be updated. Or you can use the right column file category setting to set the ordering type and way (ascending and descending).
File Search and Filter
Dropfiles got a unique file search and filtering. The search view can be done through a menu or a module with a possibility to custom each view and to force some default search (like load a category). All the search are made through AJAX. Search queries can be filtered by categories, tags, date range of file upload, date range of file update.
Search results can be ordered by clicking on the column title and you can also open files from search results.
Furthermore, the search engine includes a full text document search with auto-index of new documents on upload.
File Access Permissions
Limit the file visibility: the file visibility on frontend can be limited using the Joomla ACL (Joomla access level or Joomla user groups) per category. You also have an option to limit file visibility per user.
Limit the file management: You can set authorized action per Joomla user group on your files. Dropfiles works the same for backend and frontend.
Limit the download action: By User group you can allow users to either List Only or list and Liste and Download the files.
Want more? on frontend you got a dedicated template to manage your file in a full screen view and an upload form to send files in a particular category
Frontend File Management
Dropfiles have some dedicated features for the frontend file management. You can setup a dedicated menu to manage files from frontend. The actions on files like edit a file, delete a file, edit own files... can be set from the ACL configuration for each Joomla user group. Frontend dedicated template for a comfortable edition:
Plus, you got option to define an upload form to a particular file category, from a Joomla menu. Depending of the upload rights you've defined for a user group, users will have access to the file upload form.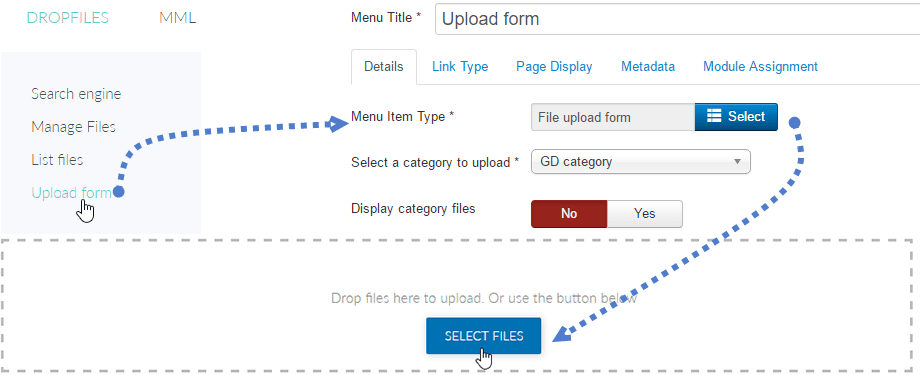 Download Statistics
A dashboard with download is available is available. You can generate graph and get file download details with as statististics filters:
Download date
Download category
Single file download details
Global downloads
Filter by file name
File Preview and Player
Dropfiles got a preview tool for your files, the Google Drive one. Plus we've implemented our own previewer for images, video and audio files.

One Click File Update
In Dropfiles we have made the things easier for the final user, updating a file and replace it with a new one is just one click. Everything stay the same regarding the file info: name, version, description and statistics. And the latest version is backuped and can be downloaded in case of error.
Import Existing Files
If you already have files on your server or if it's faster for you to send files through FTP, the file importer is for you. Select a file category on the left, make a file selection on the right and click on the import button, done your files are in Joomla.
Docman, jDownload, Edocman, Phoca Download File Importer
You can import files from Joomla 3rd party extensions Docman, jDownload, & Edocman in no time. There's a dedicated import tool that will automatically import to Dropfiles:
Category of files
Files and documents
Files titles
Files descriptions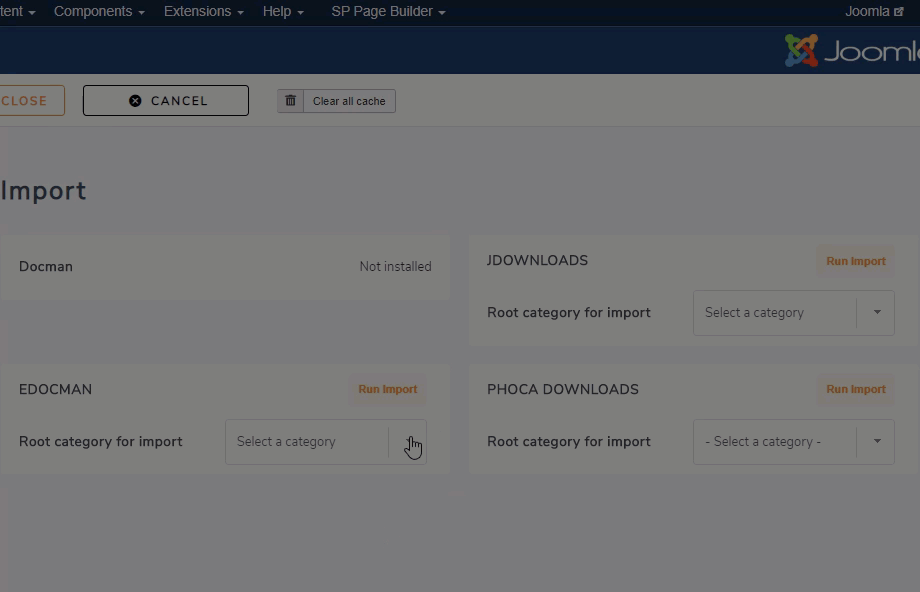 Remote Download
You can manage files from distant server with the remote download feature. Add a file URL, title, description and you're done, you can manage remote file like any other file of yours.
List File in a Dedicated Module
You can list your files with a lot of option in a dedicated Dropfiles Joomla module. Option available are
Numbers of files
Category selection
File type
File ordering
File information display: title, size, version, hits, date added or updated
All Files Information Edition in a Click
Want to edit quickly a file? click on it, everything is displayed and editable on a single view.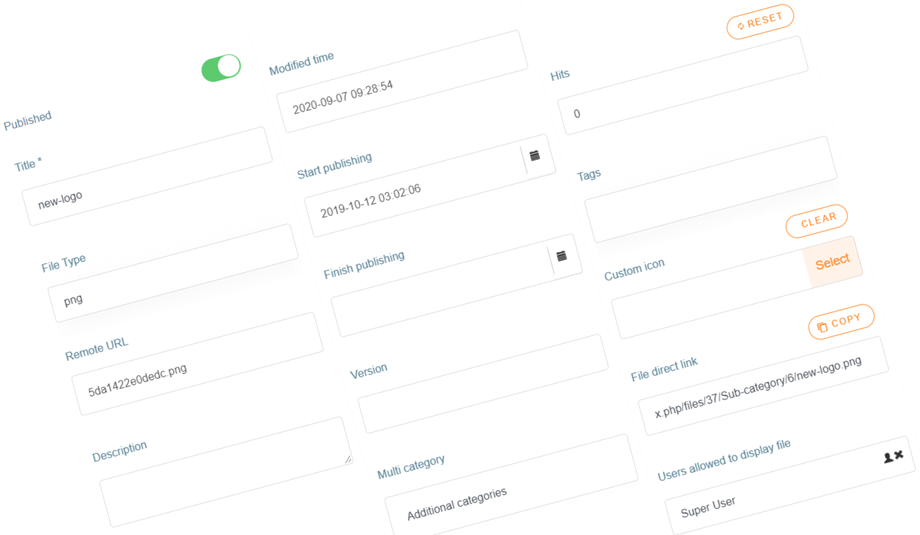 File Notification System
A fully editable Email notification system is available when a user apply some action on files. You can notify file owner, file category owner, Joomla admin and add custom Email for notifications. Email notification can be activated on:
New file upload
File edition
File removal
File information edition
File is downloaded
Each Email can be customized, and you have access to a text editor and a tag system to include some file and user information in the Email content.
Dropfiles Files Manager Video Demo