DropEditor, Joomla Editor and Media Manager
DropEditor is a Joomla free WYSIWYG editor for Joomla. The extension got some unique tools and JoomUnited extensions integration inside.
Image manager: Droppics Light Version
Droppics is an image manager that has been built to be easy to use. You can easily upload images with drag'n drop, add lightbox or insert original image size in few clicks. There is also a full version available with tons of feature like gallery management.
File Manager: Dropfiles Light Version
DropEditor got a file manager, you can upload multiple items with drag'n and drop and get your files designed and downloadable. A full Dropfiles version is also available with file category management, themes and a lot of other features.
SHOW ME DROPFILES FULL VERSION
Column in Content
DropEditor got an exclusive column manager tool. You can insert predefined equal column or custom sized columns.
Template: Save Your Layout
With the template manager you'll be able to save the layout you've built in an article in order to use it somewhere else. This tool is saving all the HTML content and structure from any article.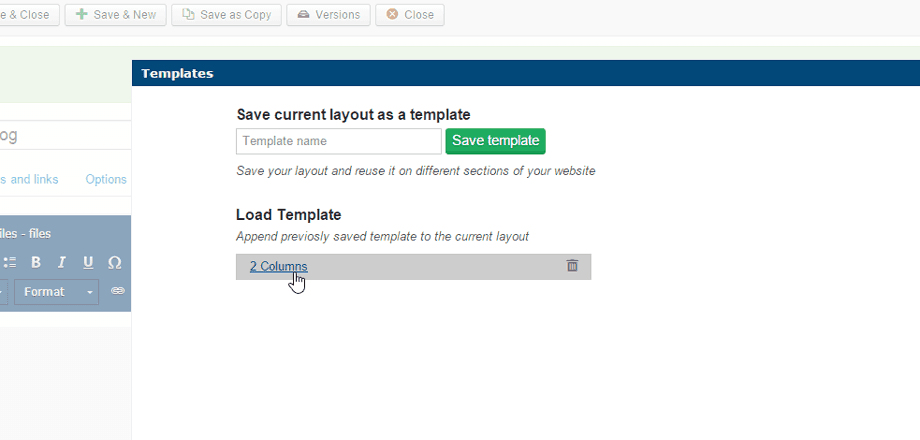 Hyperlink Editor
Hyperlink is one of the most important tool in a web text editor, so it has to be easy to use! Add hyperlinks to content in a breeze:
Add link to Joomla articles and categories
Add link to K2 item and category
Add link to Flexicontent item and category
Add link to download a Dropfiles file
Add link to send email (mailto:) and link to an anchor in text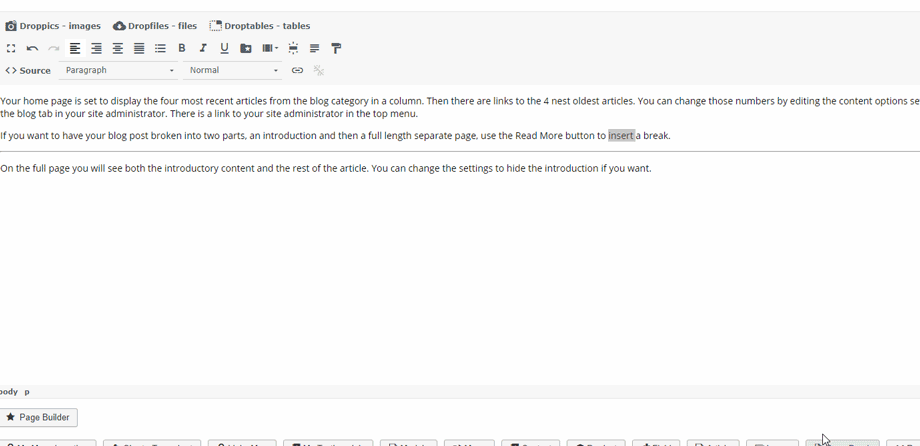 Furthermore, you got the possiblity to quick edit link URL or to open back and edit a link.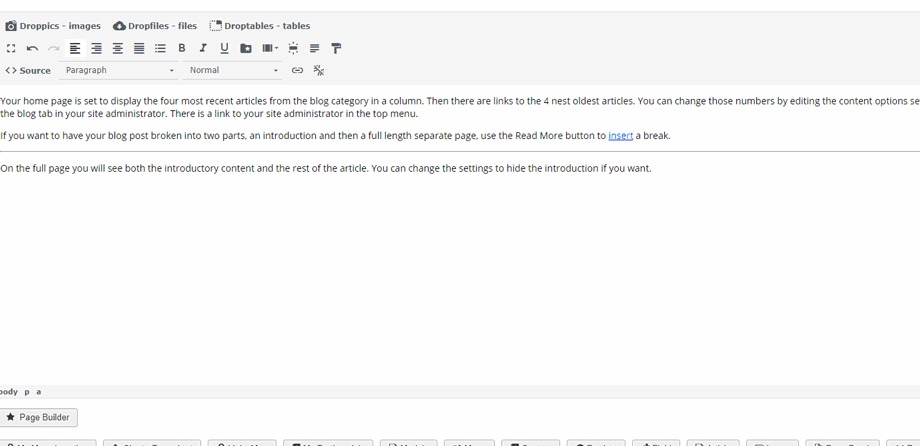 Youtube and Vimeo Video Manager
Videos along with images is one of the most popular content used in the editor, DropEditor includes a video and sound manager. You can include in one click external videos from Youtube and Vimeo:
Youtube videos: embed video in one click or load it as popup
Youtube videos: define custom size and thumbnail
Vimeo videos: embed video in one click or load it as popup
Vimeo videos: define custom size and thumbnail
Play Local Videos and Sounds Files
A player is available to load your video files and sounds files inside your editor. Pickup a file from your media (video or sound file), preview it and click Insert, you're done!
Button Editor: Create Your Own Buttons
Adding an action button usually require some HTML/CSS knowledge. It's no longer the case, you can create and save a set of buttons to use everywhere on your website.
Bullet List Manager
Finally something to manage and save your bullet lists! You got a predefined set of icons and visual configuration to add some style on your bullet list. Plus, you can save it and use it later.
Automatic Summary Titles
In your long Joomla article you need a tool to make automatic summary like in a Wikipedia article. The summary tool will help you to build and update automatic summaries based on your article title levels (h1, h2,...)
Custom Styles & Titles
The custom style tool is one of the most advanced tool and it will fit all the web designers needs. From the editor configuration you can create your own custom css style. Define a class, a style name, some css properties and use it! It's already visible in you editor and you got some nice predefined styles on install.
The custom title tool lets you override your template titles or create your own.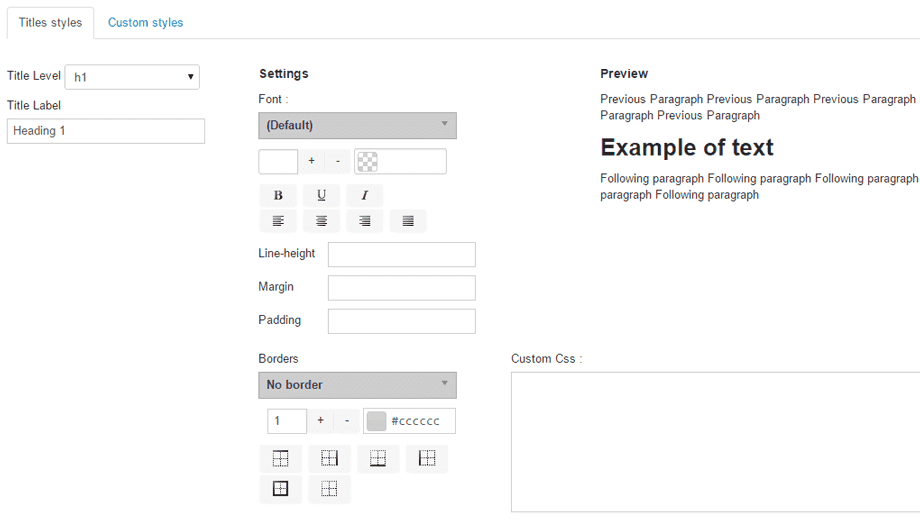 Custom Google font selector is available. Select witch font will be available, activate the Google font selector, you're done.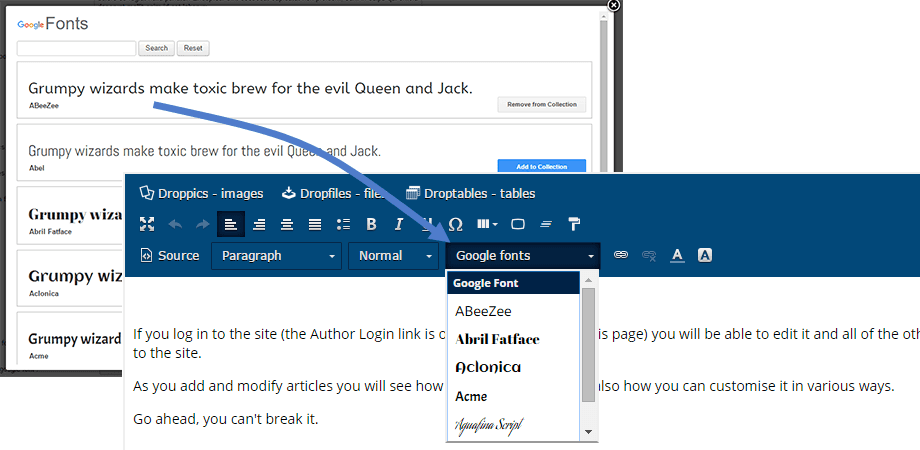 Custom color panel: you have an option in profile that let you define a custom color panel, for example color from your template. Just activate it, Add colors and the custom font color will be available on top of the font color picker.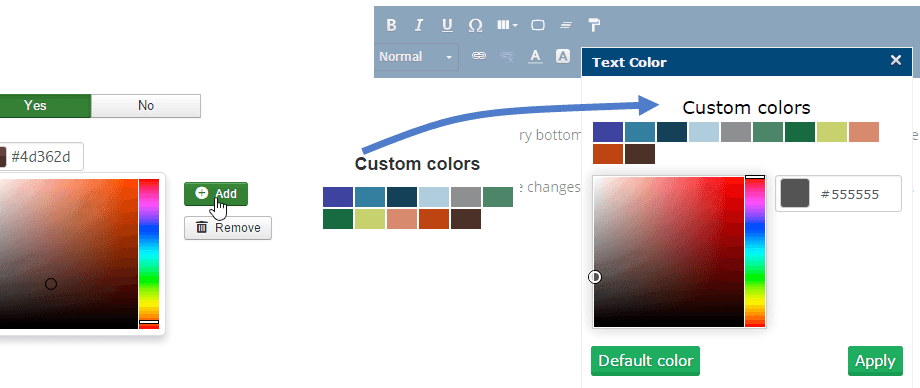 Custom Editor Profiles
In DropEditor you can create multi-profiles for your users and for each profile define the tools available. Plus, a profile can be restricted to a Joomla user group or a Joomla component.
Profiles and Source Code Import/Export
When a user profile is configured with his own edition tools and some custom style defined (it takes a certain amount of time), you have the possibility to export and then import your styles in all your websites. Build new websites faster!
Colored Source Code
The HTML source code is colored and got automatic tags generation. Furthermore, you got a code search and replace advanced tool.
Integrated design
The design is fully customizable and you can select your icon sizes. Furthermore, the editor is pretty light using material design icon set and style.