WP Speed of Light: CDN-integration
Först går du till WP Speed of Light> Hastighetsoptimering> CDN-integration på vänster meny.

Då aktiverar du CDN och fyller i din CDN-information här.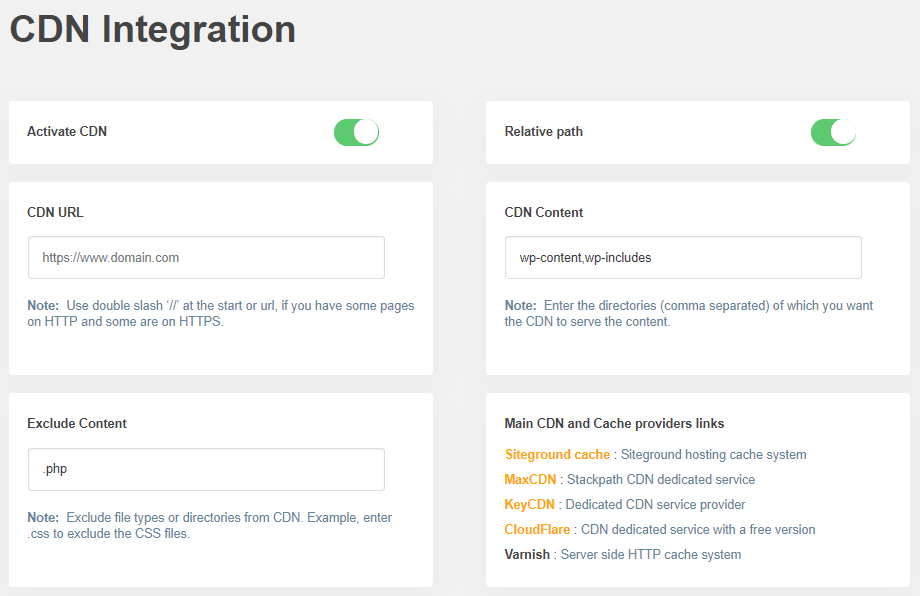 CDN-URL: Lägg till din CDN-URL, utan det efterföljande snedstrecket (i slutet).

CDN-innehåll: Ditt WordPress-innehåll serveras via CDN-resurser, åtskilda av ett komma. Som standard innehåller wp-innehåll, wp-innehåll.

Utesluta innehåll: Uteslut filtyp eller kataloger från CDN-nätverket.

Relativ sökväg: Aktiverad som standard, Aktivera / inaktivera CDN för relativa sökvägar. Används för vissa kompatibiliteter med specifika Wordpress-plugins.
PRO ADDON ENDAST - innehåller speciell automatisk cache cleanup för:
Siteground-cache: städa upp cache-cachen när en cache-rengöring utförs

MaxCDN-cache: städa upp MaxCDN-cachen när en cache clean utförs

KeyCDN-cache: städa upp KeyCDN-cachen när en cache clean utförs

CloudFlare cache: Rensa CloudFlare-cacHemsidainnet när en cache clean utförs

Lack cache: städa upp Lack cachen när en cache clean utförs