WP Speed of Light : CDN Integration
Först går du till WP Speed of Light > Hastighetsoptimering > CDN-integration på vänstermenyn.

Sedan aktiverar du CDN och fyller din CDN-information här.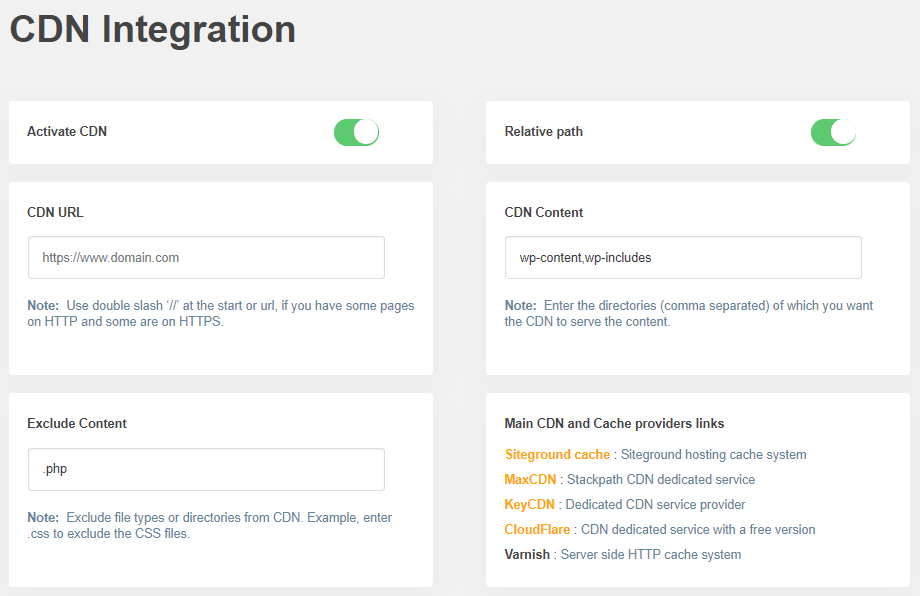 CDN URL: Lägg till din CDN URL, utan efterföljande snedstreck (i slutet).

CDN-innehåll: Ditt WordPress-innehåll som serveras genom CDN-resurser, åtskilt med ett komma. Som standard innehåller wp-innehåll.

Uteslut innehåll: Uteslut filtyp eller kataloger från CDN-nätverket.

Relativ sökväg: Aktiverad som standard, Aktivera / inaktivera CDN för resurser för relativa banor. Används för vissa kompatibiliteter med specifika Wordpress-plugins.
ENDAST PRO ADDON - inkluderar specifik automatisk rengöring av cache för:
Siteground-cache: rensar Siteground-cachen när en cacherensning utförs.

MaxCDN-cache: rensa upp MaxCDN-cachen när en cacherensning utförs. Du kan gå här för att se hur du skapar MaxCDN API.

KeyCDN-cache: rensa upp KeyCDN-cachen när en cacherensning utförs. Du kan gå här för att se hur du skapar KeyCDN API.

CloudFlare-cache: rensa CloudFlare-cachen när en cacherensning utförs. Du kan gå hit för att se hur du skapar CloudFlare API. Du kan rensa allt eller rensa enskilda filer .

Lackcache: städa upp Lackcache när en cache-rengöring utförs