Layer Slideshow, Joomla slider
Layer Slideshow is an innovative slideshow extension for Joomla. Create a well designed slideshow using inbuilt themes, images libraries, layers and easy to use interface.
Designed inbuilt themes
Layer Slideshow comes with 5 inbuilt designed themes to help you start fast. Each theme can be called in one click in each slide. And it's very flexible because in a single slideshow you can have multiple slide with different themes.
Just add you theme, edit the images and text and you're done!
Default slideshow themes
Bellow here's the 5 default themes included in the slideshow.
Slideshow layers made easy
Each slide contains different layers, this is what allows you to have separated effect on each element: text, image, background. All elements have position and the slideshow should stay responsive, this is the deal.
In layer slideshow you can play with element using Drag'n drop and inline text edition. Even more, you can resize images with handles!

Image libraries included
Slideshow with layers are really nice regarding design, the major challenge is dealing with nice and clipping path images. Another issue resolved, we have images, you have creativity. Each membership comes with an access to our clipping path library (free to use images), a background library and to Icon finder sources.
The best is that all images are imported on your server so you use as long as you want, it's all yours!
Custom slide demo
Here's a custom slideshow demo created in few clicks based on our image library.
Image management
Layer Slideshow comes with an enhanced image manager that allows you to:
Apply images effects
Fit and crop images
Load your previous downloaded images
Upload files with drag'n drop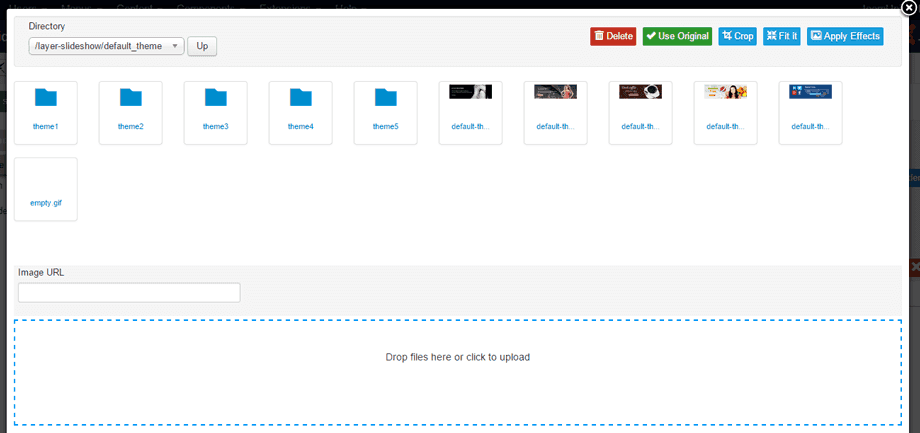 Button manager
Slideshow action button is important because it brings interaction with your users. So it have to fit your slide design. We've created a button editor to create visually your button styles, add quick links to Joomla content (menus, articles) and save it! So you can reload your saved buttons for further use.
Add slideshow your content
Layer Slideshow comes with an editor button that allows to call easily any slide instance everywhere like in an article, in a custom HTML module.
Layout options
Layer Slideshow got a lot of layout options that you can define for each slideshow so you'll alwayd be able to make the slideshow fit your template.