WP Speed of Light: CDN-Integration
Zuerst gehst du zu WP Speed of Light> Geschwindigkeitsoptimierung> CDN-Integration im linken Menü.

Dann aktivieren Sie CDN und geben hier Ihre CDN-Informationen ein.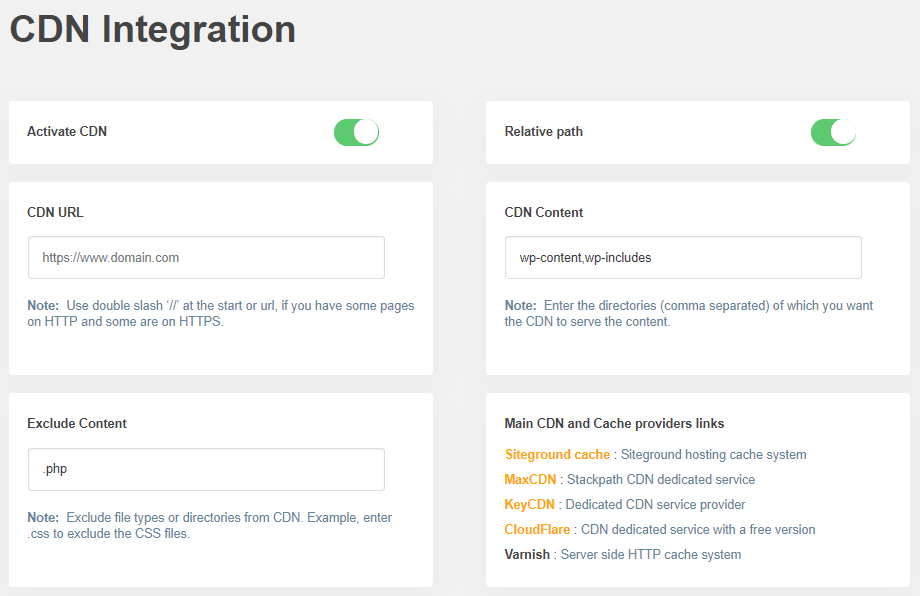 CDN-URL: Fügen Sie Ihre CDN-URL ohne den abschließenden Schrägstrich (am Ende) hinzu.

CDN-Inhalt: Ihr WordPress-Inhalt wird über CDN-Ressourcen bereitgestellt, die durch ein Komma getrennt sind. Standardmäßig ist "wp-content" "wp-includes".

Inhalt ausschließen: Ausschließen von Dateitypen oder Verzeichnissen aus dem CDN-Netzwerk.

Relativer Pfad: Standardmäßig aktiviert, CDN für relative Pfadressourcen aktivieren / deaktivieren. Wird für einige Kompatibilitäten mit bestimmten Wordpress-Plugins verwendet.
NUR PRO ADDON - Enthält eine spezifische automatische Cache-Bereinigung für:
Siteground-Cache: Bereinigen Sie den Siteground-Cache, wenn eine Cache-Bereinigung durchgeführt wird

MaxCDN-Cache: Bereinigen Sie den MaxCDN-Cache, wenn eine Cache-Bereinigung durchgeführt wird

KeyCDN-Cache: Bereinigen Sie den KeyCDN-Cache, wenn eine Cache-Bereinigung durchgeführt wird

CloudFlare-Cache: Bereinigen Sie den CloudFlare-Cache, wenn eine Cache-Bereinigung durchgeführt wird

Lack Cache: Bereinigen Sie den Varnish-Cache, wenn eine Cache-Bereinigung durchgeführt wird