The WP Meta SEO Pro Addon is installed as a separated plugin and bring a lot of additional features to enhance your WordPress website SEO. Additionally to the free plugin, here's the advanced features you'll get with the plugin Pro Addon.
Keywords Suggestion Based on the Google Search Console
While you're editing your content you can get keywords suggestion based on the Google Search Console. Once your website is connected to the Google Search Console, the plugin will analyse your content (post, page…) then search and suggest similar expressions. So you'll have the certitude to increase the quality of your keyword density.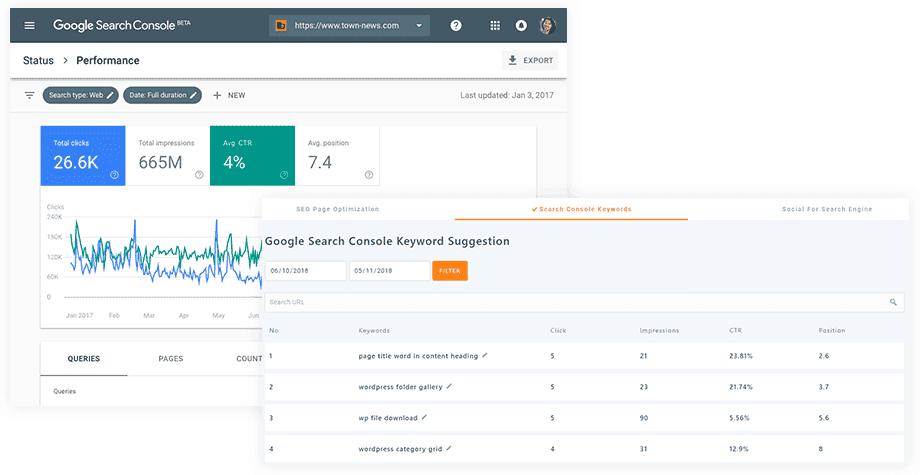 SEO Email Reporting Tool
WP Meta SEO addon got an Email report feature that allows you to send SEO Email report to you, your client, a marketing team or anyone. The reports includes: WP Meta SEO website data, Google Analytics data, custom content.
WP Meta SEO and Google Analytics Data in Email SEO report: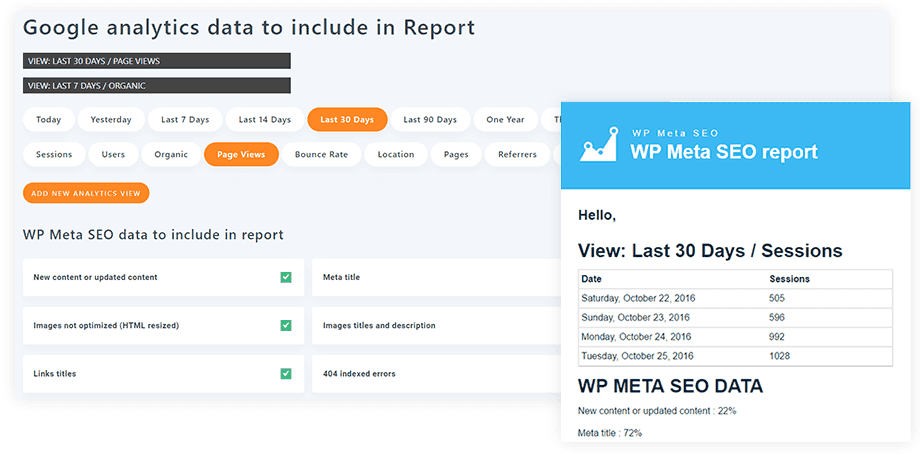 You also have the possibility to attach a PDF report to your Email.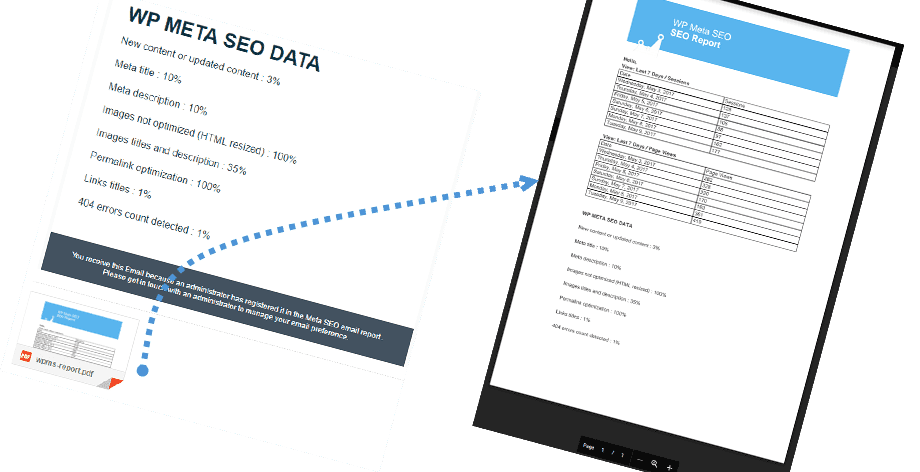 404 and Redirect Manager Enhancement
Having broken links in your WordPress website is not just an inconvenience for your users, but it also sends a message of unprofessionalism. Normally, however, keeping track of all the links on your website and their status is neither practical, nor productive. And that is where WP Meta SEO and it's addon comes in. The addon brings some advanced features like automatic broken link checker analysis, custom redirect, redirect rules, Google Search Console integration.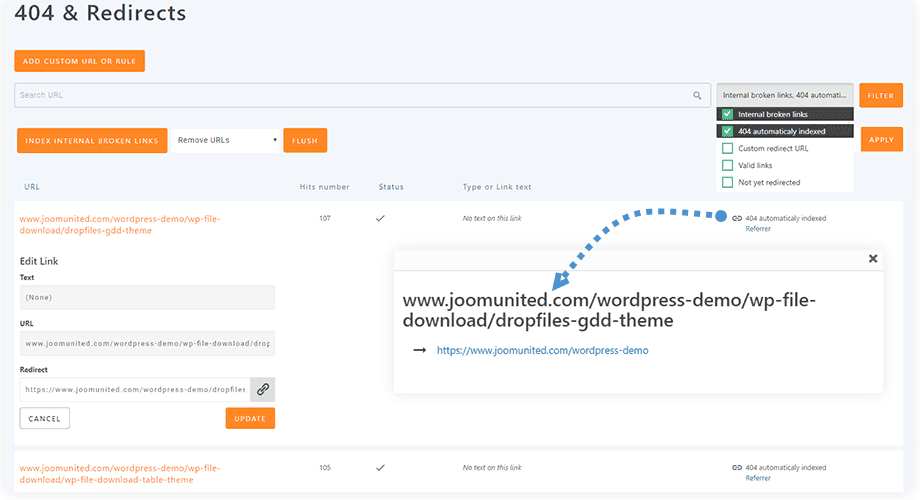 Automatic Error Index and Redirect Rules
The WP Meta SEO Addon also includes an automatic 404 error index with a scudeller (recommended to launch one before sending an Email report). Furthermore, you can regular expressions to redirect several URL with one rule.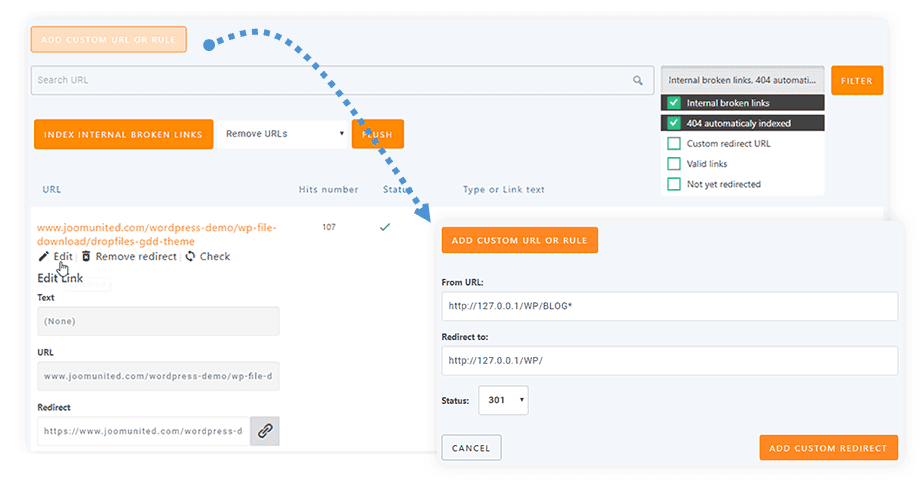 Google Search Console 404 Error Redirect
Google, through the Search Console, is also indexing its own 404 that occurs on your domain when he crawls it. There's a part of those 404 URLs that are relevant and needs to be fixed. WP Meta SEO addon includes a quick connector to the Search Console, the you'll import the URL as 404 and then you'll be able to redirect and send a request to Google to check it again.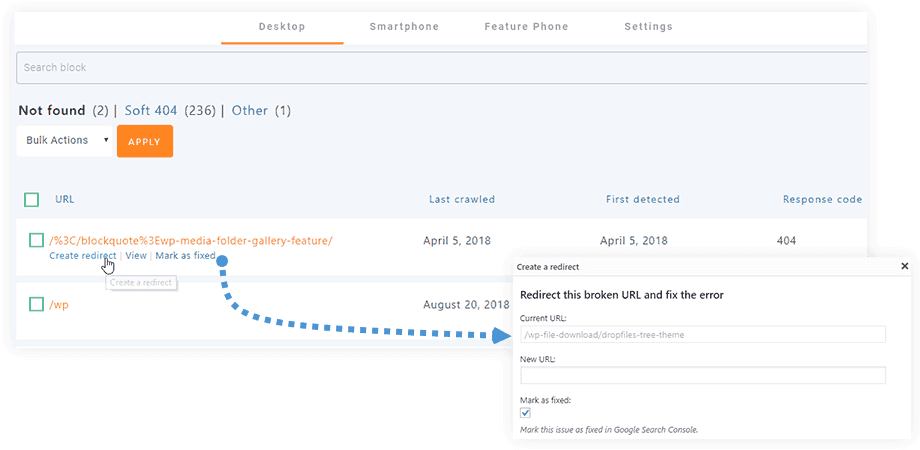 Quick redirect with WordPress link manager
The redirect action can be done in one click using the WordPress default link manager.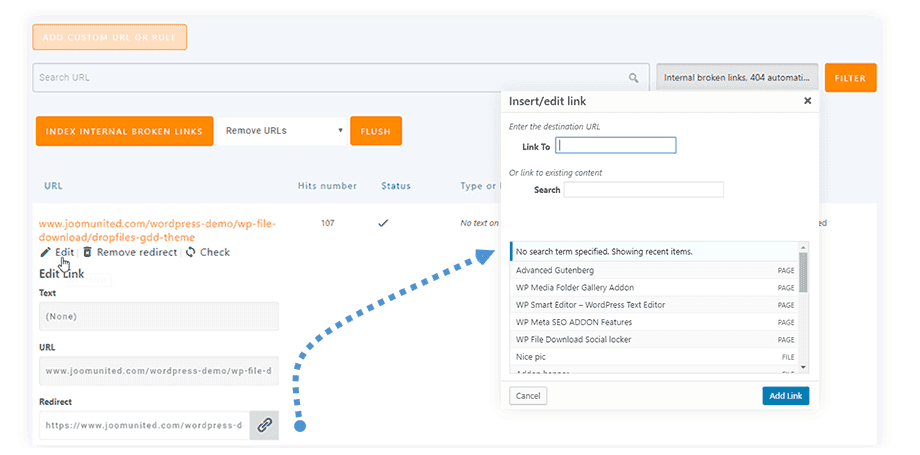 Custom post type in sitemaps
An added benefit enjoyed by WP Meta SEO ADDON users is the ability to automatically submit generated sitemaps to Google Search Console, ensuring new pages are crawled as soon as possible.
In order to set this link up, head to the search console and authorize your Google account to be used with your WordPress website. Place the code you're given in the next field and authenticate to conclude!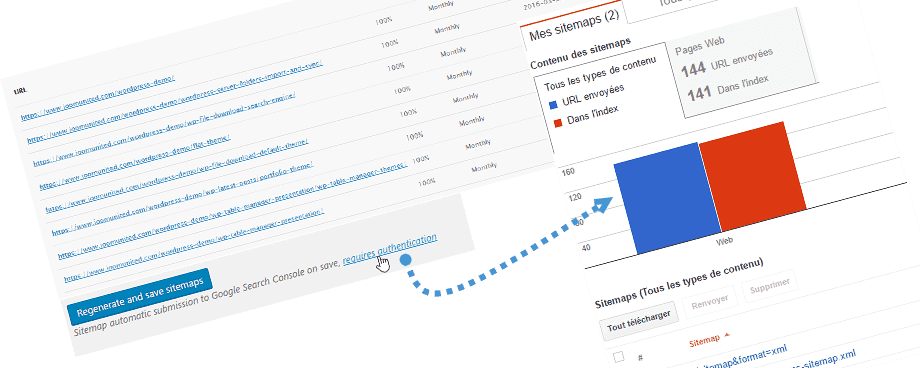 Check Sitemaps Links for Errors
What about avoiding submitting to Google sitemap that contains page not accessible? Over time your sitemap will grow and you may forgot some old URL that does not longer exist or that are not accessible anymore to public users for example. The Google Search Console won't send you any notification for that, you need to check that yourself.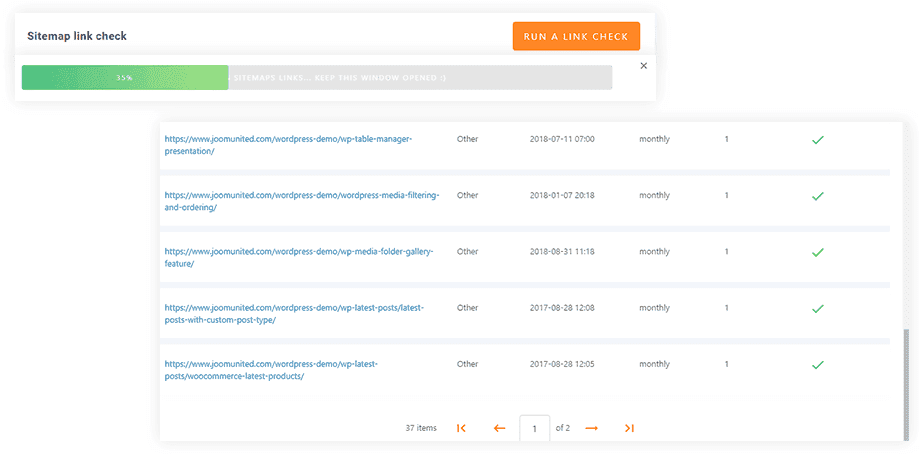 HTML Sitemap Themes
WP Meta SEO addon includes 2 additional themes

Automatically submit sitemaps to Google Search Console
WP Meta SEO makes the process of content selection to in your sitemap totally easy and powerful. By using simple checkbox or group of checkbox, current and future content is added to your sitemap. Usually sitemap is following the menu structure, we have that option too!
The content you can include is:
Menu, sub-menus selection
WordPress pages
WordPress posts and categories of posts
Tag content
Author pages
Custom URLs
The plugin ADDON also includes the all the custom post type like WooCommerce and all 3rd party plugins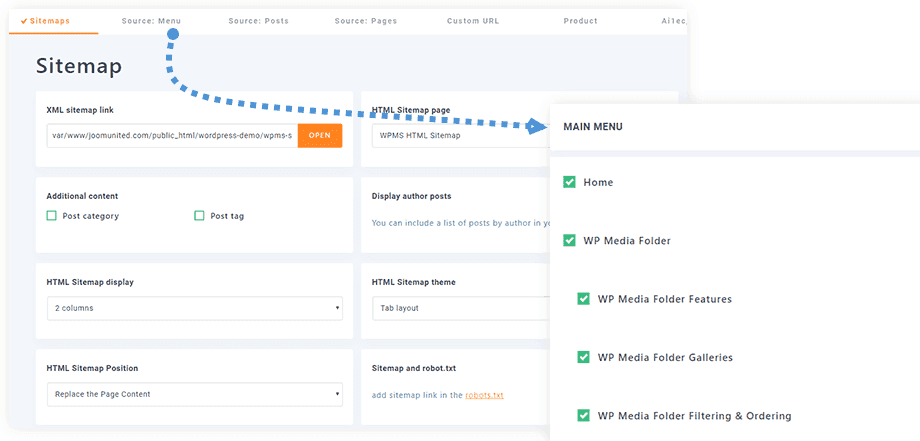 Google Local Business Information
Display your local business nicely in Google search requests using the Local Business structured data information. Fill the form, the plugin will do the rest!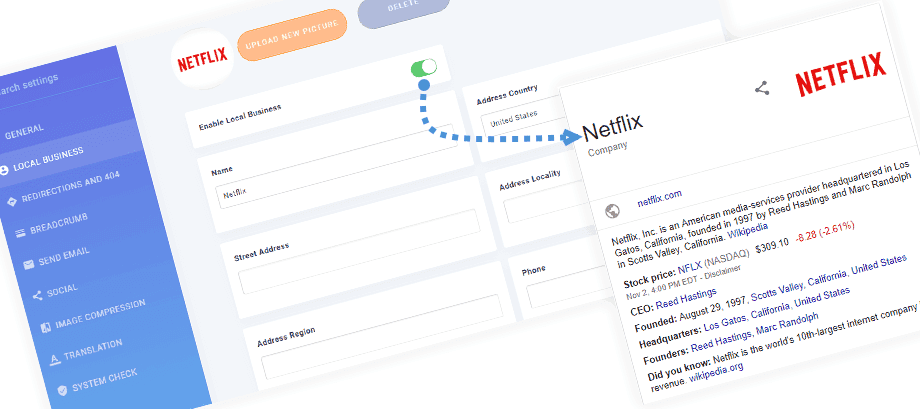 Multilingual integration: WPML & Polylang
WP Meta SEO PRO ADDON offers a more advanced SEO optimization for multilingual websites. The image and meta bulk editors offer a language filter and you can generate sitemap by language.