WP Smart Editor: Common Functions
1. Edition profiles
By using our plugin, you can create several profiles and link a set of edition tools to apply to this profile.
To set up your own profile you can use "Edit Profiles" point of "WP Smart Editor" menu. Choose one of the profiles and you will see profile configuration.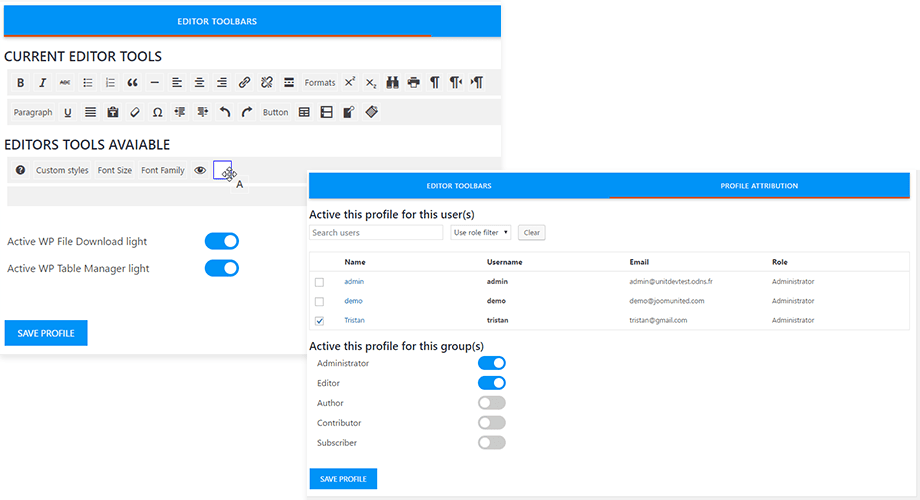 In the first tab you have instruments to customize your editor Use drag'n drop to select the tools you would like to be available.
To activate some of this tools you simply need to drag and drop a tool from section one to section two. In order to deactivate some of the tools in first line you just need to do the opposite. Drag it from section one to section two.
There you can activate and deactivate smart Table manager and Downloading manager that we provide instead of existent ones.
Once it's saved, the tools will be available in your editor.
And you can go to Post types and devices tab to choose which device or post types will be activated.

2. Configuration
At Configuration tab you can:

Display (p) tags: Display (p) and (br) tags in editor HTML view
Colored HTML code: Enable colored code for Post and Page HTML view
Colored Code: Enable colored code for Themes and Plugins editor
The WP Smart editor configuration allows to define custom CSS snippet that can be used in your editor and HTML tag options. To use custom styles, click on "Configuration" of the "WP Smart Editor" menu. There you should click on "Custom styles" tab.
You can Export and Import editor's profiles and custom styles with Import/Export button
To create a new style you should click "Add new class" button in the list of styles. You can edit you're your CSS right in the Custom CSS field.


All the changes you do will be displayed in the left part of the page. They will be applied to the sting with "Example text". The text above and under the string displays how your styles will look in the content of other elements.
After editing your custom style you should save it using "Save styles" button.
To apply a style to the element in editor you should select the element and choose a style from the dropdown list named "Custom styles". To make it default and delete all custom styles choose "Paragraph" option.