WP Meta SEO is a SEO manager for your WordPress website that use effective tools to help you get a better SEO rank than your competitors. WordPress is an amazing tool to manage content but you can also fall into some SEO trap. We're here to help. Here's the main features of WP Meta SEO that you can get for free: https://wordpress.org/plugins/wp-meta-seo
Check also the Addon of the plugin with its features:
WP META SEO ADDON FEATURES
Dashboard and SEO Checklist
WP Meta SEO got a useful dashboard to help you avoid SEO error. Here is what you can check from the dashboard:
Check for SEO permalinks
Check for meta titles
Check for meta description
Check duplicated meta information
Check for image HTML resizing
Check for image SEO: title, alt and description
Check for new content
Check 404 errors
Check for Image compression
Check links titles completion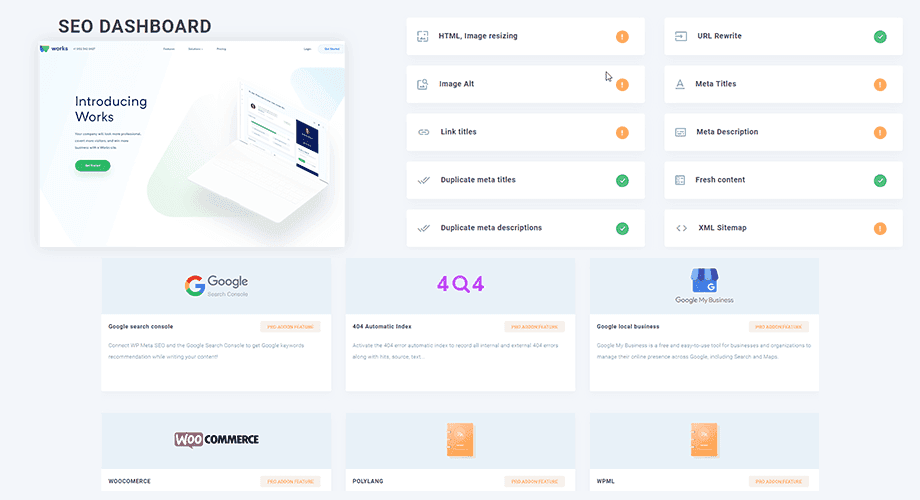 SEO On Page Analysis
The on page analysis tool will run some tests on the content you're currently editing and gives you a global score. The main goal of the test is to avoid SEO errors and optimize your content for search engines. The on page optimization can be done from all content: page, post or custom post type.
Criteria of the analysis:
Check if one of the page title word in present in the content heading
Check if one of the page title word in present in your content
Check if the page URL matches with page title
Check if meta title and description are filled
Check for image HTML wrong resizing
Check for image title or alt missing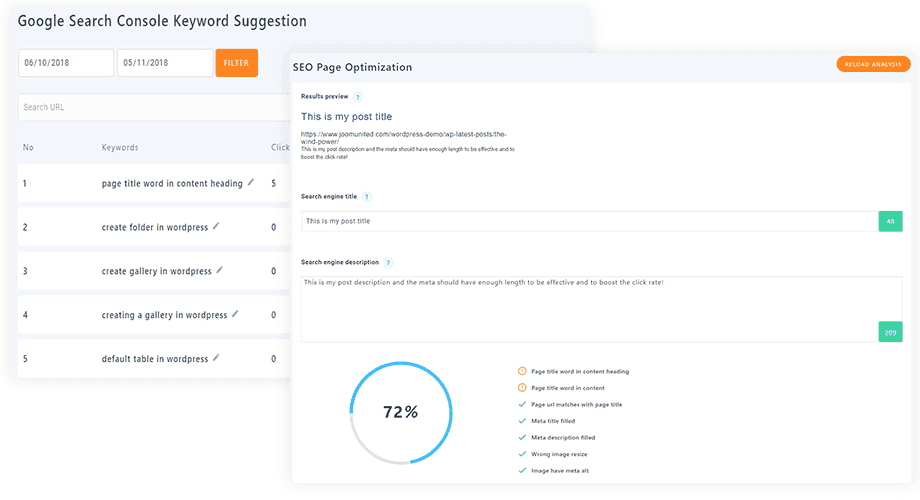 Page SEO Analysis Page Builders Compatible
The page builders are frequently used. WP Meta SEO maintain and check the compatibility with all the main page builders: Visual composer, DIVI Builder, Beaver Builder, ACF, Site Origine, Themify builder, Live composer, Elementor plugins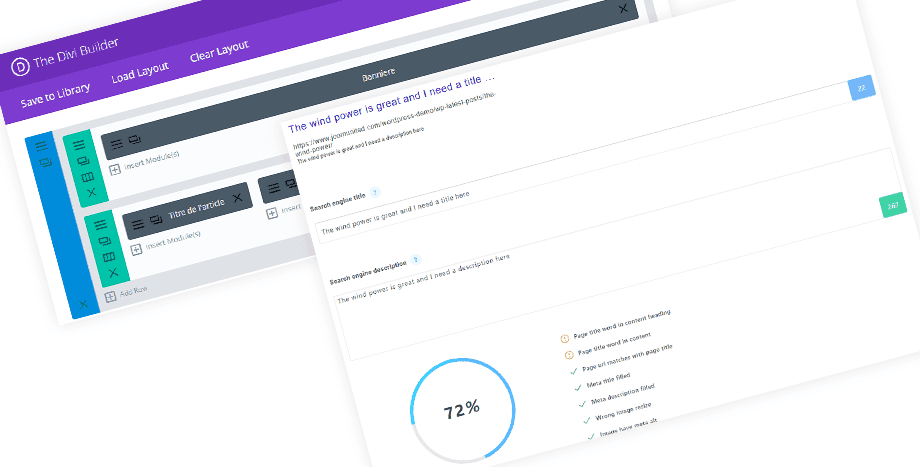 Custom Social Sharing Per Page
The social sharing tool will help you to define the content you've chosen to be displayed when a user share your content on social networks. For example, define a custom image, page title and description dedicated to Facebook sharing.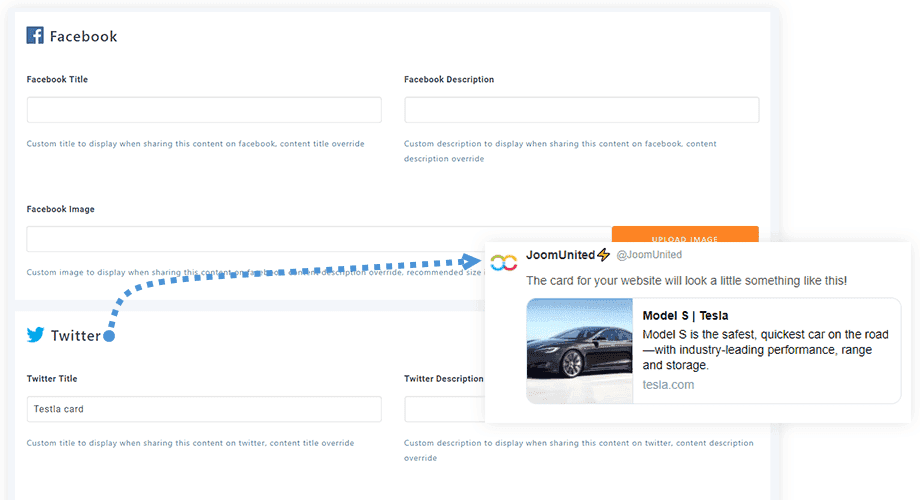 Meta Content Bulk Edition
The meta are used by the search engine to display a better page title and text excerpt in search results (not for indexing content directly). You can use the on page optimization to fill your meta during the content creation or use our bulk editor to make the things faster later. Type your meta content, it's automatically save in AJAX.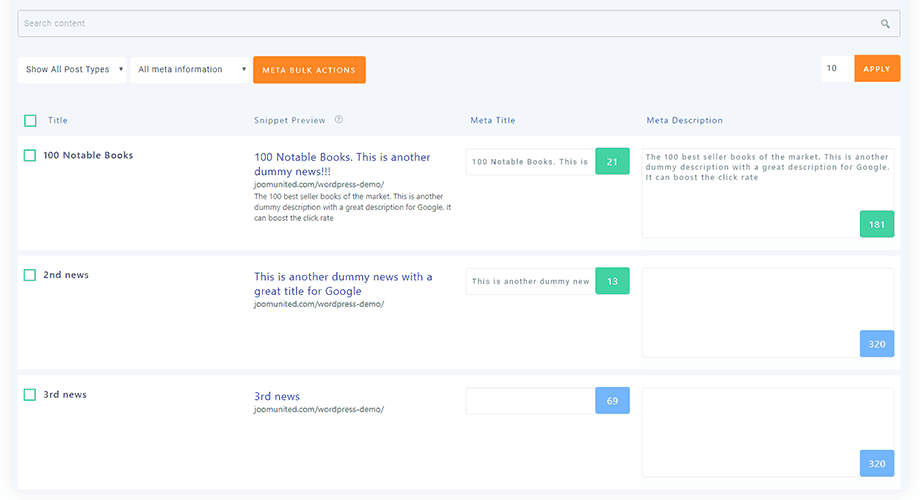 WooCommerce and Custom Post Type Compatible
If you're running an Ecommerce website or using any custom post type like an event manager, WP Meta SEO will work. From your WordPress product or custom post type or from the bulk editor you'll be able to fill all the info.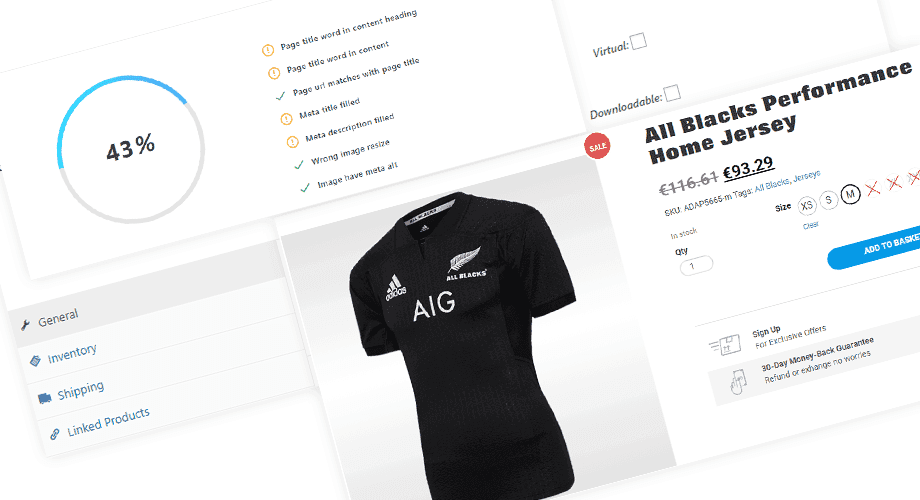 Internal broken link check and fix
The internal broken link checker tool can crawl and index all the broken links you have in your content. It's indexed in AJAX with a a progress bar that help in case of a massive amount of content (10000 post+). When you got your broken link, from this panel you can either:
Create a redirect (301, permanent redirect)
Edit the original content
Remove the link

Redirect manager
The redirect manager will index all the 404 error generated on your website with the number of hits, source, text… Then you'll be able to redirect to any URL in one click.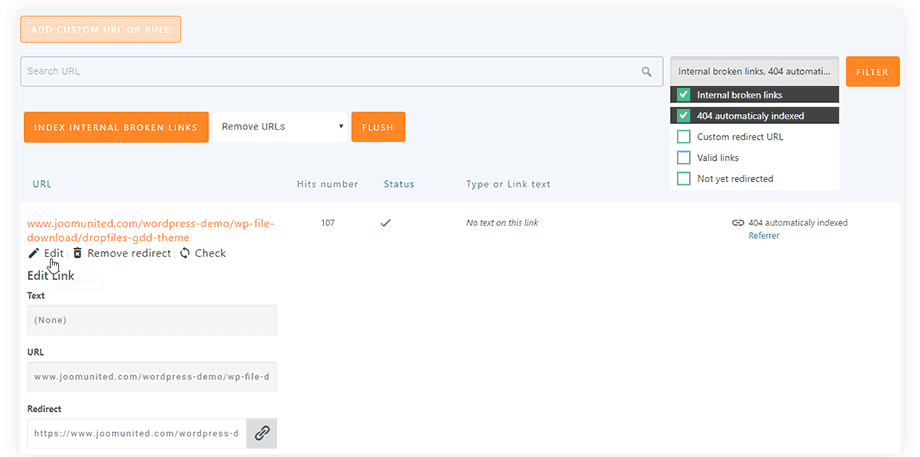 404 redirect and custom pages
For a quick fix your can redirect all 404 pages to home page or you got options for your 404 pages. You can use the 404 page usually provided by your theme or custom your own.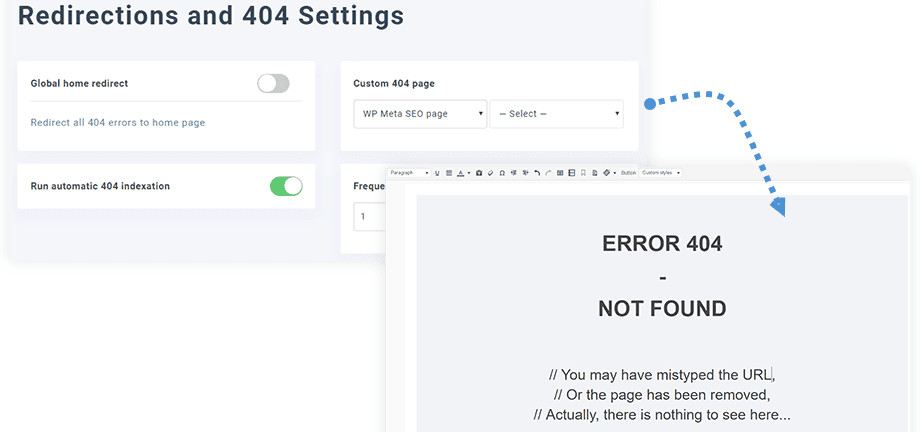 Image meta and info bulk edition
Images meta and information, is not something you usually care about when you optimize a website for SEO. But it's important! it add content to your page and help you to get present in image search. The main problem is that there's a lot of images to edit and each image can be used in several posts, pages… that's why we've included the image meta and info optimization check, on page and in a bulk edition interface. You'll be able to edit:
Image file name (replaced in content)
Image title
Image alt tag
Image legend
Image description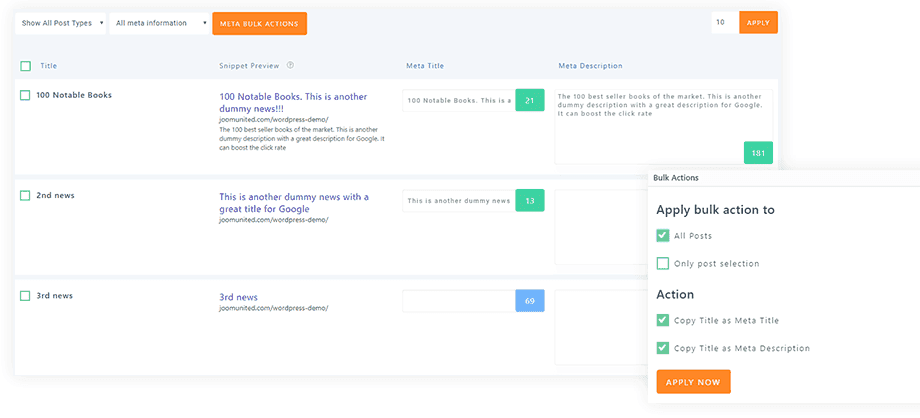 Fix image HTML resizing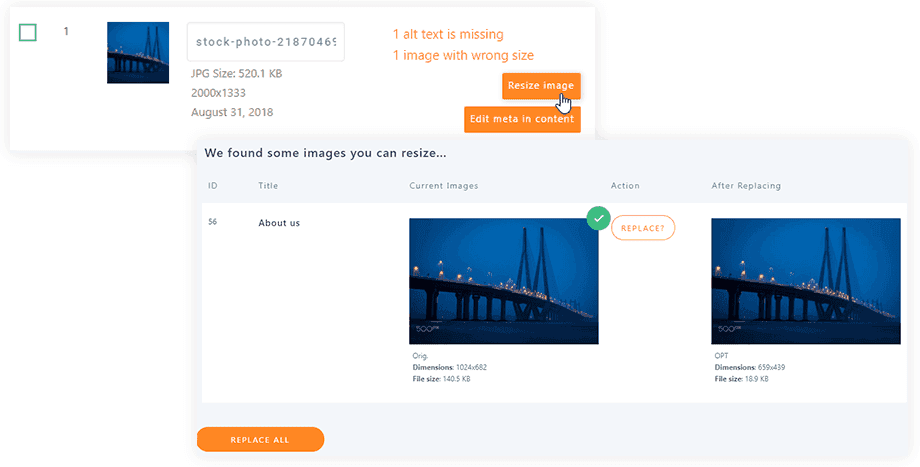 The HTML resizing is usually done in WordPress using handles on an image in the editor like bellow. It means that the original image size will be loaded even if the display size is different. This is a big problem because loading a 3000px image displayed @ 300px can be really bad regarding performance and display quality. You can now fix that automatically and dynamically replace images in your WordPress content, even if the image is used in several content (page, post…).

Google Analytics from WordPress admin
SEO optimization is therefore hard to imagine without Google analytics analysis. We've included in the plugin an easy way to enable Google Analytics tracking in 2 clicks. Then, from the WordPress admin you'll get access to all the stats that matter with graph view, clean data tables and up to 100 different statistics screen view.
Main features:
Enable analytics statistics in 2 clicks with token access
Tracking options to exclude WordPress user groups
File download statistics
Display Analytics statistics: session, users, organic, page views, bounce, location, pages, referrer, searches, traffic, technology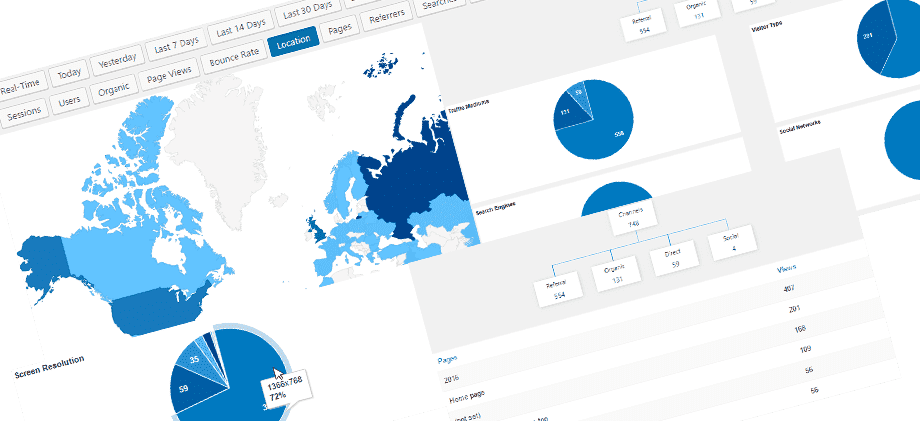 The most advanced sitemap tool
WP Meta SEO has a unique sitemap tools such as:
Generate automatically xml sitemap
Generate automatically HTML sitemap
Sitemap source: menu selection (can be any content type), post, category of post, pages, author content
Setup update frequency and priority for each link
Copy and sync a xml sitemap to root for external SEO tool
HTML sitemap display with 3 columns and display position for each type of content
Add link in the robot.txt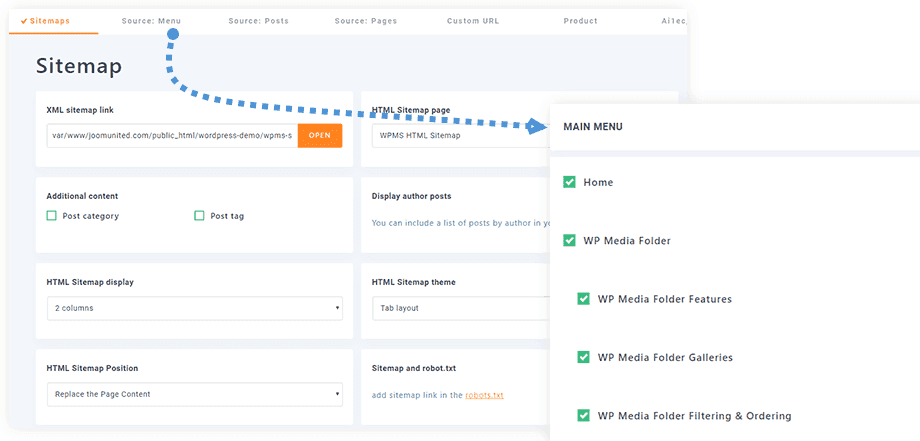 ImageRecycle image compression integration
WP Meta got an integration of the ImageRecycle image compression webservice. Images usually represent from 60% to 70% of website page weight, an image optimization (compression) will reduce image PDF sizes by up to 80% while preserving the quality. Page will be displayed faster, is good for your users and for your server.

Link title edition
The link title attribute does not have any direct SEO influence in ranking BUT it can influence click behavior for users. In this case, indirectly, it affect SEO. That's why we develop a tool to add the link title to the WordPress default link manager and build a mass link manager editor.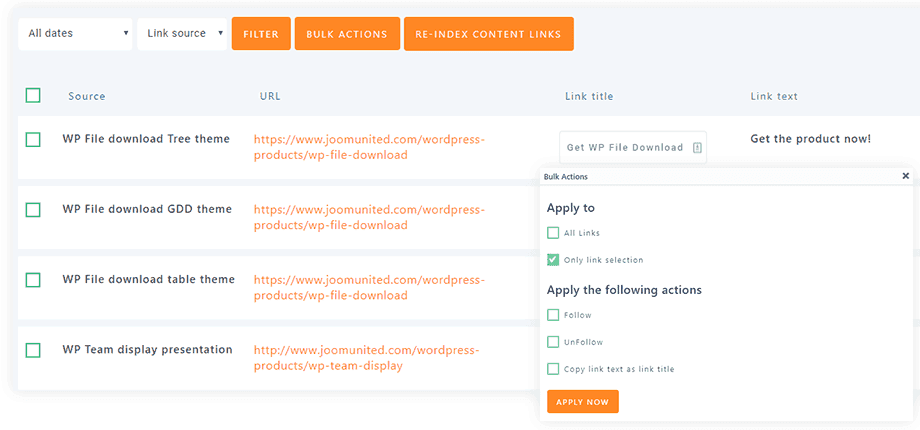 Breadcrumb Generator
Breadcrumb is really helpful for the website navigation and also really appreciated by search engine when it's well implemented. WP Meta SEO got a SEO friendly breadcrumb generator with:
Rich snippet compatibility
Separator and text customization
Link activation
Shortcode and PHP code generation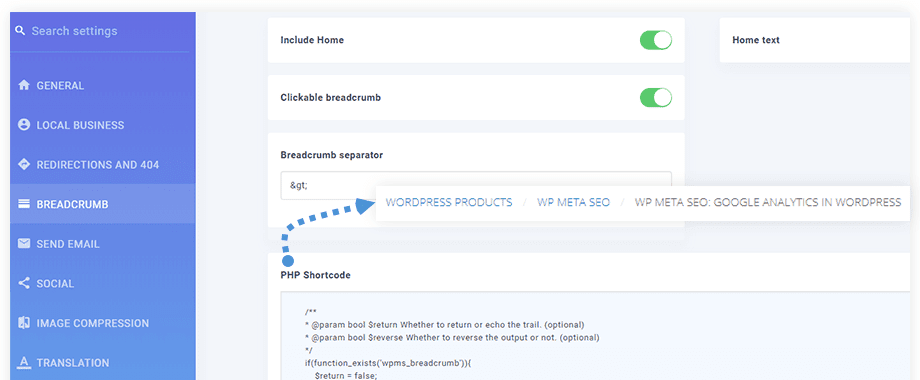 Follow / Nofollow links and index content
From the bulk link manager you can choose witch link you want to follow or not. Plus, we've added an indexation tool that find and index all links from your content.
From your content page or post or custom post, you can determine wether you want to index and follow link and content.