Create and update gallery from folder
WP Media Folder has an inbuilt gallery function that is fully integrated with the default WordPress gallery manager. You can create gallery from folder or from image selection right from your media manager. Create a folder, upload images, create a gallery, select theme and options and you're done!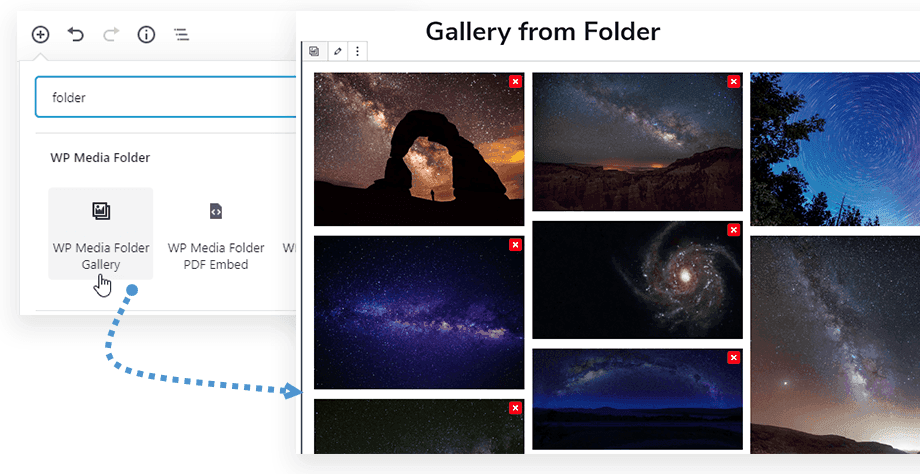 Update a gallery
It's never as easy as if it's automatic, right? You can do that with a simple gallery option. If you add any image in the folder, the image will automatically appear in the gallery, respecting the image sot option applied to the gallery.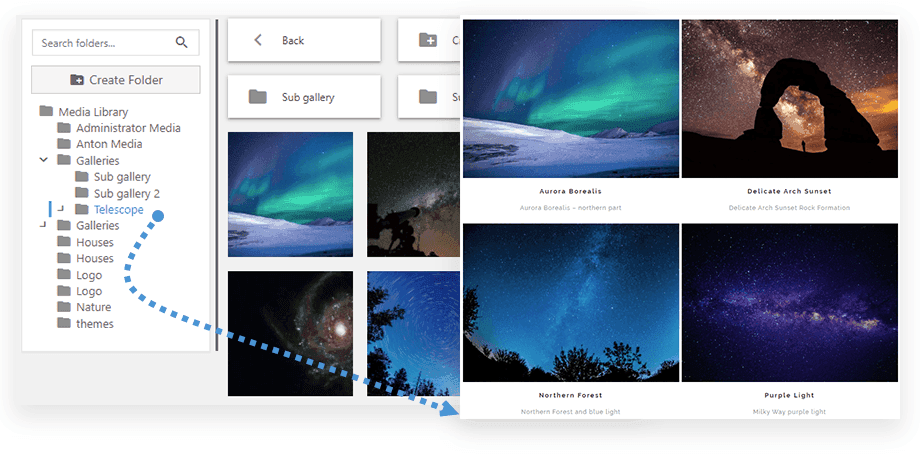 Masonry Gallery in Gutenberg
Masonry is a responsive gallery view with a fixed column size and an adaptable height. Create a gallery like you use to do in WordPress, select Masonry theme, the column number and you're done, here the result. This one has been made in Gutenberg editor.
Portfolio Gallery
Have you ever need to create a custom page based on a gallery with link to post, page or anywhere else? In each theme, you can be used to do that. It contains an image, a title, a description and like on all other gallery a possibility to override the image link.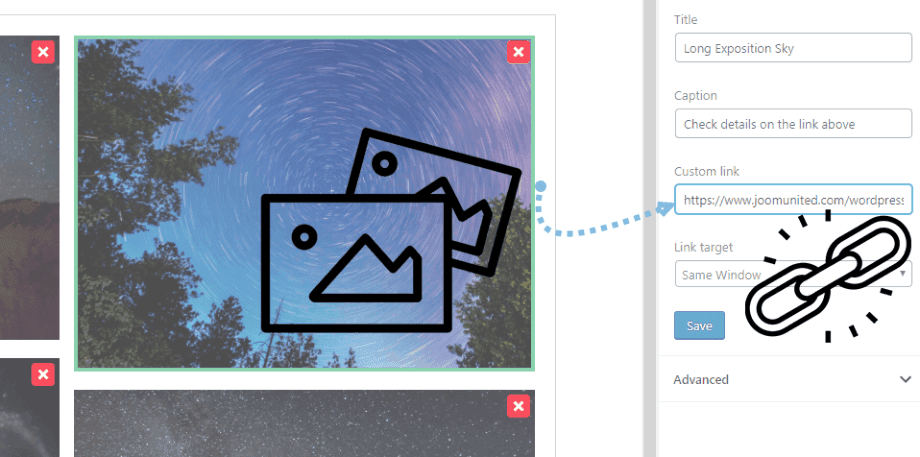 Slider gallery
The slider theme for gallery allows you to slide with one or several images. The sliser is responsive and you still have options to make lightbox, link to single image, disable link or make custom links.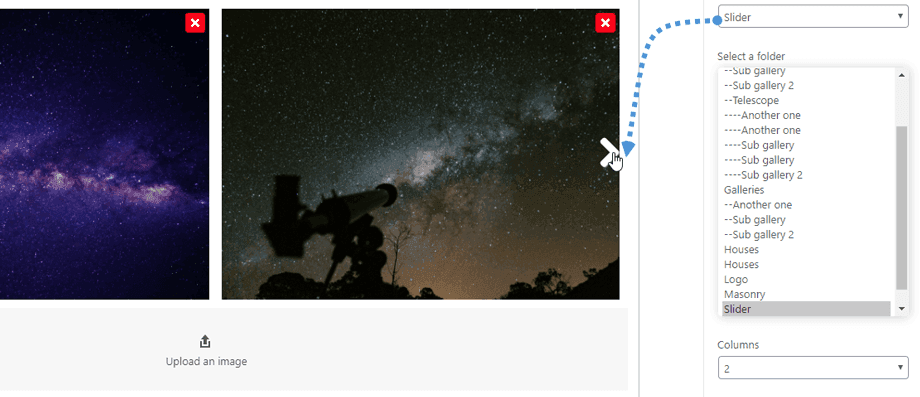 Video Galleries from WordPress Media
In WP Media Folder you have the possibility of loading remote video from Youtube, Vimeo and Dailymotion. You can manage them among your media and even create galleries including with images and video mixed
DON'T FORGET THE WORDPRESS DEFAULT GALLERY THEME
We got that covered too with WP Media Folder. The default WordPress galleries will be enhanced with all the gallery features like lightbox with image navigation, custom links on images, image ordering…
Gallery DEFAULT settings
Defining a default setup for the galleries image sizes and for all gallery theme options like shadow, borders, column styles will really speedup the gallery creation process. So each time you or one of your editor adds a gallery, the setting setup will be applied automatically to all WordPress galleries.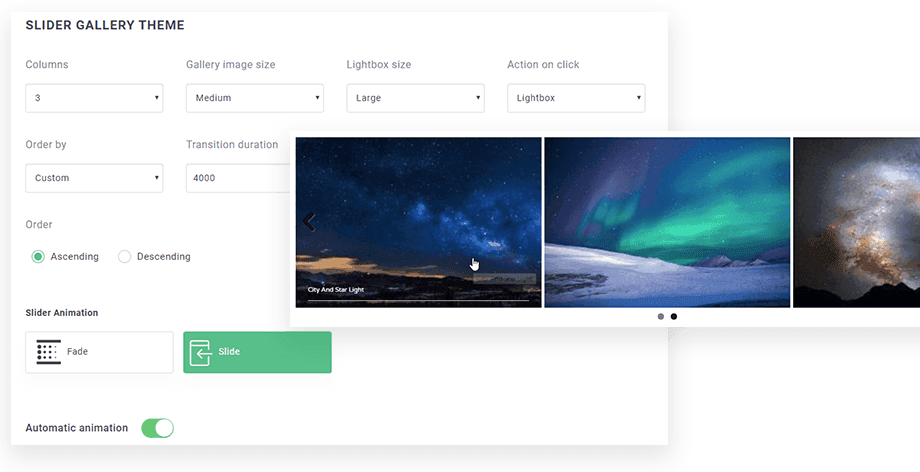 Keep your images in order!
From the gallery settings you have additional parameters for image ordering like:
Custom order
Random order
Order by image title
Order by image upload date
Ascending and descending order for each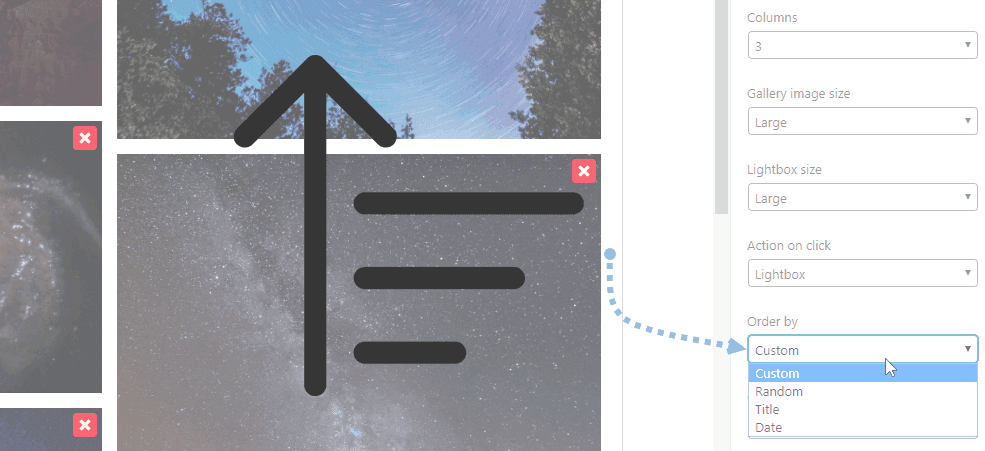 LOAD WORDPRESS GALLERIES ANYWHERE
To create a gallery you can use the Gutenberg block or just the gallery manager from the classic ediotr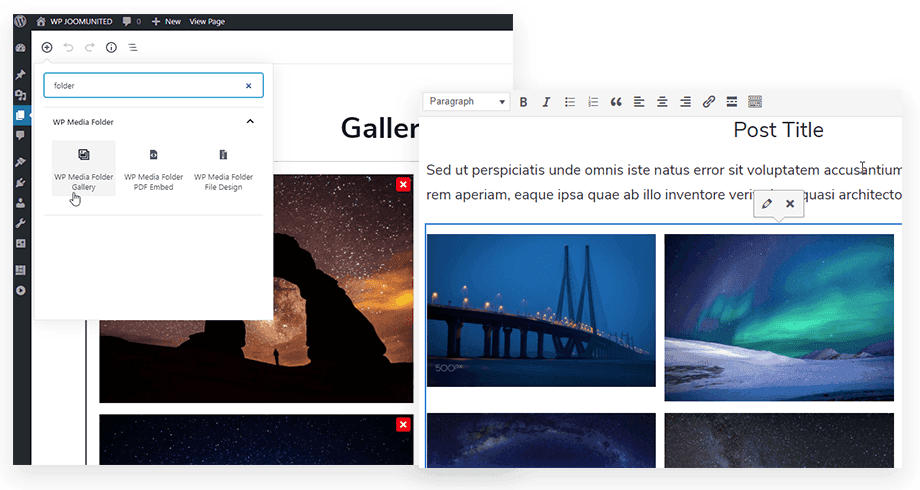 Or you can use the shortcode generator to load gallery in, WooCommerce, any custom field or any page builder for example.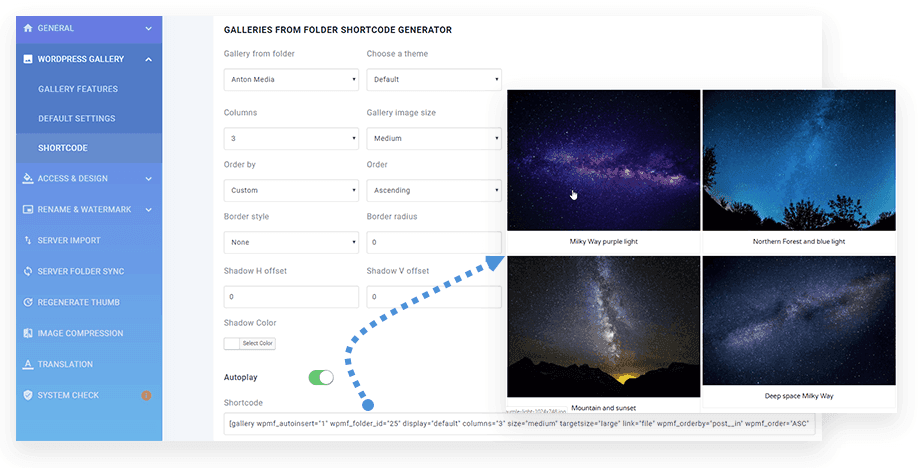 NextGEN gallery importer
We introduce a NextGEN gallery integration. You'll be able to import NexGEN galleries as folders with images inside. So you can fully get back all your media content in your media manager and start creating amazing galleries from there. Plus, you have a button to make sync anytime from WP Media folder parameters.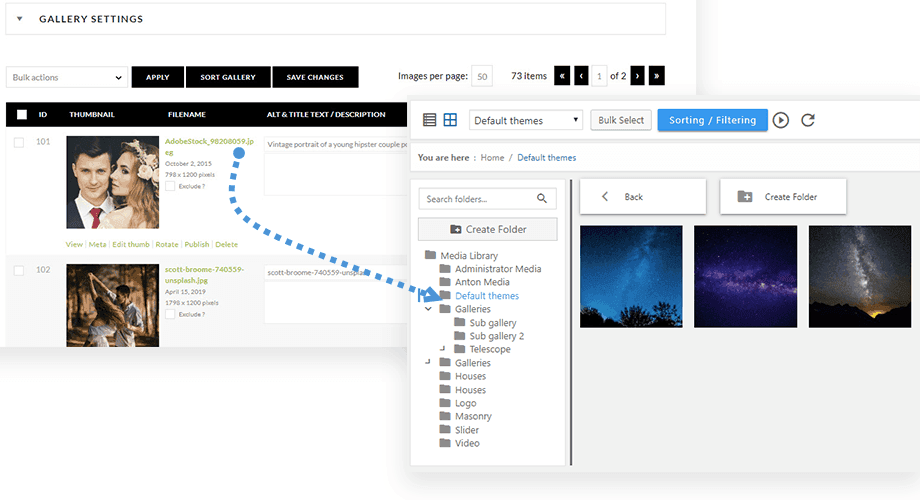 Add lightbox on single WordPress image
The lightbox feature with image navigation and caption, is also available on WordPress single images, as an option. Define a small and big (lightbox size) by image, then click on it to enlarge, a classic way but effective.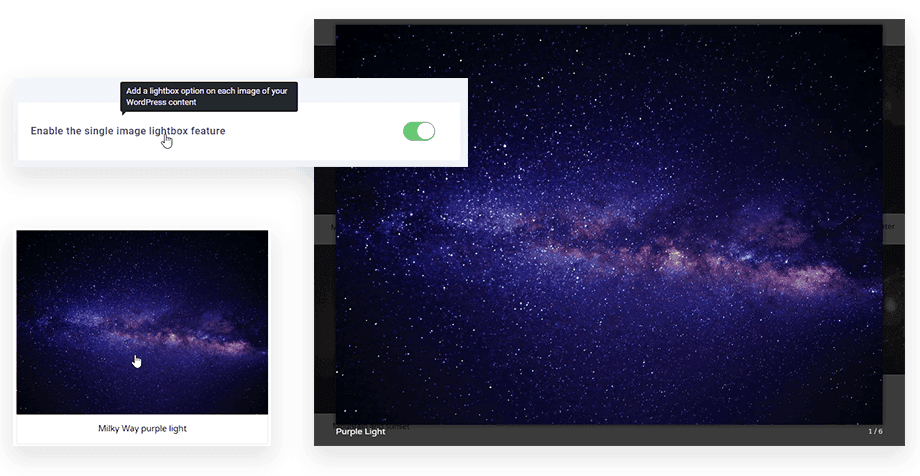 And it's light!
The WordPress gallery manager is really better than an external gallery solution because you can use the same images all over the website. Images are loaded one time and no more. Plus, you can choose the image size in each gallery depending of your display ie. for a large width theme with 2 columns gallery, you can the medium size to have a good rendering, on a small theme with 3 columns, the thumbnail size is usually enough.
STILL NOT SURE? WATCH A GALLERY FOLDER video demo