WP File download is a file manager for WordPress that is very flexible and easy to use for webdesigner and final users.
All files and category of files can be managed from your editor with AJAX ordering and auto saving features. The plugin includes 4 themes, with icon set and different display rendering tested on the most famous WordPress theme providers layouts.
File Manager Themes and Custom Design
WP File Download includes 4 themes by default, each theme have it's own configuration. The theme system is very flexible because you can choose a theme per category of files and override each parameter in the category. Setup the download button color, info display, save and you're done! WP File download can really fit your WordPress theme design. Check the demo!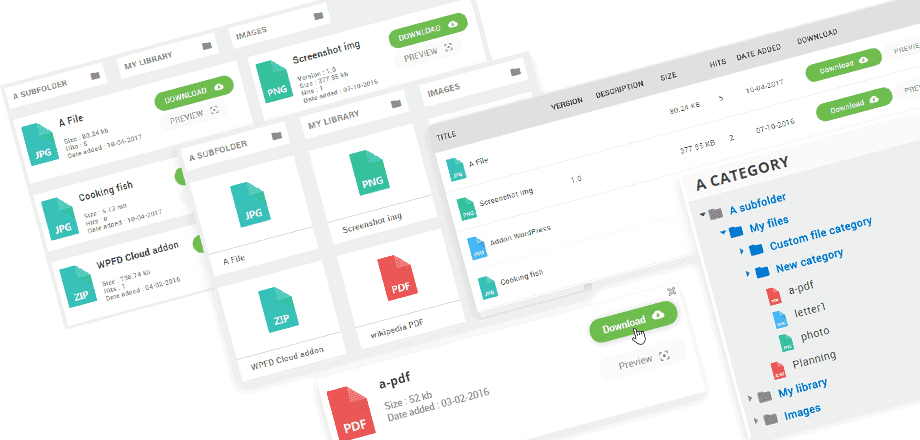 Create Your Own Theme
Want to create your own theme? you can do that in one click from the plugin configuration. Name it, clone it from an existing theme and you're done! The new themes files will remain in place on plugin update. If you disable it, there's a system to make an automatic fallback on the default theme.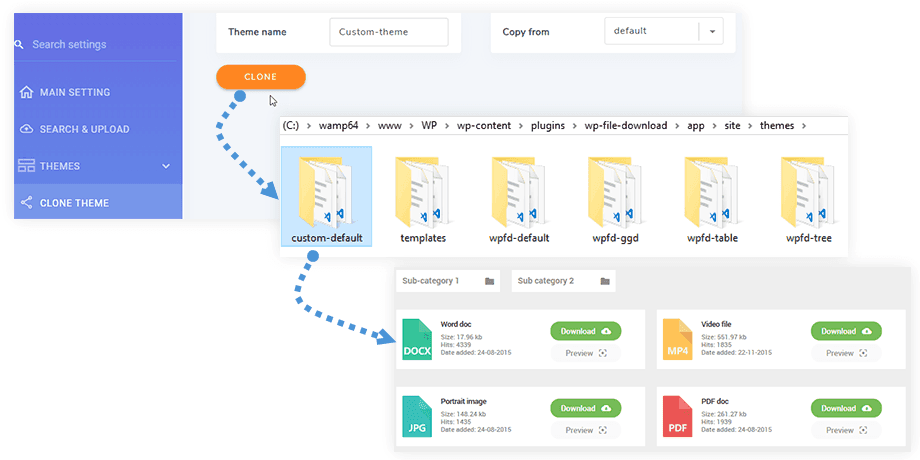 Gutenberg Editor Integrated
WP File Download has 2 dedicated Gutenberg blocks to search and insert files categories and to search and insert files in your Gutenberg pages.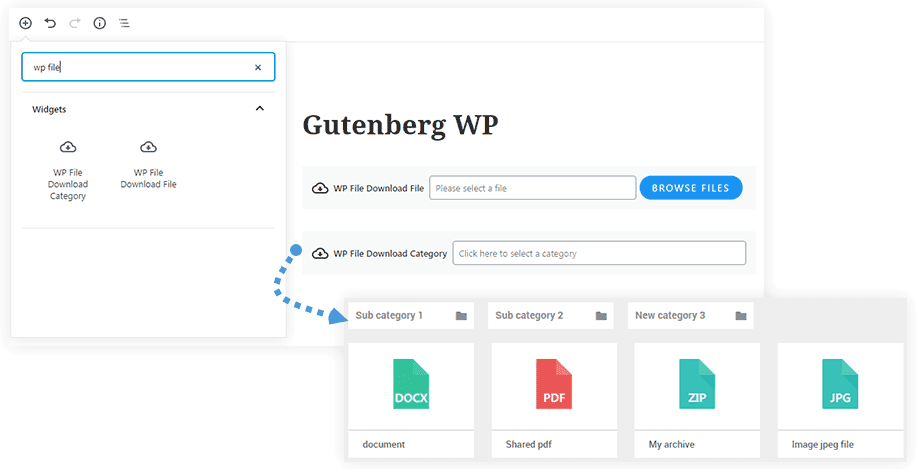 Easy to Use Admin Interface
The admin file management has been fully designed to be easy to be used from anywhere. Whether you are in a post, page, in the plugin admin entry view, on mobile, you can manage your WordPress files the same way. It's pretty easy to move and order files and categories, don't lose your habits it works like WordPress nested menu. Drag'n drop files or categories, it's automatically applied and saved.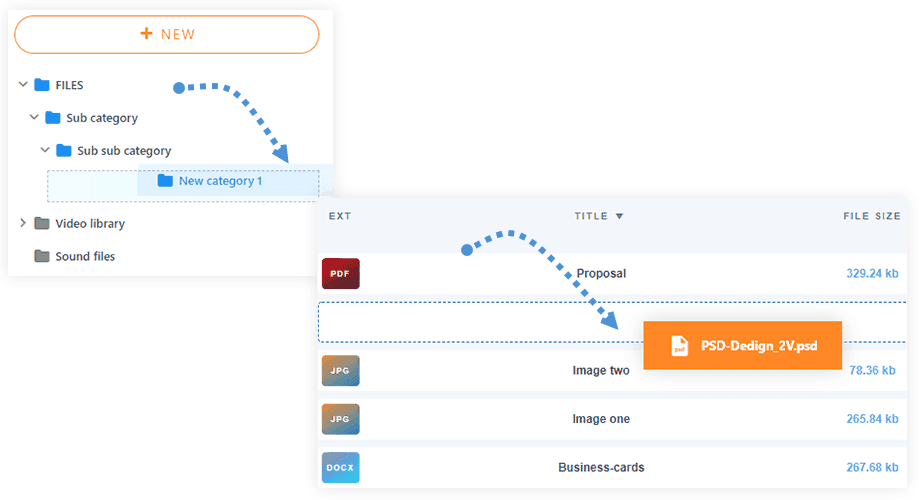 File Copy / Cut / Paste
The Copy/Cut/Paste is very easy to use, it's exactly like on your desktop, select one or several files, drag'n drop it + Using the MAJ keyboard will do a copy. You can also use the copy/cut/paste buttons.

Public Side Easy Navigation
The public side is the most important for clients as file managers are usually not very user friendly regarding file category navigation. WP File download now offer an AJAX navigation through categories of files. Plus you have the possibility to activate a clickable breadcrumb + a side folder tree navigation. Each of those elements can be activated globally or per category.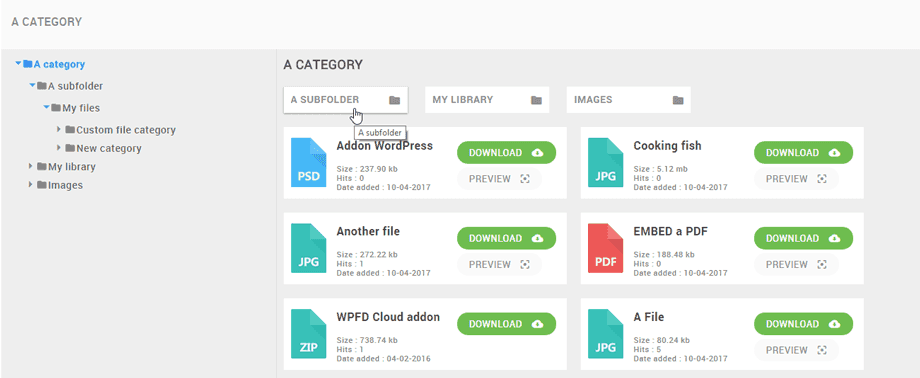 File Access Limitation
Access limitation can be set in each category in a WordPress native way. It means that it uses WordPress native user roles to define access. In each category you can allow only particular group to display and manage a category of files with a single click.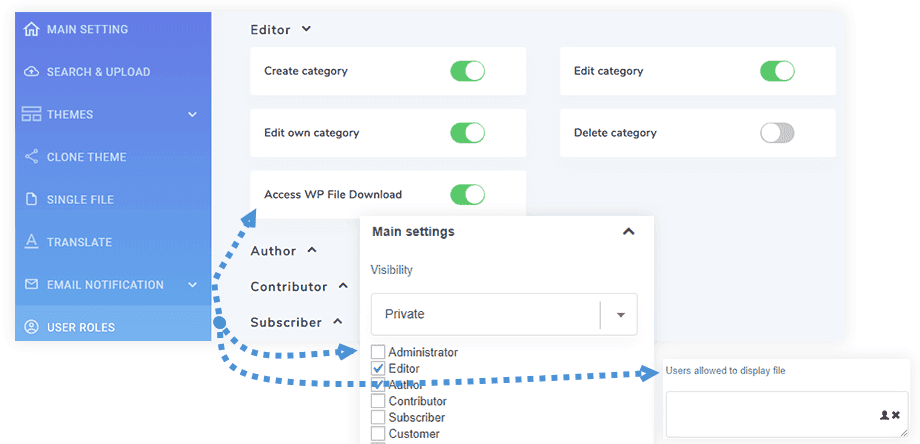 You can also limit the file management to a category per user (manage its own files). For example, you can allow to only edit their own category of files so they won't mess up with all your files.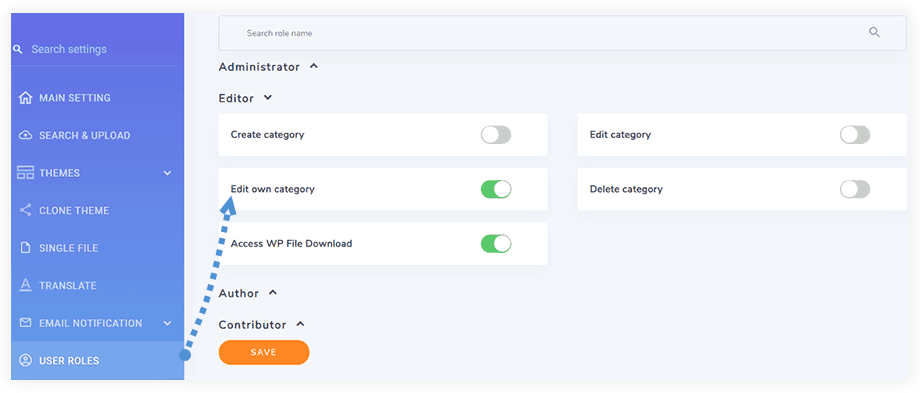 Using a shortcode you can simply include in your content an upload form to a predefined file category.

File and Category Access per WordPress Users
You can limit the file or file category access to one or several users. Select a category of files or a single file, pickup one or several WordPress users from the list and they'll be the only one to see the file.

File in Multiple Categories
Each file have the option to belong to multiple categories without copying it, just select the categories where you to load it and you're done. Then, editing the original file will update all the file mirrors.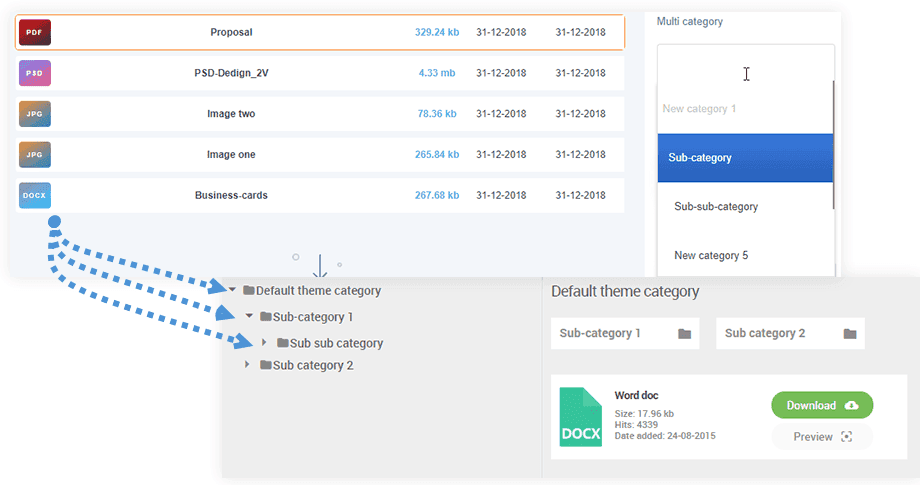 Email Notifications On File Changes
A very flexible Email notification system is available with the plugin, triggered when a user makes any action on files. You can notify file owner, file category owner, WordPress admin and add custom Email notifications. Email notification can be activated on:
New file upload
File edition
File removal
File information edition
File is downloaded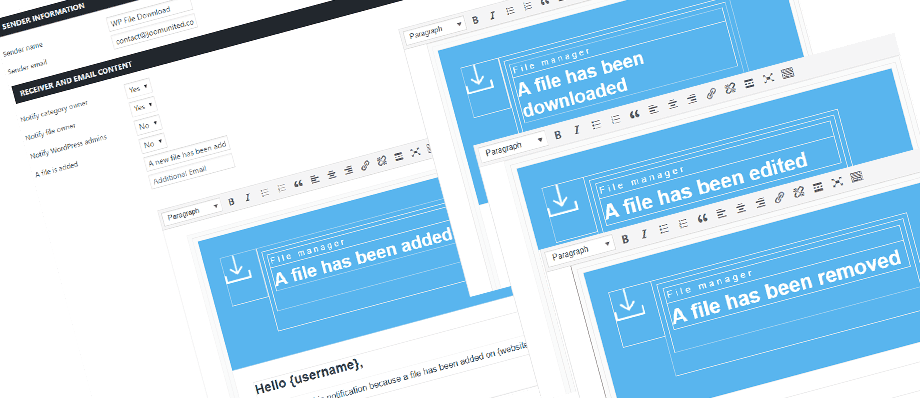 Upload Single Files in Content As Well
WP File download allows to manage multiple files in multiple nested categories. And what about single file management? You won't need to do the work twice! You can use any file already uploaded and insert it where you want. Plus, you can design the color single file download button to fit your WordPress theme.

Advanced Full Text Search Engine
A file search engine and filtering tool is available from the parameters. You can customize the options you want and generate your own shortcode, with the possibility to insert several search engines with different configurations. The following options and filters are available.
Options available:
Full text search
Full text document automatic index on upload
Category filtering
Tag filtering
Date of creation & Date of file update filters
File preview and ordering in search results
Compatible with WordPress native search engine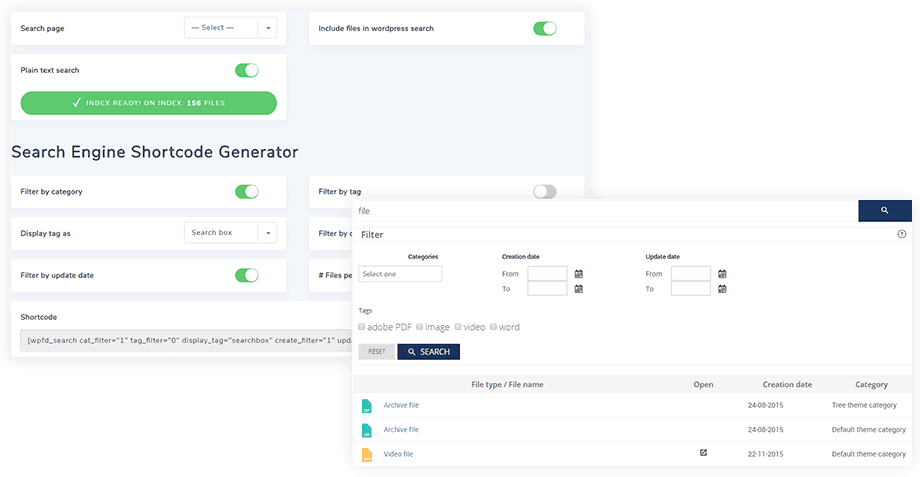 One Click File Update
File update is really a common and repetitive task you'll be facing using a file manager, so it has to to be easy and fast to save time. We've included a file update button to simply replace an existing file in one click. Everything else will remain in place (description, version…).

File Versioning
Each time you send a new version of a file online, the old version is stored and can be restored in one click.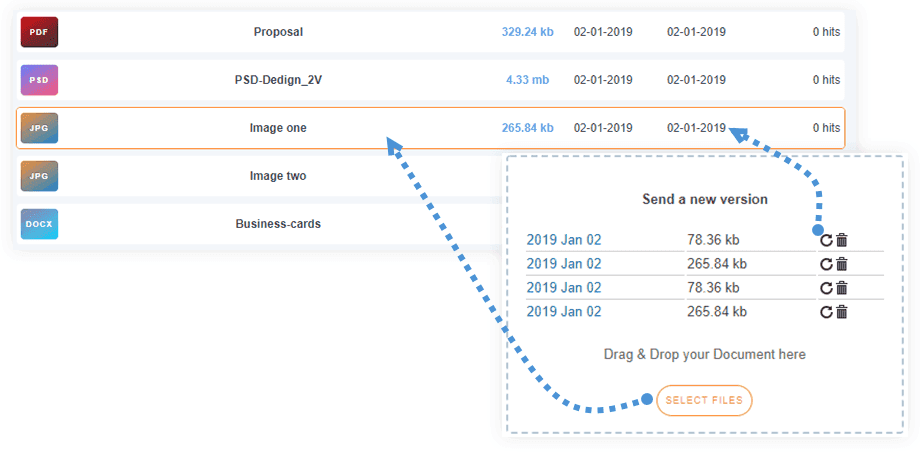 Import Existing Server Files in Categories
WP File download got an inbuilt file importer. Activate it, select files from your server on one hand, on the other hand select a file category and click on import.

File Category Multiple Download
As an option, you can allow users to download all files from a category as a global .ZIP file.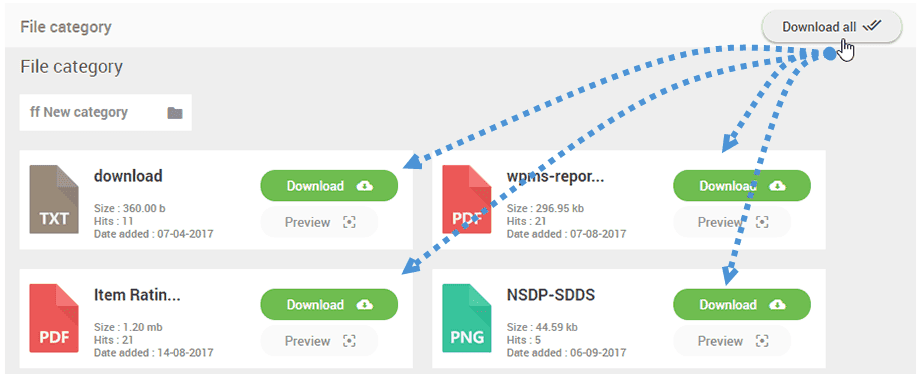 Shortcode Generator
A shortcode generator is available to load a custom selection of files. Shortcode options,/filters are:
One or multiple file categories
Limit file count
File ordering by categories and custom ordering
File ordering by type, title or description
File ordering by size, version, date or hits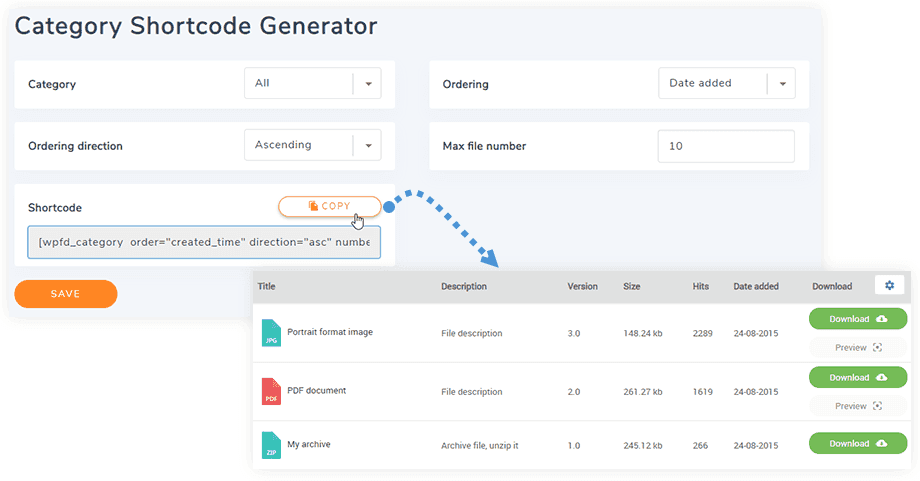 Page Builders Compatibility
WP File Download is compatible with all the major page builders on the WordPress marker, admin and frontend page builder: Gutenberg,Visual Composer, DIVI Builder, Beaver Builder, ACF, Site Origine, Themify builder and Live Composer.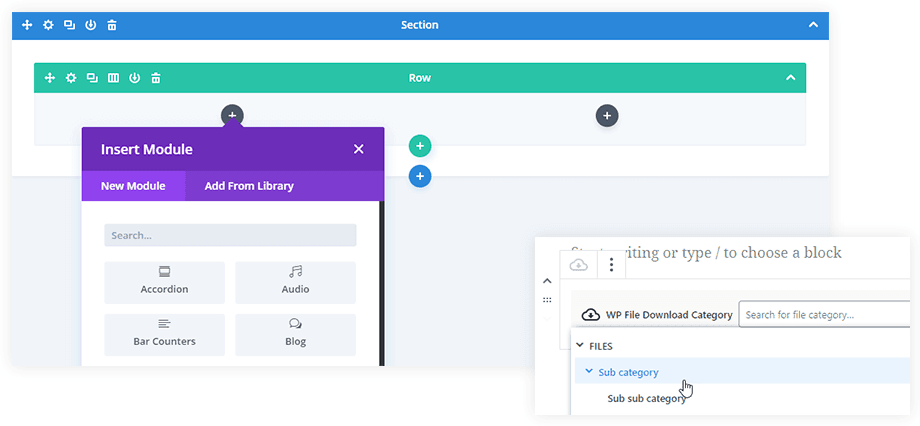 Download Statistics From Admin
A download statistics dashboard is available from the WordPress admin, additionally to the Google Analytics event tracker, with an export as .csv tool. As an option, you can also track the files downloaded per WordPress user account, if the users are connected to their WordPress account during the download.
You can create your statistics views and detailed view using filters like:
Multiple file category selection
Single file selection
Date range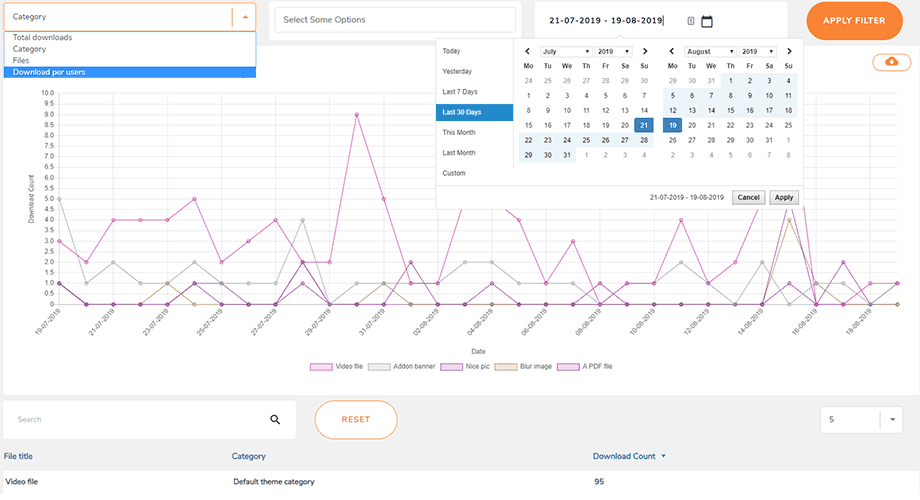 Remote (distant) File Download
WP File download can make remote download (add a distant downloadable file remotely, not hosted on your server). Setup a file name, description, URL of the remote file and insert it anywhere in the file manager.

Track Download and Preview of Files
If you're using Google Analytics on your website, you can track download and opened files (when a file is previewed). This is very simple as everything is automatic, in your analytics dashboard under the section: Behavior > Events you'll see 2 new events "Preview" and "Download".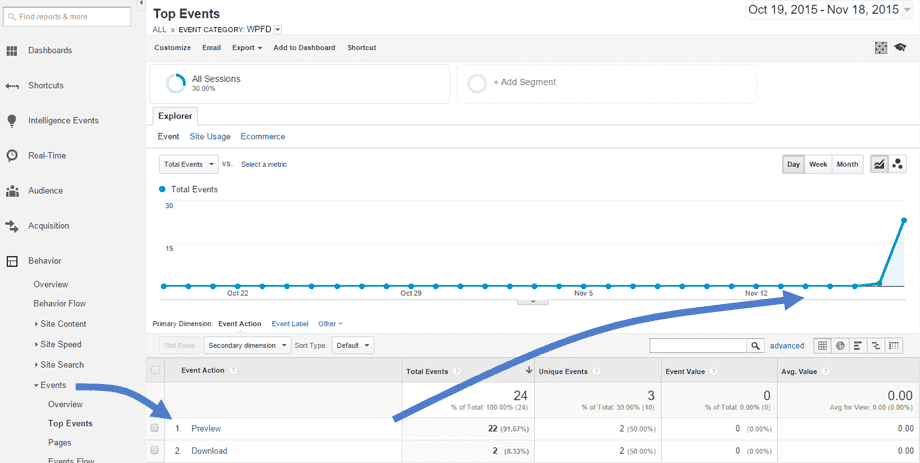 Tired of The Admin UX? there's An Alternative!
If you're managing few files, it can be useful to get the files displayed in a more comfortable format. You can activate an alternative large display mode from the plugin configuration.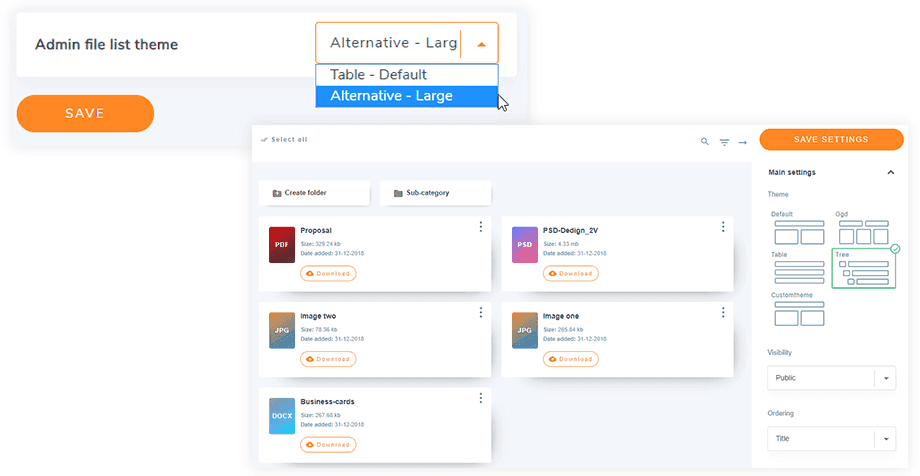 Advanced File and Plugin Parameters
WP File download plugin very flexible. You can from the setting tons of stuff, among them:
Which file download type is allowed
Disable themes configuration in categories
Define info display such as: file name, upload and update dates, weight, version number, hits, margin, colors…
Configure the search engine to use full text, tags, pagination…
Use custom icons per file
Add users to Email notification
Manage the plugin new language translation or override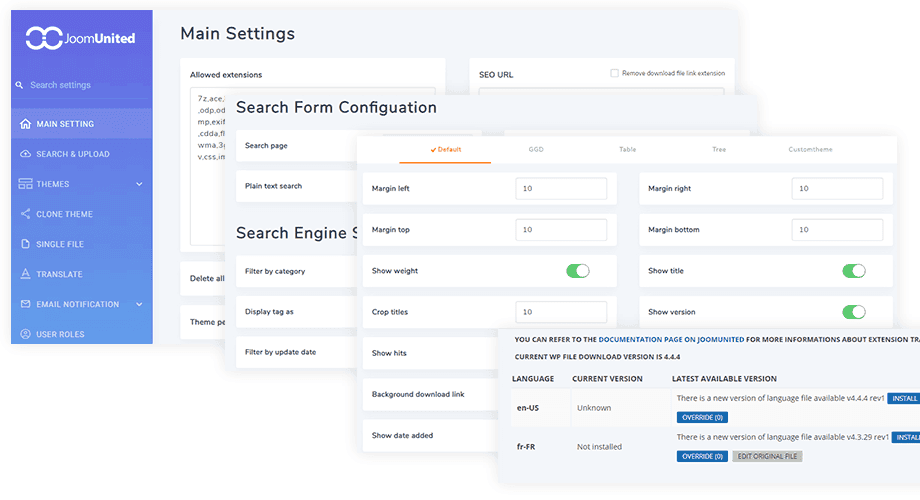 File manager video demo