1: a steg: WordPress Full Optimization
---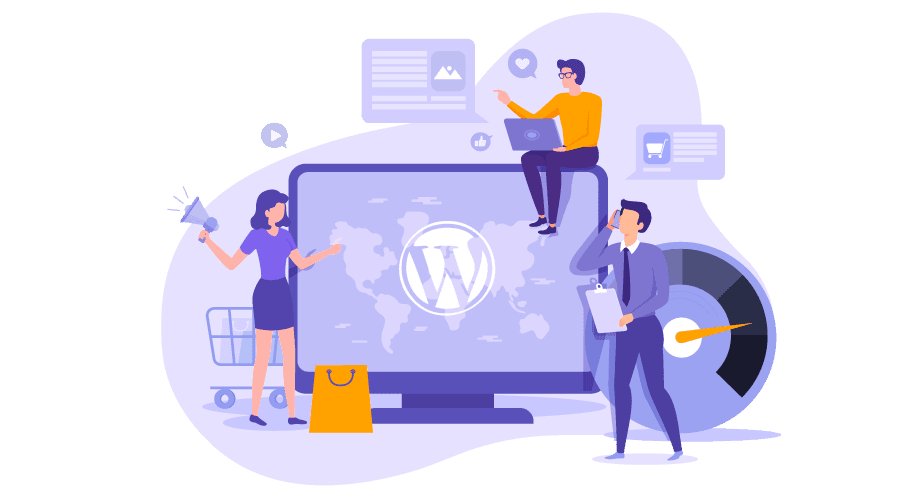 WP Speed of Light första lager av optimering appliceras på WordPress, från WordPress använder bara plugin-konfigurationen.
Full optimeringsfunktioner är:
Statiskt fil cachesystem
Gzip datakomprimering
Browserkachning
Filgrupp: CSS, JS, Lokala teckensnitt, Google Fonts
Resurser minifiering: HTML, CSS, JS
Specifik mobil cache per enhet
Ta bort frågesträngen
Automatisk cache clean: per intervall, på spara, per användargrupp
Databasrening
Cache Preloading och DNS Prefetching
2: a steg: Aktivera bildkomprimering
---
Vi rekommenderar starkt att du använder ett profileringsverktyg för bildkomprimering. WP Speed of Light är integrerad med ImageRecycle-tjänsten, du får en bildkvoteringskvot som ingår i ditt medlemskap. Optimeringsalgoritmen kan minska filstorleken för standard JPEG- och PNG-bilder med upp till 85% (5x +), medan de resulterande bilderna är visuellt identiska med originalbilderna. Här är våra planer:
WP Speed of Light gratis version: få en 20% rabattkupong
WP Speed of Light 6 månaders support: få en 1 GB kvot tillgänglig för alla dina webbplatser
WP Speed of Light 1 års support: få a 3 GB kvot tillgänglig för alla dina webbplatser
3: steg: Internationellt publikum >> Använd en CDN
---
Användningen av CDN (Content Delivery Network) har visat sig vara effektiv, särskilt om du har en internationell publik. En CDN-integration är tillgänglig med alla större CDN på marknaden som Cloudflare, Amazon Cloudfront, MaxCDN, KeyCDN och andra.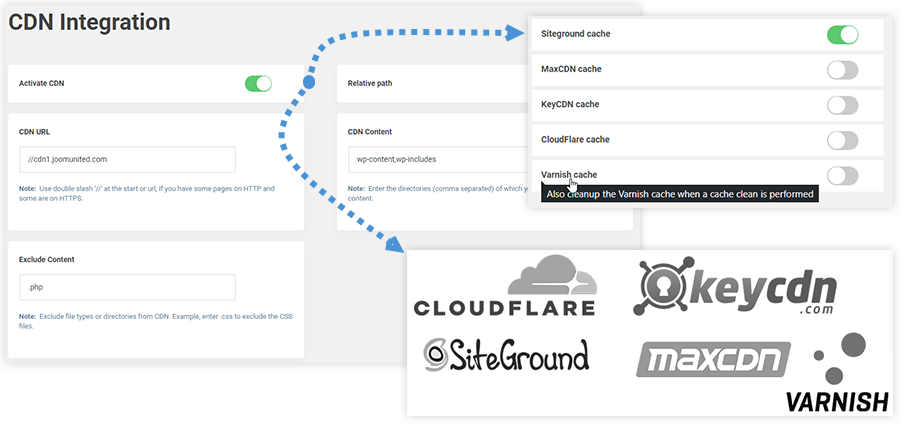 4: e steg: Snabbtestning och jämförelse
---
Optimeringen av en webbplats handlar också om att testa prestanda för att bestämma vilka element som kan optimeras för att ge resultat. Med WP Speed of Light kan du köra flera tester på samma sida och öppna en jämförelsetabell. Vi har gjort en integration med WebPageTest API (gratis) för att köra detaljerade hastighetsprov på olika element som:
Första laddningstiden
Andra laddningstiden
Första byte tid
Tiden att börja göra
Element betjänat från cacHemsidainne i%
Element komprimerade med Gzip i%
Procent på komprimerade bilder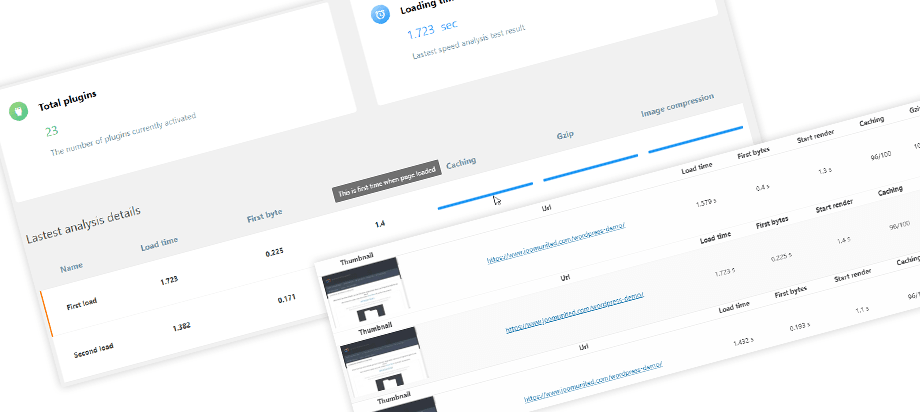 Fortfarande osäkert? Använd vår Chrome Extension
---
Om cachen har serverats med WP Speed of Light har du en grön symbol, om inte den är grå, så enkelt som det! Dessutom kan du avgöra om skrivbordet, surfplattan eller mobilbufferten serveras. JoomUnited cache checker visar också generell information (gäller alla webbplatser):
Total lastningstid för sidan
Lär servercache
När larncachen har genererats (aktuell eller tidigare förfrågan)
Detaljer om laddningstiden efter element: Väntar på webbläsarens svar, Omdirigering (om någon), DNS-upplösning, Anslut till server
Detaljer om laddningstiden efter element: Innehållsförmedling, Reveive, Unload time, Dom tid, Load time