WP Speed of Light : Database Cleanup
Det er to verktøy for å rydde opp i WordPress databasen.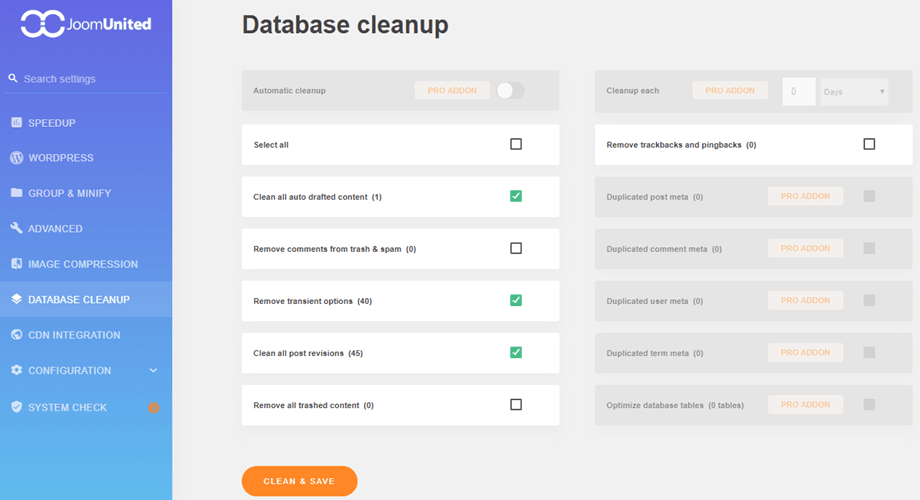 Rengjør alle innleggsversjoner: WordPress genererer som standard innholdsversjoner (kopi) for å gjenopprette det fra en gammel versjon. Hvis du ikke trenger revisjoner, rydd opp!

Rengjør alt automatisk utarbeidet innhold: WordPress har som standard en automatisk lagringsfunksjon for å gjenopprette innhold fra den nyeste automatisk lagrede versjonen. Hvis du ikke trenger automatisk lagret innhold, rydd opp!

Fjern alt søppelinnhold: Alt innhold (innlegg, side, ...) i søpla vil bli ryddet opp.

Fjern kommentarer fra søppel og spam: Alle kommentarer i søpla eller klassifiseres som spam blir ryddet opp

Fjern trackbacks og pingbacks: Dette er metoder for å varsle blogger som du har koblet til dem. Hvis du ikke trenger revisjon, rydd opp!

Fjern forbigående alternativer: Forbigående er noe som et grunnleggende cache-system som brukes av WordPress . Ingen risiko for at det regenereres automatisk av WordPress .
PRO ADDON KUN 

Automatisk opprydding: Aktiv databasens automatiske opprydding

Opprydding hver: Definer automatisk opprydningsfrekvens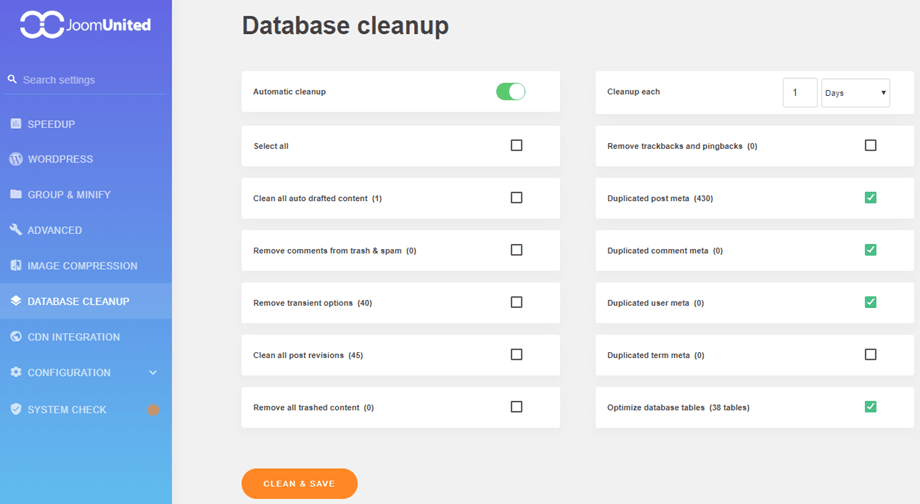 Duplisert innlegg meta: Fjern duplisert postmeta fra databasen

Duplisert kommentarmeta: Fjern duplisert kommentarmeta fra databasen

Duplisert brukermeta: Fjern duplisert brukermeta fra databasen

Duplisert term meta: Fjern duplisert termmeta fra databasen

Optimaliser databasetabeller: Du kan bruke OPTIMIZE TABLE til å gjenvinne ubrukt plass og for å defragmentere datafilen.