The second major release of DropEditor has landed on Joomla!, and it comes with one of the most popular modern designs - the material design. DropEditor 2.0 introduces the material design to your Joomla! editor, helping you work in a tidy, clean environment where the only thing that matters is content creation
Material Design
Ever since it was made popular by Google, the material design specification has become commonplace. Keeping up with the times, JoomUnited has now adopted this style for DropEditor. What characterizes material design, and what are its advantages for writers and content creators?
First of all, the material design specification removes clutter from your Joomla! website. Easy on the eyes, the simplified color scheme limits your dashboard to a clean interface, allowing you to focus on writing.
Secondly, as a result of this palette, DropEditor's material design yields an improved user experience - the tools have a clear goal succinctly described by their simple icons.
The best thing about the latest update to DropEditor is that your workflow is not disrupted, whether as an administrator or as an editor. In the backend as well as when writing articles, the changes are mostly cosmetic, aimed at helping you go about your job. Nonetheless, why stick with the default material design when you can make it your own?
Customizing DropEditor
Material design's specification comes with more advantages than just usability. In fact, the aforementioned simple color palette makes it easy to personalize your own interface.
DropEditor 2.0 gives you the reins when it comes to customizing the Joomla! component, allowing you to define anything from the color of the text to the icons' look and feel. As usual, the configuration is available in DropEditor's main parameters tab in the options.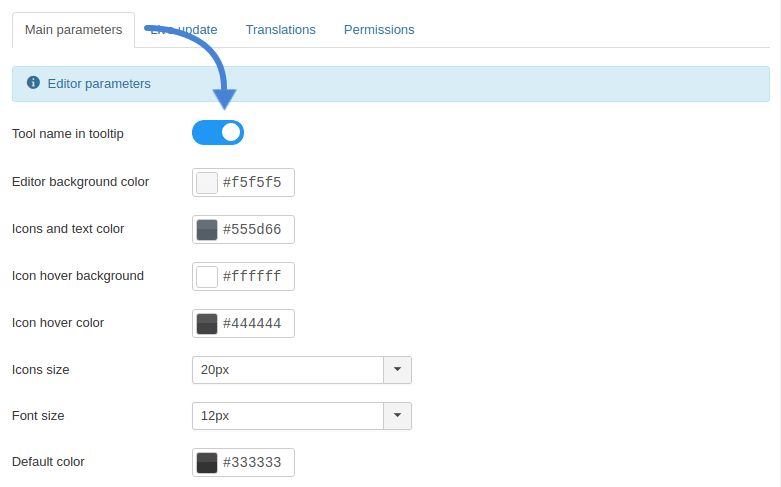 From this page, you can configure icons, fonts, and even the editor itself. To change the color, click on the hexcode and either input your own, or pick a new one from the color picker. Depending on how much space you want available, you can also choose from four different icon sizes, and three different font sizes.
Getting used to the new icon set can take some time, but DropEditor's new user interface also comes with additional functionality. In fact, if you have any doubt about the functionality of a tool, all you need to do is hover over its icon for a succinct description of its effects. The tooltip help isn't just limited to tools, but also applies to component options that require explaining. This tooltip help can be enabled by switching on the tool name in tooltip button in the options.
The main editor has also been bolstered, most notably with links. WordPress users will now appreciate that one of the CMS' most convenient features has been transferred to Joomla! thanks to DropEditor - quick link editing. In fact, now it suffices to click on a link in your editor to either remove the hyperlink, or edit its behavior.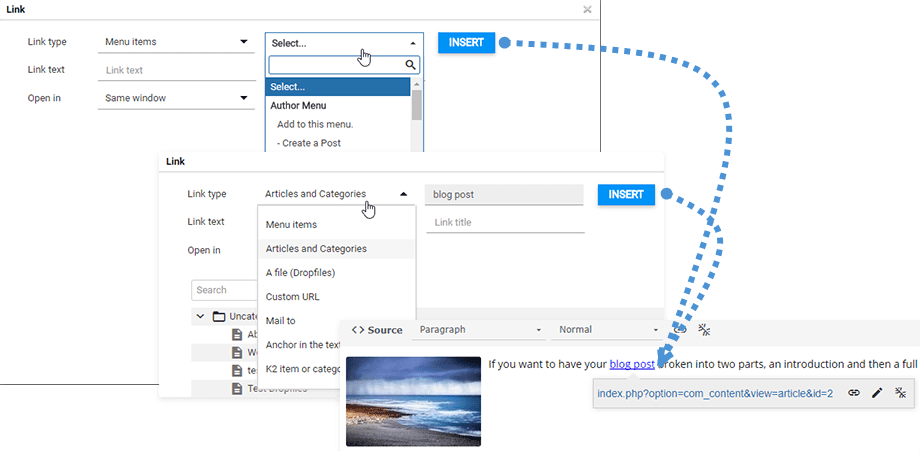 DropEditor also makes it much easier to write quality articles right away. As from the second release, the preview button loads articles and pages in the frontend, ensuring a high-fidelity representation of the final result.
Material design reduces procrastination and boosts productivity. DropEditor 2.0 resumes its mission to deliver a quality editor that can be customized to suit your taste. So go forth, and let your productivity soar!