It's been more than 2 years that we stated using Opentranslators/Transifex webservice to manage our Joomla extension translations.
Here are some details about how it works, how you can help and how you can add your own translation.
How it works?
Opentranslators is an Open source project that used Transifex as a tool to make translations.
On the developer side you can add your Joomla language files (.ini) on the platform and and start doing the translation. Opentranslators have now a big community and from our experience I can say that you can have your extension quickly translated is more than 5/6 languages in a week.
The main benefit is that Transifex is totally free after you give the project management to Opentranslators. And don't worry the team is really reactive.
On the translator side the benefit is using the transifex translation tool. It's a really professional with amazing features inside like AJAX saving, Joomla file import/export tool, translation validation, Bing automatic translation, new translation notifications, internal messaging,...
Translate an extension into my language
If you're an extension user, you have the possibility to translate and use language files from Transifex.
To translate extensions you need to register on Transifex and send a request to become a translator. After being approved you can start adding language string into Joomla extension project. You are approved for one or more language by the Opentranslators team.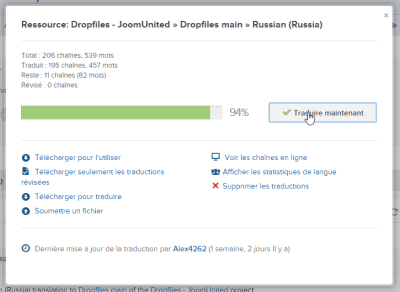 To use the language files already available you need to go on the project page. You will find all the links to our extensions projects on Transifex on the product page by clicking on the Transifex logo. For example on Social Backlinks page, (scroll down): http://www.joomunited.com/products/social-backlinks
Then you'll need to register a free account or connect with a social network and you can access to all the language files available. You'll be able to download files by clicking on the appropriate language.
Then rename the file to put it on the language of the extension you need to translate. Usually the Joomla folder where you need to upload files is located on your server in /administrator/languages/fr-FR or /languages/fr-FR (for a french translation, could be ru-RU folder for Russian for example).
Making the things easier for JoomUnited translators
In order to make the things easier for translators and for usage we've taken the following resolutions for our Joomla extensions.
Less language files to translate: when it's possible all the extension language string are located in a single files located in /administrator/languages. It's easier to translate a big language file than multiple files, specially in case of update or in case of numerous language files for component, module, plugin, menus.
A free license for each new translation. This tool is free! let's reward the translators work by offering an extension license for each new language. Plus, with the license, the translator can test live the extension and make language revisions.
Include default languages. From our experience we've learn that 70% of our users are speaking 6 languages: English (default), German, Dutch, French, Spanish, Italian. We are trying to include those languages by default in extension installer.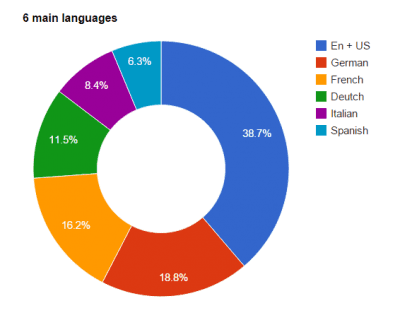 Merci Opentranslators!