3 minutes reading time
(633 words)
New search engine in WP File Download
WP File Download makes it incredibly easy to organize your files, sync them with your Google Drive account, and share them with your WordPress users. Now, WP File Download is introducing a brand-new search engine facility that will put all your files at your users' fingertips.
Looking for a powerful file management solution for client websites?
WP File Download is the answer. With advanced features like file categories, access restrictions, and intuitive UI.
Impress your clients with top-notch file organization!
Update! Setup a document library file search engine for WordPress
Setting Up
The WordPress search engine resides in a dedicated page, and therefore, the first step in providing users with a facility to filter through your files is creating a dedicated page. Once this is done, you can head to your WP File Download configuration to set up the search engine.
This page contains all the settings that you may apply on your search engine. First and foremost, however, the first dropdown menu allows you to choose which page you want to place the search engine in.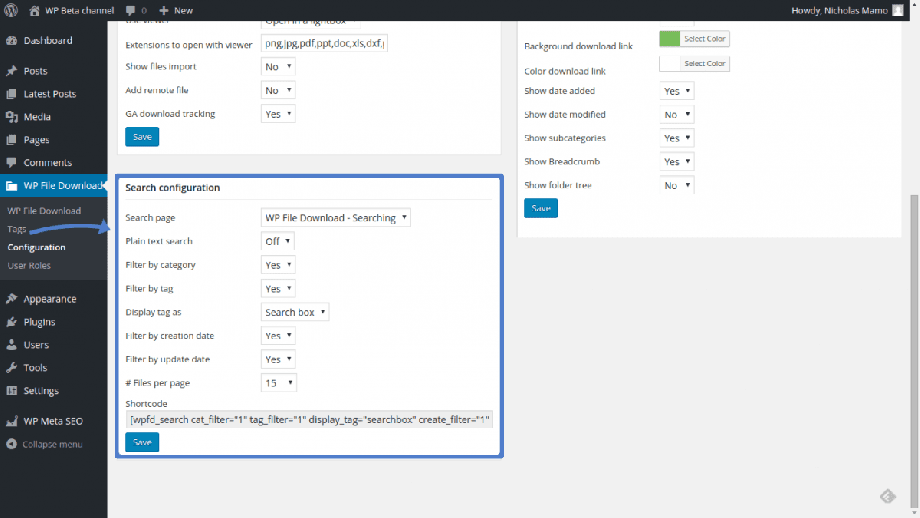 Once you pick a page, you'll notice that the shortcode at the bottom of the page has its value changed. In fact, this shortcode changes every time you make an update to the any of the configuration options in this panel.
The rest of the options determine how the search engine will look, and what facilities to offer to your WordPress users. The first three dropdown menus let you choose whether to allow plain text searching (searching for text inside files, rather than just in titles), category filtering and tag filtering respectively.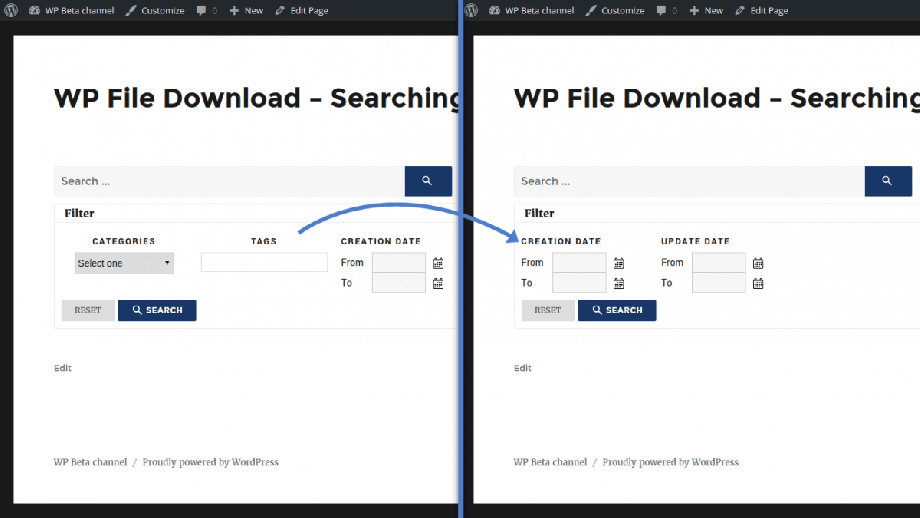 Another useful file organization tool provided by WP File Download is the facility to tag files. An overview of all the tags on your WordPress website may be accessed from the Tags tab of the WP File Download menu, and among others, you may create, delete and edit existing tags. This comes in useful since WP File Download's search engine also allows your users to filter files using tags.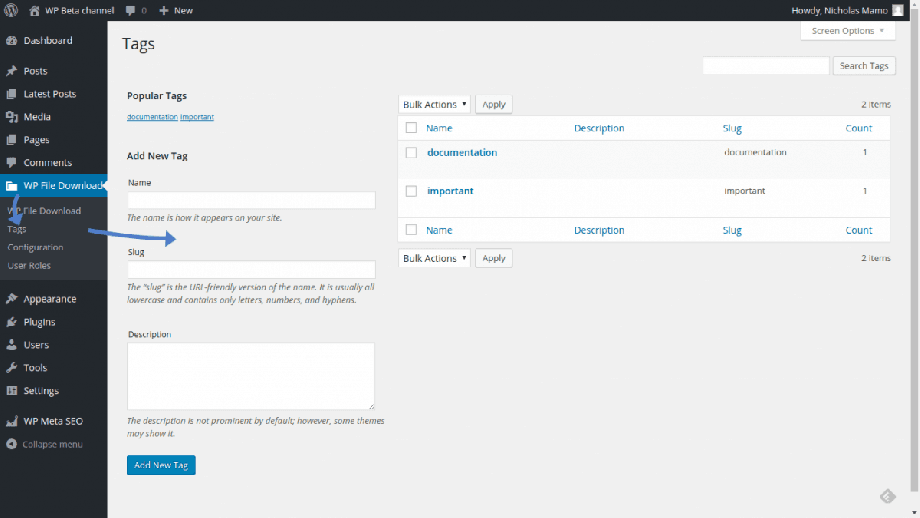 The next dropdown menu then offers two choices - either providing users with a separate search box for tags, or as checkboxes. In the former case, users may opt to look up any tag, which is particularly useful if your WP File Download files contain tags abundantly. On the other hand, if your files use tags sparingly, the second option may be more preferable as it provides users with a choice from all the different tags.
WP File Download's search engine is also capable of filtering files according to their creation and update dates. You may toggle these features from the two subsequent drop-down menus.
Finally, you may also change how many files are shown to the user at a time by picking a number from the last dropdown menu. This process completes configuration, but now what?
Shortcode
Any time you make any changes to your WP File Download search engine, it's important that you first save them. Once the changes have been saved, you'll notice that the shortcode changes to reflect your choices. What next? Simply copy the whole shortcode and paste it in the page of your choosing, and you're done - it's that easy!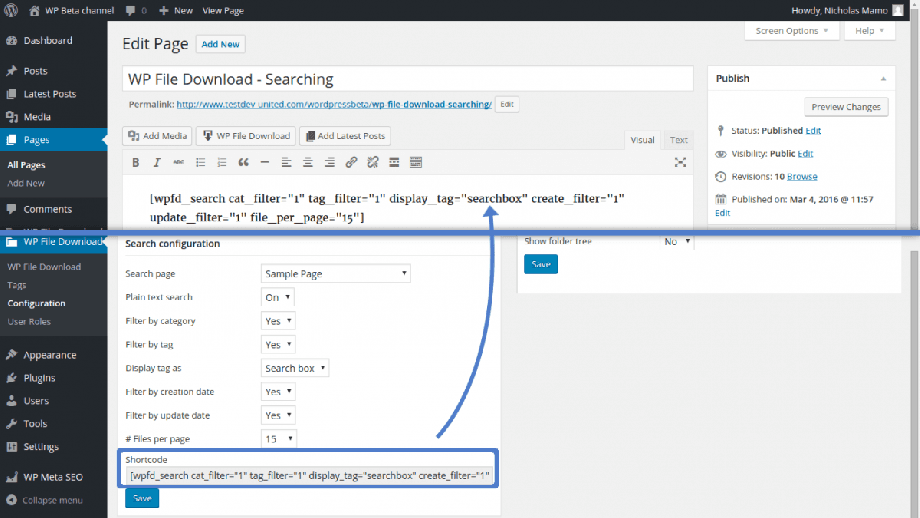 The search engine is as intuitive as they come. Users may look for files using any of the features mentioned above. Alongside this, users may also use WP File Download's preview features on files before downloading them by clicking on the preview button next to files.
Calling all webmasters!
Enhance your client websites with WP File Download. Create secure and customizable file repositories, allowing clients to easily access and manage their files.
Upgrade your web design services today!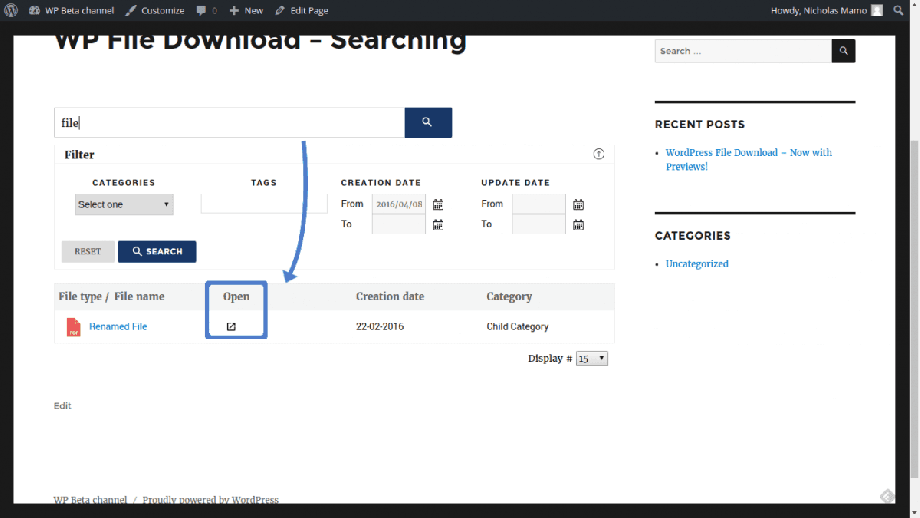 Stay Informed
When you subscribe to the blog, we will send you an e-mail when there are new updates on the site so you wouldn't miss them.
Comments
No comments made yet. Be the first to submit a comment