Item rating is our brand new Joomla extension for doing rating and review in Joomla and K2.
The extension is very flexible with multiple rating group and criteria. Plus, the result generate rating metadata type.
Where can I rate my items?
Item rating is a Joomla component witch you can create rating group and rating criteria. Each group can be assigned to one or several Joomla or K2 categories.
For example, if you're running a blog with products you can create a rating group for your products and start creating criteria like usage, fastness, design,... Then you can assign score inside Joomla article or K2 items.
You also have the possibility to allow public votes or restrict voting to a determined Joomla user group.
The rating criteria
The rating criteria are determined by you and can be changed at any moment.
You have a lot of choice regarding icons, bar, thumb up/down. All the voting criteria can also be matched in a single voting group.
The review
Bellow the total score you have the possibility to add a text review. The review can't be added from frontend, it's an admin review.
The total score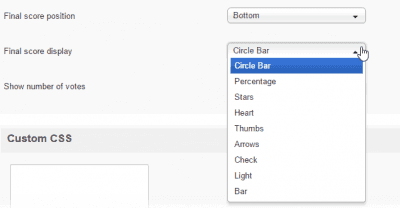 The total score is determined by the result of all the rating from all criteria. As admin you have also the possibility to force the number of vote on a criteria.
For the total score presentation you can define the position and the score type: icon, percent, points.
The design
For the design of the rating box you can do custom presentation for each group. All font color, background and border can be changed without any CSS line.
You have also some positions available to the total score and for the rating box. The rating box can be displayed at the top, the bottom, the left, the right parts of an article.