Sitemaps are an invaluable tool that allows search engines, such as Google, Yahoo! and Bing to find your site's pages. Dynamic pages fall under this broad definition, but they might not always be as readily-accessible to search engines.
Generating HTML and XML sitemap
Consider, for example, a dynamic page that may only be accessed through a form. And yet, it contains important information which is being overlooked by search engines. With WP Meta SEO's latest update, you can now automatically-generate sitemaps so that the page is still found and crawled by search engines, thus solving all optimization issues!
Creating these sitemaps involves a very short process, which may even be a one-time thing. In fact, with WP Meta SEO, you can specify an interval for these sitemaps to be created automatically for you. In order to start this process, head to the sitemap menu under WP Meta SEO's settings. The first menu that is shown deals with how comprehensive the generated sitemaps should be. WP Meta SEO creates both XML and HTML sitemaps.
The location of the XML sitemap is fixed, but you may pick any page that you want to serve as the HTML sitemap - either a new page, or even adding to an existing page. The checkboxes allow you to specify what content to include in the sitemaps. More content increases the size of the sitemaps and the time they take to generate, but it means that they are more descriptive.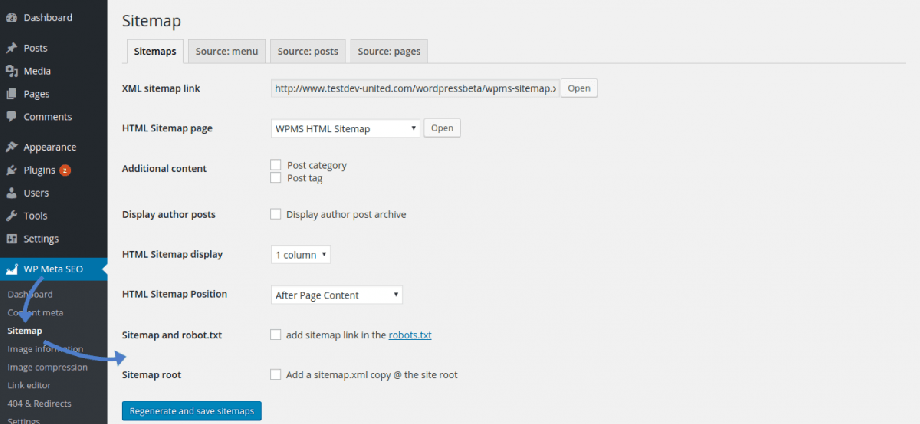 You may specify the post category and tags in the sitemap, and also include your WordPress website's authors in the XML and HTML sitemaps. The next two dropdown menus allow you to specify what the HTML sitemap will look like, and where it will be placed with regards to the actual content on the page. This is handy if you are adding the sitemap to an existing page with content that you don't want overwritten.
You may also choose to add a link to the sitemap in the robots.txt file, and to include a copy of the XML sitemap in the root directory. The robots.txt file gives instructions to search engines on how to access the website, and which pages to visit or not visit. This makes it a useful option if you want to ensure that search engines find your pages, even if they do not have a link to the sitemap. Similarly, having the XML sitemap in the root directory would make it more accessible to search engines.
Sitemap from menu
The second tab deals with what menus to visit. You can opt for sitemaps to be generated by going through all the menus, or just a selection of menus. Alternatively, you can specify which menu pages you want WP Meta SEO to visit explicitly by ticking the checkbox next to each page.

WP Meta SEO also gives you the possibility of assigning priorities between 50% and 100% to pages in the menus, allowing different pages to be ranked higher than others. And if you don't want to go over this process every time, then the latest update also allows you to automate the process by picking the frequency of sitemap generation for the page!
Sitemap from posts and pages
The process is almost identical for posts, in the third tab. This time, however, you can specify that WP Meta SEO's sitemap generator bases its choices on one of three options to show all posts, the posts in the page where the sitemap will be located, or posts belonging to the checked categories.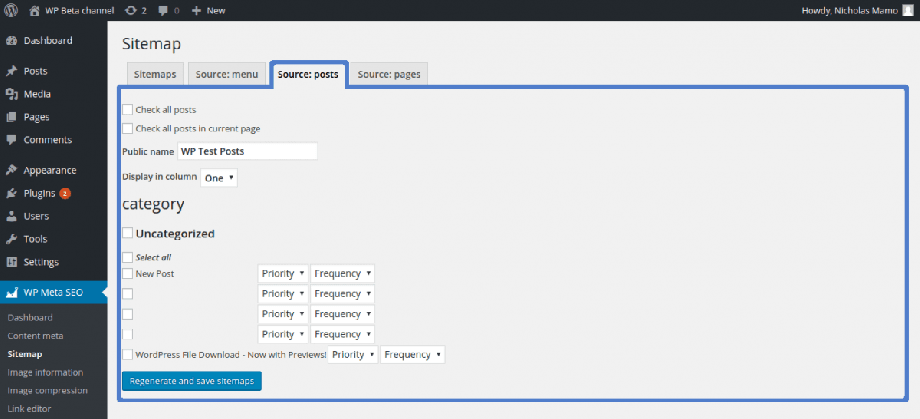 As before, you can prioritize posts and automate their generation by using the dropdown menus next to them. You can also assign a name to the posts section within the sitemap by changing the public name, and personalize how the posts will be displayed.
Pages work analogously - you may choose to check all pages, or all the pages in the sitemap's page. If you want finer control, you can hand-pick the pages that you want to be included in the sitemap, alongside their priority and frequency of scanning.
In addition, you may choose a custom public name for your pages section in similar fashion to when working with posts. Once you're satisfied with the changes, don't forget to click on the big blue button to regenerate and save the sitemaps. You can delve into as much, or as little detail as you want, and still boost your SEO. Easy, right?
You can view the resulting sitemap by navigating back to the first tab - sitemaps. Next to the HTML Sitemap Page dropdown, you may open the sitemap to preview the effects that your choices had on the sitemap. If you're dissatisfied, you can go back and continue editing to your heart's content!
Why waste time working on content when search engines may not always find it? Sitemaps are bound to help your site get discovered and appreciated! WP Meta SEO is the tool of choice to not only generate these site maps, but do so automatically!
What's more, you retain full control on what appears in the sitemaps! So sit back, and let WP Meta SEO boost your search engine standing for you!