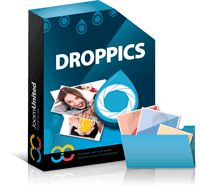 Managing images under Joomla is not an easy stuff...
A lot of webmaster are switching to WordPress for their website witch need to be managed by content creators in an easy way, specially for images.
That's why we've invented a new way to manage images directly from the editor. Most of the user are simply write articles and don't want to go in a component to create a gallery, insert a tag in an article, manage image size and format... too complex!
Droppics is easy to use
Now there's a solution to do that in 3 simple steps:
1. Open an article
2. Upload and put in order your images with drag'n drop (HTML5)
3. Insert a gallery with nice lighbox effect
Your gallery is physically shown in your article.
You can also insert single image.
Droppics is smart
If you're webmaster you can choose all default image size in component parameters:
Uploaded max size, no problem with 5000px image size now :)
Droppics keep original uploaded image to regenerate image later
Thumbnail size with automatic regeneration
Full size lightbox
Give your client the easiest image manager
Droppics is expandable
Amazing themes and display option will be available soon.
Doppics is available now for Joomla 2.5 & 3.0, get it now !!

---
Important note: this article images are managed with Droppics :)