3 minutes reading time
(662 words)
Dropbox integration with WP File Download
A few weeks ago, we talked about how you can integrate your Google Drive account with WP File Download to exploit the capabilities of the two services. This addition allows you to sync files across Google Drive and WordPress, and the latest update to WP File Download now also boosts your productivity with Dropbox integration.
The Dropbox integration works analogously to Google Drive's, and thus contains all the features you've grown to love with earlier updates of WP File Download. This inclusion comes in useful for Dropbox power users who want to mirror all their files onto WP File Download, saving time while uploading images and other documents.
Looking for a powerful file management solution for client websites?
WP File Download is the answer. With advanced features like file categories, access restrictions, and intuitive UI.
Impress your clients with top-notch file organization!
Setting up Dropbox Integration
Syncing your Dropbox account with WP File Download is a slightly different process than with Google Drive. The process includes a one-time, setting up procedure that should not take too long to complete.
The first step is to head over to Dropbox's developer site and create a new app. Choose Dropbox API as the API type, and Full Dropbox for the access type. This will ensure that new categories will be created as folders in your Dropbox root directory, rather than putting everything in one directory. The last step before the app is created is to name it and click on create app, and you're almost done!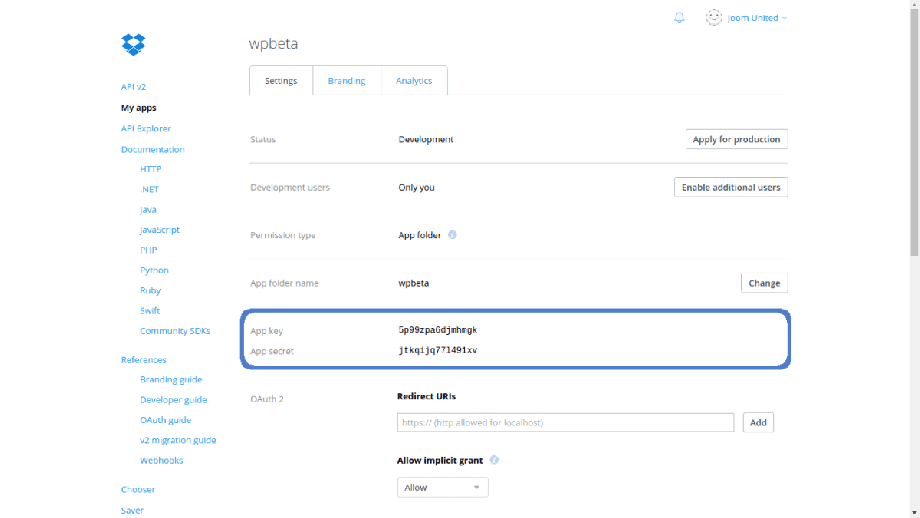 Now that the app is created, you should find yourself on a page that provides you with the app secret and key. These will allow you to integrate your Dropbox account with WP File Download.
In order to finish this process, head to WP File Download's Configuration page and choose the Dropbox tab on the right. First, enter the app's secret and key, and then press on the connect Dropbox button.
An authorization code should be provided, and to complete the procedure it is necessary to copy and paste it in the Authorization code field. You may also modify the sync method and periodicity to further customize your Dropbox integration.
Using Dropbox
Now that the setup is done, the rest is quite similar to the Google Drive integration. If you've never used it, however, rest assured that using Dropbox with WP File Download is intuitive and easy!
To create a new repository for your media and documents on WP File Download and have them sync with Dropbox, head to the WP File Download page. Instead of clicking on New Category, click on the dropdown arrow on the right for further options, and choose the option to create a new Dropbox folder.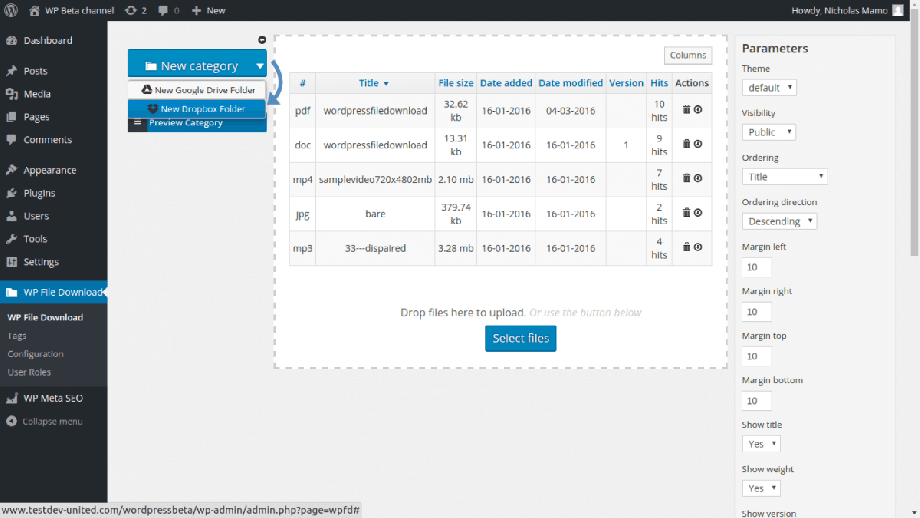 You can rename the category, or manipulate it in any way you deem necessary. In addition to the usual functionality that comes with WP File Download, however, any files you upload to this category will be mirrored into your Dropbox folder. And if you prefer to use Dropbox to upload your media, more good news awaits!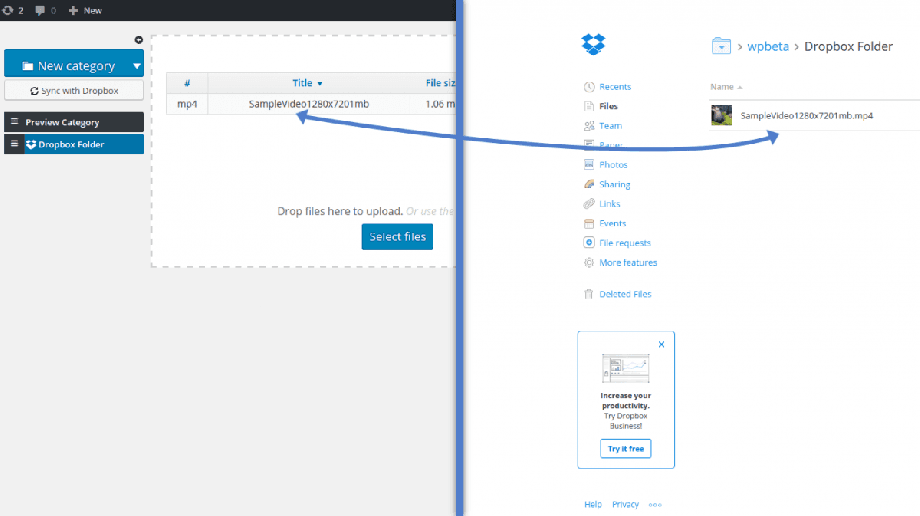 WP File Download's Dropbox integration works both ways. In practice, this means that any files you upload to the designated Dropbox folders are also synced with their respective categories. To access your folders, head to your Dropbox account and into the Apps directory. The category folder is situated in a directory having the same name that you chose for your app.
Calling all webmasters!
Enhance your client websites with WP File Download. Create secure and customizable file repositories, allowing clients to easily access and manage their files.
Upgrade your web design services today!
Then, all you have to do is navigate to the Dropbox folder of your choice, and upload the files there. Any files you upload make will also be available on WP File Download, boosting your productivity and adapting to suit your needs!
Stay Informed
When you subscribe to the blog, we will send you an e-mail when there are new updates on the site so you wouldn't miss them.
Comments
No comments made yet. Be the first to submit a comment