Social Backlinks 2.0 is out and coming with a lot of new features.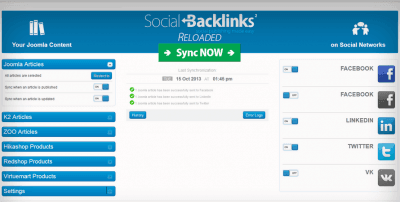 Killer feature: social network automatic connection. This is amazing, previously and in all other extension for CMS, you'll need to create an app for each single social network enter information in the component. With automatic configuration it's over! Just type username and password for Facebook, Twitter,... and that all, you're connected and ready to sync your Joomla content online.
Linked In: not only profiles but company pages are also supported now.
New social network: Vkontakte. Vkontakte is 57+ million of user social network, very popular in Eastern Europe.