There are very few things that make your Joomla! website more appealing to users than the speed in which webpages are served. JoomUnited's Speed Cache extension for Joomla! is a tool that allows you to do just that.
Caching Overview
Speed Cache is a Joomla! extension that allows you to cache pages. This method passes the content to browsers as HTML, and thus may be stored as cached pages. Effectively, this achieves the goal of boosting the speed in which pages load for your end-users. One of the questions that inevitably arise is the fate of dynamic pages, especially since Joomla! is oriented towards having different users. The Speed Cache component deals with this issue, and uses different techniques to cache dynamic pages too!
Dashboard
Speed Cache's dashboard can be accessed from the components menu by selecting Speed Cache. The dashboard is a helpful page that gives you tips about how to better optimize your Joomla! website, and alerts you of any possible issues.
Whenever possible, the dashboard allows you to easily fix issues by providing a fix it now button. In other cases, the issue is described and left up to you to resolve.
At the top of the dashboard are three options that allow you to manage your Joomla! website's cache. These options give you absolute control over the inner workings of Speed Cache, allowing you to define how your website should be improved for the best experience.
Managing Cached Pages
The page used to manage cached pages is accessible from the dashboard by clicking on the manage cached pages option. This option allows you to specify which pages should be cached, and includes bulk editing options to simplify your workflow.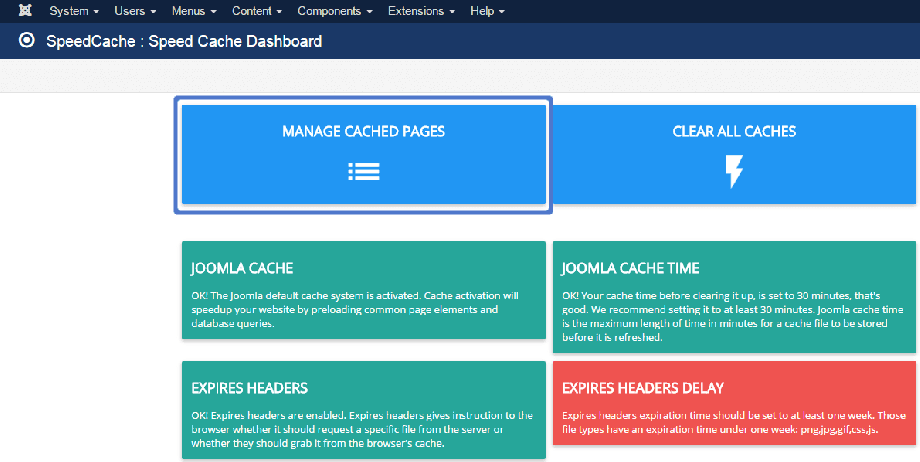 The main part of this page shows you which pages have been made available for caching at some point. Next to each page are three options that allow you to toggle different caching options for different users.

The first option allows you to specify whether the page should be cached or not. Secondly, you may also choose to cache the page for the public, and decide whether Speed Cache should cache pages for logged in users.
Caching pages for logged in users is particularly useful for pages that do not depend on whether the user is logged in or not, or which do not require knowledge of who the user is. On the other hand, caching for the public speeds up performance in pages that do not change if the user is not logged in.

Just above this part is the search engine that allows you to filter through different pages based on different parameters, and the possibility of sorting URLs. Bulk options are available at the top, allowing you to apply changes on multiple pages rapidly.
Adding new pages for caching is an extremely simple process. You can create individual pages by clicking on the new button at the top. The resulting form asks for the URL directly, alongside the caching options described above.
When you're done adding one or more URLs, save the changes, and the pages will be cached!
If you're looking to add more than one page to Speed Cache's repository, choose the import URL from menu. This option gives way to specifying more than one page for caching by sifting through your Joomla! website's menus and selecting which pages to cache.
Once you're satisfied, click on add to cached URLs to complete the setup for the cached pages. Unlike the case in which you add a single page, there is no bulk configuration options on this page. However, changes may still be applied on various pages simultaneously in the previous page!
Back on the dashboard, you can clear all the caches for a fresh start. Simply click on the second button and clear all the cached content, which is confirmed with a notification. And if you'd rather automate the whole process, just head to Speed Cache's configuration.
Configuring Speed Cache
The last page allows you to configure Speed Cache to ensure that it suits your Joomla! website perfectly. Among others, this page allows you to make different changes to how the extension works on your website.
The first parameter allows you to choose how long the cache should be active for before it is cleared, and subsequently regenerated. This parameter is defined in terms of minutes. You may choose to use the browser's native cache to improve performance, and opt to index URLs automatically.
Cached files may be created for each logged-in user, saving the day for dynamic pages that rely on the information about who the user is. Using the previous page management menu, you can include or exclude particular pages from this feature.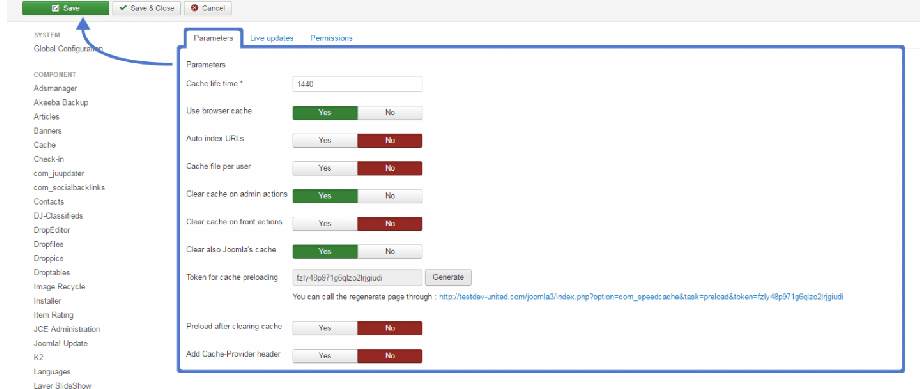 The next three options may be used to specify the occasions when the cache should be cleared, including when you make changes to the website. You may also boost security by generating a token that may be used in conjunction with regenerating caches.
On this page, you may also decide to preload the cache once it's cleared to boost efficiency. Finally, a header option is available in order to help you debug your Speed Cache configuration. Remember to save your changes before heading back to the dashboard, and the new configuration will come into effect right away!
Ensuring that your website works well is priceless, but if it doesn't perform at its best level, then it is simply not being exploited to its fullest potential. Speed Cache is the answer to boosting your website's efficiency and speed, ensuring the smooth sailing of its operation for you and your users!