Get a special 40% OFF on all our memberships with the coupon BFJU. Plus, get amazing offers from our partners.
The coupon will be available during a the Black Friday and Cyber monday from 27 nov. to 30 nov. 2015.
Partners coupons

20 % OFF on AcyMailing Enterprise and AcySMS Connect
Coupon code: ACYBERMONDAY
Valid: 25 nov to 6 dec
AcyMailing is a Joomla! component allowing you to maintain a real communication with your contacts via e-mail marketing, newsletters, follow-up autoresponders, marketing campaigns, etc.
AcySMS is a Joomla! component allowing you to communicate quickly and easily with your contact via SMS. Directly integrated into your website, you can create follow-up campaigns, auto-responders, promotions, deals, programmable messages, etc.

Weeblr offers a 20 % OFF + 3 months FREE on Josetta and sh404SEF subscriptions
Coupon code: cybermonday2015.s203
Valid on Monday november 30 only
sh404SEF is the leading SEO and SEF Joomla! extensions. It has been continuously developed by Weeblr since 2006, to adjust to an ever changing SEO environment. Josetta complements Joomla! multilingual native system, offering a one page view of all contents that needs translation and an easy to use front and back-end interface for translators.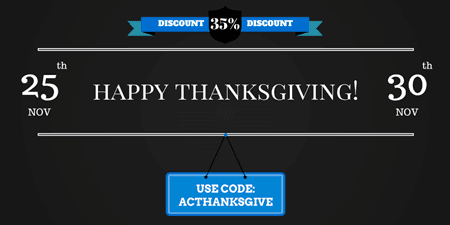 Site: AppCarvers.com
35% OFF on all our customized apps from 25th Nov - 30th Nov
Code: ACTHANKSGIVE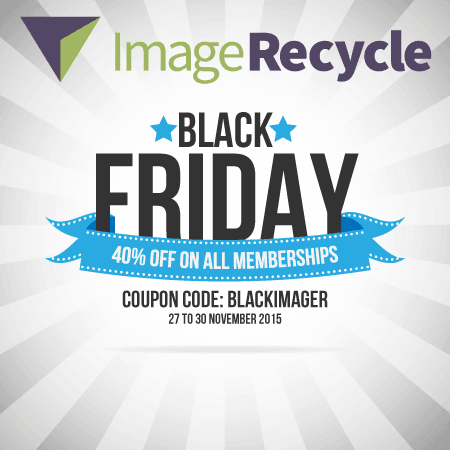 40% OFF on all membership
Coupon code: BLACKIMAGER
Valid: 27 nov to 30 nov
ImageRecycle is an online Image and PDF automatic optimizer.
With an average of 25% of users that leave your website after 4 second of loading page, this is something crucial for your online business. And it's even more important on mobile were connection are usually slower.
Our unique algorithm is able to compress by up to 80% your PDF and images with a similar quality to the original.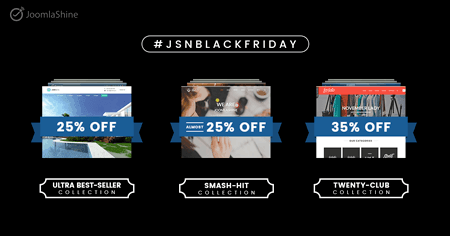 #JSNBLACKFRIDAY // JoomlaShine: UP TO 35% OFF for PRO Unlimited version of all TEMPLATES.
JSN Ultra BEST-SELLER Collection: ONLY $44
JSN SMASH-HIT Collection: ONLY $45
TWENTY-CLUB Collection: ONLY $39
Notice:
Valid until 12:00PM November 28th 2015 (GMT +7)
Applicable to PRO Unlimited version of JoomlaShine Templates
Get one NOW or wait for another entire year, take your last chance before the good runs out!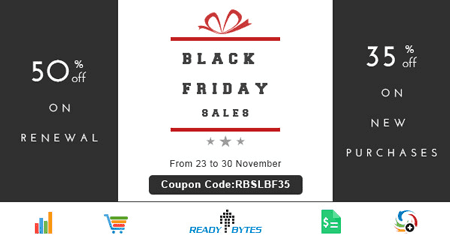 In this shopping season, ReadyBytes offers the best deals of the year up to 50% OFF on any Products.
November 23th-30th: Thanksgiving, Black Friday, Cyber Monday Gift
50% OFF on Renewals no coupon code needed and flat 35% Off on Fresh purchases using
Coupon Code - RBSLBF35
Ready Bytes is a team of professional Joomla web developers who are expert in the field of eCommerce, payment gateway integration and social community domains products. They have provided few high quality extensions to Joomla world, which includes PayPlans - a membership software with 150+ integrated apps, PayCart - a next generation shopping cart, PayInvoice - online invoicing tool, JomSocial Addons - Best 3rd party addons for JomSocial, JXi forms - a free online form processing tool and plenty of in-house and other free Joomla plugins which help in a variety of business scenarios.
They have served to more than 60K happy customers which belong to more than 50+ countries.
In addition to their high quality extension, they are know for their quality support in the Joomla world.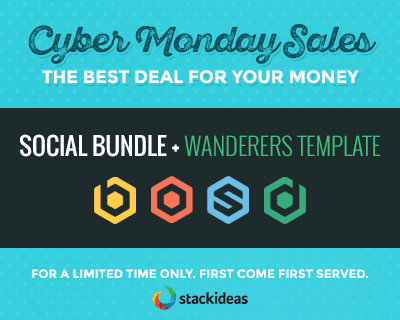 StackIdeas Social Bundle + Wanderers template worth $338 from as low as $129!
Valid: 27 nov to while stock last
Social Bundle + Wanderers template worth $338 from as low as $129! (Social bundle includes EasySocial Pro, EasyBlog Pro, EasyDiscuss Pro, Komento Pro).
StackIdeas build powerful Joomla! extensions with people in mind. Our components are easy to use and is backed by speedy and reliable technical support.

TECHJOOMLA
35% OFF with coupon code: TJTHANKSGIVE
Valid: 25 nov to 30 nov
Offer not valid on Shika Early Adopter and Bundles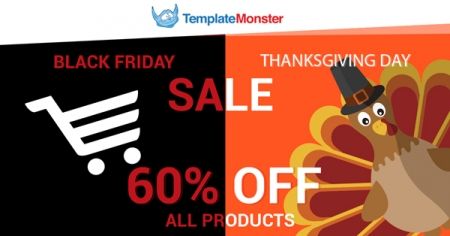 TemplateMonster announces the beginning of the Great Sale. The discount is 60% OFF any purchase. No promo code is required, just add the product to your shopping cart, and the discount will apply automatically.
November 25th-30th: Thanksgiving, Black Friday & Cyber Monday SALE.
No coupons, just click here and start shopping. TemplateMonster is a provider of Joomla templates since 2008. The company offers more than 1300 high quality Joomla templates. There is a wide variety of templates for any type of website. Moreover, TemplateMonster provide free 24/7 technical support.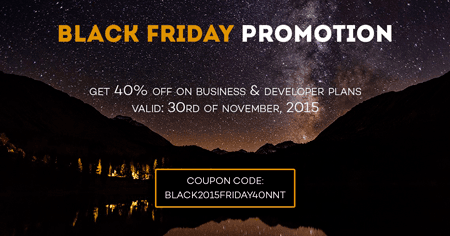 NorrNext brings NorrCompetition - a first video and photo voting contest component for Joomla! CMS. Using this extension you can add new great features on your website and start competitions with voting for photos or video and get final rating. You can get 40% discount on Personal & Business NorrCompetition plans and the same off on all developer plans of other extensions.
Code: BLACK2015FRIDAY40NNT
Discount: 40% on all business & developer plans
Valid til 2015-11-30
RoundTheme provides high quality Responsive templates for 3rd party Joomla extensions such as: Kunena, AcyMailing and JComments. There is extension section with plugins and modules for Kunena forum. RoundTheme brings 40% Off on all subscription plans.
Code: RND2015BLACKFRIDAY
Discount: 40% on all subscription plans
Valid til 2015-12-01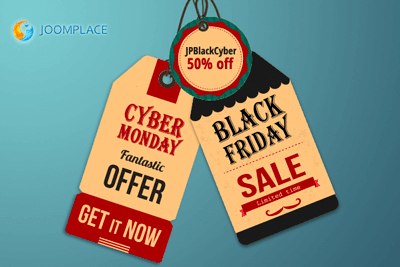 JoomPlace has the biggest sale of the year. All Joomla! Extensions listed in JoomPlace store are offered 50% off. Use a coupon code JPBlackCyber. The deal is valid till November 30th.
Valid from November 27th to November 30th
Coupon: JPBlackCyber