3 minutes reading time
(548 words)
Better directory organization makes its way to WP Media Folder!
A great file manager can save you plenty of time, and the latest additions to WP Media Folder keep that in mind. Today's chief updates allow better searching, quicker deletion and overall, better control over your files.
Say goodbye to messy media library.
WP Media Folder lets you categorize files, sync folders with cloud storage, create amazing galleries and even replace images without breaking links.
Optimize your media workflow today
WP Media Folder in video
Search by Directory
The newest WP Media Folder version allows you to filter through folders in a much more efficient manner thanks to improved search options. This feature in WP Media Folder allows you to specify whether to search in the current directory, or in all folders. This comes in useful, for example, if you're only interested in media located in a specific folder, rather than in every directory.
If that's not good enough news, enabling or disabling this feature is as easy as ticking a single checkbox! This may be done by navigating to the General tab in WP Media Folder's settings page, and toggling the Media search checkbox to search through all media folders, which is disabled by default.
Folder Covers
Organizing your media into directories is great, but sometimes, a picture is worth a thousand words. That is why it's now possible to set images as folder covers as from the latest version of WP Media Folder.
In order to give a folder a cover image, all that is required is to upload your image to that folder. Then, select the image of your choice, and tick the Folder cover option in the right pane. And just like that, your folders are now even more distinguishable!
File Renaming
The new updates to WP Media Folder don't just stop there, but also offer a new tool for file organization. This time, it's in the form of automatic pattern file renaming, allowing uploaded files to be renamed according to a rule you specify beforehand.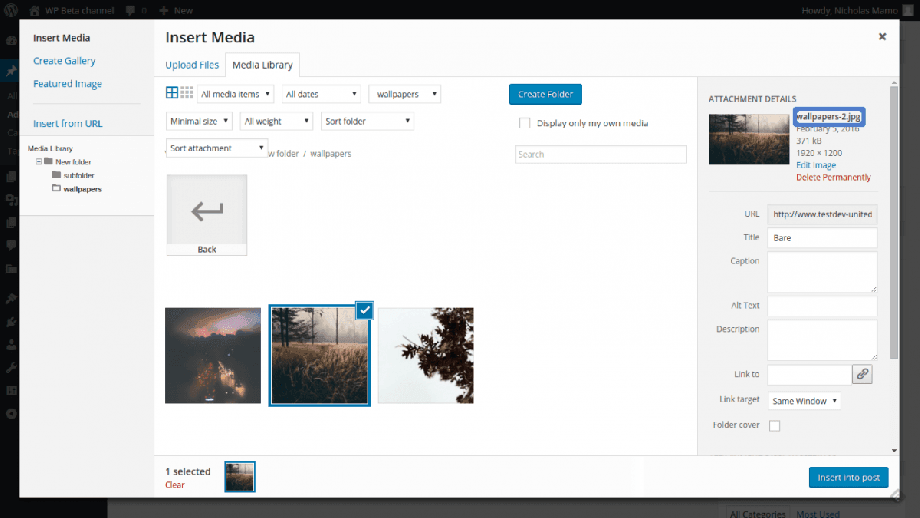 In order to enable this, head to the Settings page of WP Media Folder and open the Media rename tab. From there, simply tick the checkbox and input the file name pattern that you want new files to follow.
There are various tags that you may use in the pattern, including your website's or directory's names, and the date, among others. And for uniqueness, the # symbol may be used as an automatically-incrementing number.
Automatic Content Deletion
By default, when deleting folders, their content is not removed with them. However, if you want the media to be deleted alongside the folders, WP Media Folder's latest update is just what you need, giving you more control over your files.
To allow media to be removed when their folder is removed, head to WP Media Folder's Settings and choose the Remove folder tab. If you tick the Remove a folder with its media, which is disabled by default, images and other content will be automatically deleted when their directory is removed.
Calling all webmasters!
Save time and boost productivity with WP Media Folder. Effortlessly organize client media files, create custom galleries, and provide a seamless user experience.
Upgrade your website projects now!
Stay Informed
When you subscribe to the blog, we will send you an e-mail when there are new updates on the site so you wouldn't miss them.
Comments
No comments made yet. Be the first to submit a comment